The camera of the mobile has become, for many, a substitute more than valid for the professional or compact camera. Beyond photography, we can record practically professional videos with high quality. But there is an essential gadget for these videos to look the best possible: a mobile gimbal or video stabilizer. They will allow you smooth transitions , you will not have sudden movements and you will get to look like a real professional in the field.
It doesn't matter if you want to make videos professionally for YouTube or Instagram TV or simply if you want to record your trips to enjoy them later … A video stabilizer or gimbal is one of the best devices you can invest in if you want to see a smooth effect and care without having experience.
What is a gimbal?
You may at first glance believe that it is simply a selfie stick in which to hold your mobile phone and give it greater stability or lengthen the arm. But no, it is far from being just that. It is a motorized platform that keeps the image you are recording stable regardless of the movements you make. You move but the video remains stable and professional looking.
Even if you use your digital stabilizer on your mobile phone, we do all kinds of movements with our arms when we move. We walk, the ground is not always smooth and firm and the image we recorded usually has a slight tremor that makes it quite mediocre. A gimbal works with a mechanical system that balances, in real time, the movement we make with the phone so that the camera does not move with us but remains stable.
If you buy a mobile gimbal, they will most likely have other extra and very interesting options: they allow you to track faces even if you move or turn or choose when you want them to move only on the horizontal axis, that they do not move or that Follow us everywhere.
Worth?
This is a decision you must make yourself, consider several factors
Are you willing to charge ? Think that you are going to have to take it with you and that it is not normally a gadget that fits in your pocket. If you are not willing to make that little sacrifice …
What phone do you have? If you have a mobile phone from ten years ago that records horrible videos, it makes no sense to buy this accessory because you will not take advantage of it.
Is there a difference regarding the phone? Your smartphone has a stabilizer but the result you will get here is infinitely better and more professional.
Do you record videos ? It makes no sense to buy a mobile gimbal if you don't record videos. Or if the videos you record don't care if they're bad or good.
What should you keep in mind?
If you want to buy the best gimbal for your mobile or video stabilizer you may not even know where to start but there are data that you should keep in mind.
Design and grip. You may look for the best, the most complete, the one that allows you more options. But think that it is a gadget that you will carry with you for quite some time and that it will influence its size and weight. If you are going to travel and want to record everything you see, make sure it is compact and light or you will not be able to take it with you everywhere. Also look at how the handle is that you will have to hold when you want to record a video and make sure it is comfortable.
Smartphone compatibility. A video stabilizer for mobile phones is not exclusive to an exact smartphone model but make sure it is compatible according to the inches to fit properly. It is also important that you check if your phone can enjoy all the functions that the application of the gimbal you are going to buy can allow.
Controls and modes. Beyond keeping the phone stable, when choosing a gimbal you have to see what controls it uses: what buttons it has, what it allows, what we can do. Look outside but also inside: what modes does it have, how is the application, what options does it allow us, whether or not we can follow an object or a face, etc.
Angles Not everyone is the same or turns the same way. There are some that will allow you to make a complete turn and others not. Some will allow you to move horizontally and vertically and others will only allow horizontal rotation. Look at the degrees or the speed of rotation.
Autonomy. Video stabilizers for mobile phones are battery operated and their duration is something you should keep in mind. Normally you will not have to charge this device every day but see how many hours it lasts, if there is much difference with other similar models.
When choosing, consider the price according to the use you are going to give it. If you are a beginner, it will not help you to have the best mobile gimbal if you are not going to know how to use it.
Functioning
A gimbal is connected to the mobile phone through a Bluetooth connection, in most cases. Although each model changes in terms of software and options, we review the operation in a general way and the different modes that allow.
Lock mode. It will point in an exact direction even if we move. You can rotate your arm as much as you want and the phone will remain fixed on an axis.
Tracking Mode It will follow an object or face that you have previously selected. It is an ideal way to record sports, races or any activity with fast movements.
Panning With this video technique we will get the camera to move only in a horizontal or vertical axis. For example, we will be able to record everything around us on the same axis, without moving, in places where there are many people such as football stadiums or concerts.
Most mobile video stabilizers (or all) have their own application that not only allows us to update the firmware of the gadget but usually provides us with some tracking options or allows us to configure some parameters such as the speed at which to follow an object or the use of the physical buttons in the gadget, for example.
What is the best mobile gimbal?
These are some of the best options if you want to choose the best mobile gimbal.
Zhiyun Smooth Q2
One of the best options if you are looking for the best cheap, compact and comfortable mobile gimbal. The Zhiyun Smooth Q2 is one of the latest models of the brand and stands out because it occupies only 204 millimeters and is ultralight, with a weight of 381 grams. It is one of the best options if you are going to start, if you want an affordable gimbal (around 150 euros on Amazon) but you want to ensure quality, good horizontal and vertical inclination, many available recording modes and complete software. It weighs only 381 grams, occupies 208 millimeters, has 17 hours of battery life and is compatible with mobile phones with iOS and Android operating systems.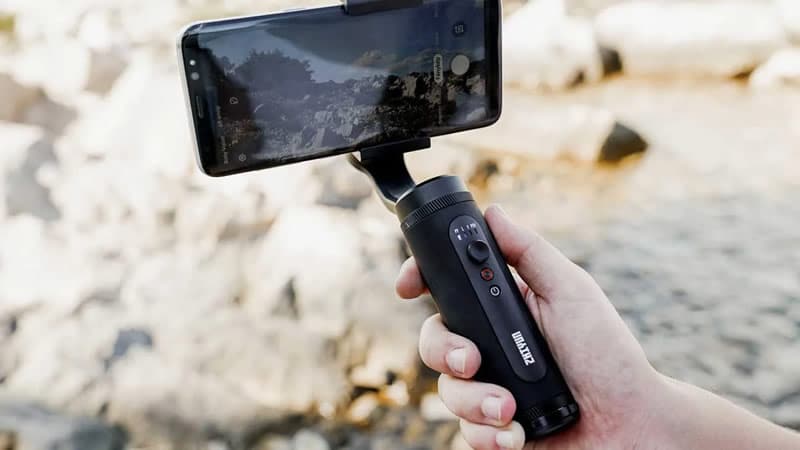 It is also ideal for more advanced users since you will not miss any functions that we demand from a device like this. It is comfortable and compact (made of aluminum) and is capable of tilting 360 degrees horizontally and 265 degrees vertically. For a simple operation, it has a joystick that will allow us to change the configuration, a multifunctional shortcut that we can configure and different LED lights that allow us to know what is the activated function or the state of the internal battery charge. In addition, it has several functions for recordings such as Vertigo Shot, Object Tracking, Panorama or Vortex (with total freedom) or Pov (with full range)
---
DJI Osmo Mobile 3
The DJI Osmo Mobile is one of the best video stabilizers if you are looking for something for perfect travel, it is foldable and portable. DJI is one of the best brands you can find in this sector and the Osmo Mobile 3 is a lightweight and very comfortable three-axis stabilizer, in addition to folding. Folded, the gadget will only occupy 157 x 130 x 46 mm and unfolded has a size of 285 x 125 x103 mm and has a weight of 405 grams. In addition, it has an ergonomic handle that seeks to be as comfortable as possible and that will allow you to record for hours and is designed to record with one hand, with all the buttons accessible.
The DJI Osmo Mobile 3 has all kinds of recording modes : panoramic, timelapse, slow motion and even a Story mode that seeks to film everyday moments and that allows you to transform the video through a complete software templates, music, effects and transitions that will give a professional touch to any clip. You can bet on Active Track 2.0 that will follow any object or subject even if you move or move continuously and will do so accurately and stably. Also, in the case of sport, the Sport Mode will make the stabilizer motors run with great power so you can quickly follow any object. In addition, to handle it comfortably it has gestural control capable of recognizing gestures to perform functions such as taking a selfie , recording or taking a picture.
---
Hohem 3 Handheld
One of the main advantages of this gimbal is that it is compatible with your mobile phone but you can also use it with a GoPro camera, depending on whether you want to enjoy city or adventure sports. It is a three-axis stabilizer with 360 panoramic degrees that will allow us to record all kinds of planes. In addition, it is quite comfortable and weighs only 369 grams and is made of aluminum to be comfortable to wear and carry.
Although it is a brand more unknown than the previous ones, you can control the gimbal through the application for iOS and Android in versions higher than iOS 8.0 or Android 4.4 and has all the expected functions of this technology: facial recognition, tracking or auto rotation In addition, one of the main advantages when choosing this video stabilizer is that it includes all kinds of accessories that you will not have to buy separately.
---
Zhiyun Smooth 4
The Zhiyun Smooth 4 is one of the best mobile gimbal if you are looking for something professional. One of the best options if you want quality at a good price. This stabilizer is compatible with smartphone and Gopro and its main advantage is that it has all kinds of advanced features that will make you get the most professional videos. Beyond all its modes, it has an autonomy of about twelve hours and works as a Power Bank. It is a device slightly less light than the Zhiyun Smooth Q2 but, in return, you will have more controls and more recording possibilities.
You can focus, enlarge and reduce with an easy-to-use manual control wheel, you can use the PhoneGo mode that will respond to movements without delay and with immediate response or you can use the different options of Timelapse, Timelapse in motion or Motionlapse that will help you Create spectacular scenes thanks to the passage of time and the camera of your mobile. You can also track objects and always keep any person or any object or face flat.
---
Yi Gimbal Smartphone
The gimbal for YI smartphones is also one of the best gimbal or video stabilizers for mobiles if you are looking for something affordable but without giving up modes or angles. A three-axis stabilizer with 360-degree full-axis axis, with three modes of operation and that will allow us to record everything around us without any vibration. It is compatible with Android and iOS phones (with dimensions of 54 millimeters to 86 millimeters wide) through its application with Bluetooth and has a battery of about 850 mAh that will result in about eight hours of recording with each of the charges In addition, one of the advantages is that it includes two rechargeable batteries.
It is a comfortable mobile gimbal, with good handling and with the possibility of recording horizontally or vertically. As for modes, it has the three basics: panning, blocking and Pan and Tilt. We can also use it with SmartTrack function to follow the object you want and it remains stable and allows us to track. Another advantage, in addition, is that its application is very simple, basic and intuitive so it will be ideal for any beginner who wants to try a gimbal.
---
Zhiyun Crane M2
If you are willing to invest more than 200 euros in a new stabilizer, the Zhiyun Crane M2 may be the best investment you make. It is probably the best mobile gimbal but also allows compatibility with action cameras or even with some (small and light) compact cameras. It is compact and easy to carry, with a weight of about 500 grams and dimensions 267 x 69 x 138 mm. But its main advantage is not to be small or light, but it includes the best quality and all the tracking modes you can imagine and want to use in your videos.
With the Zhiyun Crane 2 you have modes that will allow you to move 360 degrees synchronized in all three axes, a Vortex mode that gives you freedom of movement 360 degrees in all directions, a "Go" mode for fast movements and ideal for sports, a selfie mode in which with the press of a button the camera will rotate 180 degrees to record you. It also has the possibility of horizontal panning, the F Mode that will follow all the movements we make or the L Mode that will keep the camera of the phone always pointing in the same direction.
---
FeiyuTech
Feiyu gimbal is one of the best options if you want something basic and affordable. It is ideal for all those who are starting in the vlogger world and want to record for YouTube or for IGTV, for example. It is a kind of fusion between selfie stick and stabilizer, with an extensible stick that allows us to lengthen the stabilization and get some points of view that we do not reach with others.
It is a travel-focused gadget , affordable and available in three colors. It is ideal for beginners and has a battery of up to five hours recording, weighs about 210 grams and works with seven different modes to record video. In addition, it has an angle of rotation of 320 degrees in all its axes.
As for modes, you can record in a vertical mode ideal for social networks and Instagram but also in horizontal mode, like most. It has motion control and tracking of faces and objects through the application that you can install on your mobile and also has a timelapse option that will achieve professional effects even if you do not have much knowledge.