Simulation games are the order of the day these days. And it is that you can practically become the protagonist of any profession, including a farmer. In the Mac App Store or Steam you can find many options that aim to put you in the shoes of a farmer, growing and harvesting all your vegetables. In this article we present the best recommendations.
The points to look for in these games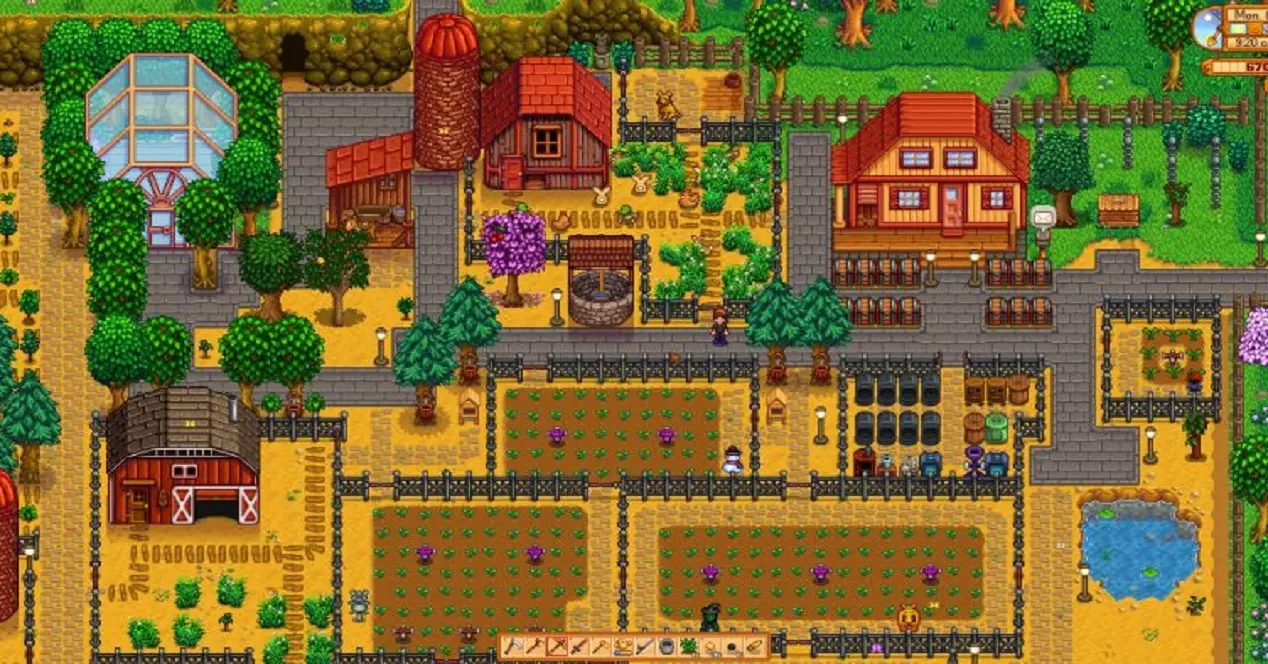 There are many options for farming games that can be found on the different platforms supported by Mac. But there are always different points to keep in mind to be able to choose wisely. In this case, we must mainly keep the following key points to look for in these games for your computer:
Graphics: something vital in all the games that you install on your Mac. The main thing is that the chosen option is visually attractive so that when it comes to playing, it is comfortable. This is something that can be easily verified through the trailer or the press images of the developers themselves.
Gameplay: In farm simulators, this is essential. Obviously, you want to have a lot of tools to be able to access all the options found on a real farm. In this case, the use of different planting systems, or also harvesting or watering, should be "rewarded". In the end, the most interesting thing is always that the player is involved in all these tasks, also feeling a progression.
Price: when we talk about video games, we must bear in mind that we must always emphasize that it is rare that they have an economic price. And the truth is that you are not completely interested in free games, since in these cases you will be forced to make micro payments in order to speed up the game process, or simply to eliminate advertising.
The games you must have installed
In both the Mac App Store and Steam you can find many different games that are focused on the world of farming. In this case, we can recommend different options that we are going to present to you below from these platforms.
stardew valley
This is undoubtedly one of the great video games that exist that are focused on the simulation of a farm. Without a doubt, it was a great surprise for everyone due to the history behind it, since, oddly enough, it was created by a single person. It tells a story in which you inherit an old agricultural plot from your grandfather, and you decide to start cultivating it with tools that you have at hand and a few coins.
The objectives are very clear. The first of these is to build your dream farm completely from scratch. Livestock will be a basic pillar, since you will have to raise the animals, manufacture useful machinery to process all the products. And you will also have a fantastic town with which to interact comfortably and even marry one of the girls or boys that are available. But obviously this will require you to offer them numerous gifts to finally fall in love with them.
Farm Simulator 22
Put yourself in the shoes of a modern-day farmer! Farming, forestry, and ranching will offer you a wide variety of activities as you face the challenge of the four seasons, especially winter. Build a farm to your liking and expand farming operations with production chains. Build your own farming empire! Run your farm even with your friends and enjoy cross-platform multiplayer together.
Create a lush vineyard or olive grove in the Mediterranean area of southern France; a sprawling farmland filled with wheat, corn, potatoes, and cotton in the central US; or an animal farm in the mountainous landscape of the Alpine region. Undoubtedly, a wide range of possibilities opens up at all levels to be able to develop your agricultural activity.
Developer: Giants Software
FarmTogether
A really simple game, and that has very friendly graphics, focused on a much more childish audience. In this case, the objective is quite simple, since you will have to grow plants, plant trees, take care of animals, among other common tasks in the world of agriculture. All the money you earn from selling your vegetables can be invested in new buildings and also in decorations for your farm.
If you want to speed up all these everyday tasks, you just have to take out the tractor. In Farm Together it is important to note that time always moves forward , even if you are not online. That is why whenever you can do something safely again. If you don't want to be alone on your farm, you can always invite your friends to play collaboratively.
Developer: Milkstone Studios
Township
If you are a fan of cities and farms, this game combines the best of these two worlds. You will start with the objective of building the city of your dreams by harvesting crops, processing them in your facilities and selling them in order to develop your city. You will be able to trade with distant islands, open restaurants, cinemas and other community buildings.
In addition, you will be able to explore the mine whenever you want to get resources and find antiques. You will even be able to run your own zoo and fill it with animals from all over the world. Keep in mind that this is a free game, but if you want to advance in the story you have to choose to acquire objects or resources that will take longer to obtain.
farm-up
This game tells the story of how the 1930's brought crisis to the agricultural state of Croverfield. These were tough times for farmers, but for those who liked a challenge, it was also a great opportunity. An energetic young woman, Jennifer, has purchased a small, bankrupt farm and is determined to turn it into a profitable business. This is where you will end up intervening in order to get benefits.
You will start with a small company with which you will earn coins little by little. This will be achieved by growing various types of fruits and vegetables, raising domestic animals, and producing dairy and canned goods. You can even mine ores or produce planks. All this will be necessary to be able to have a successful company that generates large amounts of coins.
Hobby Farm Show 2
You have to sow and harvest the crops in the fields, milk the cows, shear the sheep and buy the farm machinery to please your customers and your fans who watch the show. Three energetic helpers and a local merchant help Lisa through the entire process, but despite their help, Lisa's job won't be easy. There are a large number of levels available to be able to mark the progression system.
With tons of levels, two different game modes, and an awesome mini-game, Hobby Farm Show will push you to glory as you try to win Show of the Year and Farmer of the Year. It should be noted that there are 35 achievements available , and thousands of mini-games to enjoy this farming experience.
The options you will find in Apple Arcade
Apple Arcade is the gaming service offered by the Cupertino company. In this you can find a wide variety of games compatible with the Mac, and in this case there are several focused on farms. We show you the most important.
Farm It!
Start a wonderful adventure with this farm game, which will undoubtedly become one of your new vices. In this case, you can find different video games within Farm It that will allow you to obtain resources, decorate various areas of your farm, and enjoy the company of unique characters and very attractive animals. In addition, the developers are certainly very attentive, as they are organizing different events for the players.
The experience is really addictive mind, since you just have to slide and clear the land. Once this is done, it will be really easy to choose the seed you want to plant, and finally gather and load the products in the truck in order to earn profits. In the last place you will have to sell all the products in order to gain customization.
hogwash
This game will come out of the tradition of farm simulators. In this case you will start by choosing a player to play against three in a race against the clock. It is a colorful chaos, but it is certainly quite comforting. The ultimate goal is to keep the animal farm totally clean through the different tools that are available.
As we have mentioned, there is the possibility of playing individually , or opting for the multiplayer mode . By having intuitive controls, anyone will be able to jump straight into the puddle. But all this to master the different tricks that exist to be able to eliminate the mud that exists.
the ones we recommend
It has been verified that there are many games that exist focused on farms, designed for Mac. But in this case we recommend two of these. The main one is Stardew Valley , which is undoubtedly one of the most recommended options that exist on the web. It has a complete system of planting all kinds of fruits and vegetables depending on the season, in combination with a system of exploration, fishing, mining and also social relations.
But if you want a much more realistic experience, you're going to have to enjoy Farming Simulator 2022 . In this case, you have quite authentic systems to replicate the experience you have on a farm. You can count on different machinery to be able to plow the land, sow or harvest it without any type of complication.