One of the attractions that most attracts a large number of public is sport, and we are not talking about practicing it, but also about the events that occur throughout the year and that people consume through the different channels and services that broadcast them. Therefore, in this post we want to tell you which are the applications that will allow you to enjoy the best sport through your iPhone and your iPad.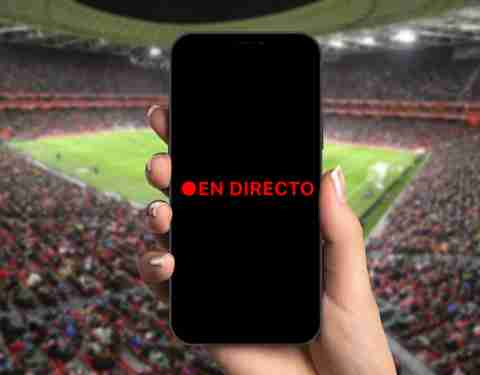 Keep this in mind to enjoy your sporting events
Usually all sporting events are broadcast live , except for unusual exceptions that are delayed, mainly due to the schedules that exist in different areas of the planet. Therefore, the consumption of said content depends on a series of conditions that make it easier for the viewer to view said event in the best possible way.
One of the conditions that you have to take into account when you watch a sporting event is the internet connection you have. If this is deficient, watching that football game or a motorcycle race will be a real torture since you will surely suffer numerous cuts and you will not be able to enjoy it. Therefore, what we recommend is that you always make sure you have a good internet connection.
However, mobile data is also an alternative when it comes to viewing this type of event if you do not have a Wi-Fi connection. However, in this case you have to know that watching live events usually has a high data consumption , so if you have a reduced rate you will have to take it into account. Fortunately, there are more and more options for unlimited data rates, even so, it is a point to take into account for other users.
Getting started talking about the applications themselves, some of these are completely free, however, other prominent events are only on payment platforms, so if you want to enjoy them you will have to pay the corresponding subscription to the service. In addition, some of the content that is available in these applications may have geoblocks , that is, in some countries they do not work or that content cannot be consumed. That said, we are going with the compilation.
Enjoy free sporting events with these apps
First of all, we want to focus on the applications that offer their content for free so that all users can enjoy both free-to-air sports and other television channels that have nothing to do with sports. Usually in these applications you can enjoy the events that take place in the open.
Mitele – TV on demand
One of the largest television multinationals is Mediaset , since Mitele is just Mediaset Spain's live, on-demand digital television multiplatform application. In it you will be able to find channels such as Cuatro, Telecinco, FDF, Energy, Divinity and Be Mad, where in some of them you can enjoy sporting events such as the soccer Eurocup or the World Cup itself.
In addition to sporting events, it is also an ideal application to be able to consume all the content of this platform and see live what is being broadcast at that moment on all its television channels. Without a doubt, it is an ideal app if you do not have a television at hand and you want to enjoy one of your favorite sports programs or events.
Youtube
YouTube is one of the largest platforms where users go to consume content, and every day there are more disciplines and sports establishments that are betting on this medium to bring their proposals to the younger audience, being a fantastic strategy to grow the popularity of a event or sport in particular.
In this case we come to talk about a sport that is booming, paddle tennis. World Padel Tour is in charge of broadcasting its own matches through its YouTube channel. It is the most important padel organization in the world that uses this platform to bring everyone closer to padel, and also completely free of charge. Therefore, if you are in love with this racket sport, you will not have to pay a single euro to enjoy the best matches.
LaLiga Sports TV Live
This application is a real treasure for sports lovers , but we go in parts. In the first place, even though it is the official application of La Liga, you will not be able to enjoy the matches in this competition live, but if you will be able to view the best summaries with the most outstanding content of each of the matches, both first-rate as second division.
What if you can consume live are different motorcycle events such as the Motul World SBK or the Rally of Morocco, in the same way that you will have completely free LEB GOLD basketball games. To this are added beach soccer, American soccer and rugby events. Sports such as tennis, paddle tennis, Hockey or Golf also have a place in this application. In short, an application where you will always find sports content to consume live.
My Online Television
As its name suggests, this application allows you to have access to a large number of channels that broadcast free content throughout the world. Therefore, if that open content is a sporting event, you can enjoy it through this fantastic application without any problem and completely free of charge.
Within the application itself you have all the information about the daily programming of each and every one of the channels, which are displayed in a list format so that you have easy and comfortable access to them. You also have the possibility to add different reminders for TV shows, movies, sports broadcasts, series or whatever you want.
Live Futbol TV: Soccer Guide
This application is of tremendous value for all lovers of the king of sports in Spain, soccer. Actually in Live Soccer TV you will not be able to watch any sporting event, however, the application will be in charge of providing you with the way to see the sporting event that you want to consume and that you want to enjoy live.
It is a guide that will provide you with all the information about the main sporting events in the world. Within this information you will find the links to the channels through which you can watch the sporting event. Obviously, if that event is only available through paid services, you will have to pay to see it.
RTVE Play
This application is in charge of replacing RTVE on demand. What RTVE Play provides to all its users is the possibility of enjoying live all the contents of channels such as La 1, La 2, Teledeporte, Playz and Canal 24 hours , so it becomes the perfect way if you want to see TV and you don't have access in any other way.
Obviously, by having access to these channels, you can enjoy many sporting events that take place in the open air, especially on the Teledeporte channel, which bases all its programming on broadcasting events that, perhaps, are not so popular throughout the year. . But also in La 1 and La 2, where very important events are shown throughout the year.
Subscribe to these services and enjoy the best sport
As the public's interest in sporting events has grown, they have become a veritable business that moves astronomical amounts of money. For this reason, many of the most important sporting events in the world are only available on paid platforms. Next we will talk about the most important ones that have their application for both iPhone and iPad.
Movistar +
Without a doubt if there is an application where the main sporting events are guaranteed, this is it. Movistar has bet very strongly on sports, and this is exemplified by the number of channels created exclusively for different sporting events, or even for different sports such as football, golf or motorcycling.
In addition, if you like football and want to enjoy the Santander League and the SmartBank League , with Movistar you will have absolutely all of them, apart from having fantastic professionals who offer you content before, during and after the matches. However, not everything is so beautiful, since if you want to access this content, you will have to go to the cashier and pay monthly to be able to enjoy all these sporting events.
Vodafone TV
Despite the fact that, for the moment, Vodafone does not have the same quantity offer that its rival , Movistar, offers . It also has very important sporting events throughout the year, and it is a fantastic option to consider especially if your company is Vodafone itself, so that you can get the most out of all the services it offers.
Although it cannot offer all the variety and quantity that its competitors have, Vodafone also has an exclusively sports television pack with which to offer its customers some of the best events throughout the year and, of course, you can do all of this. enjoy through your iPhone or iPad and the Vodafone TV application.
DAZN
One of the platforms or services that have opted the most for sports is, without a doubt, DAZN. In fact, its birth is by and to be able to show and bring the best sporting events to all people. As with Movistar, DAZN has some of the best events of the year, such as the motorcycle world championship or a competition as attractive and popular for football lovers as the Premier League , that is, the English League. .
You can enjoy this service through the payment of a subscription that is not high at all, in fact, this platform has burst with such force because it has made certain sports content very accessible to all users that until now implied a much greater investment.
ESPN: Live Sports
One of the most focused and important media on the world of sports is, without a doubt, ESPN. Through its application you can enjoy many live events, as well as the best videos and information instantly. All this from the hand of fantastic professionals who treat with dedication and respect each and every one of the content that they offer to the public.
In the ESPN application you have available the best leagues, tournaments, clubs and players of football , tennis , boxing , rugby , golf , basketball , baseball , the NFL , motor sports , that is, if you like sports and want to soak up a great variety, great information and also enjoy it live, ESPN is one of the best options you have available.