The iPhone and the Apple Watch is the ideal combination to keep you fit and healthy since they are two devices that complement each other perfectly to help you when it comes to exercising, eating healthy and also controlling your sleep, which is what we want to talk to you about in This post, how you can use your iPhone and Apple Watch to know in detail how you sleep and if you are resting well or not.
What should a sleep monitoring app measure?
Before choosing your application to control your sleep, you have to take into account certain factors that the applications that will monitor your activity during the night must meet.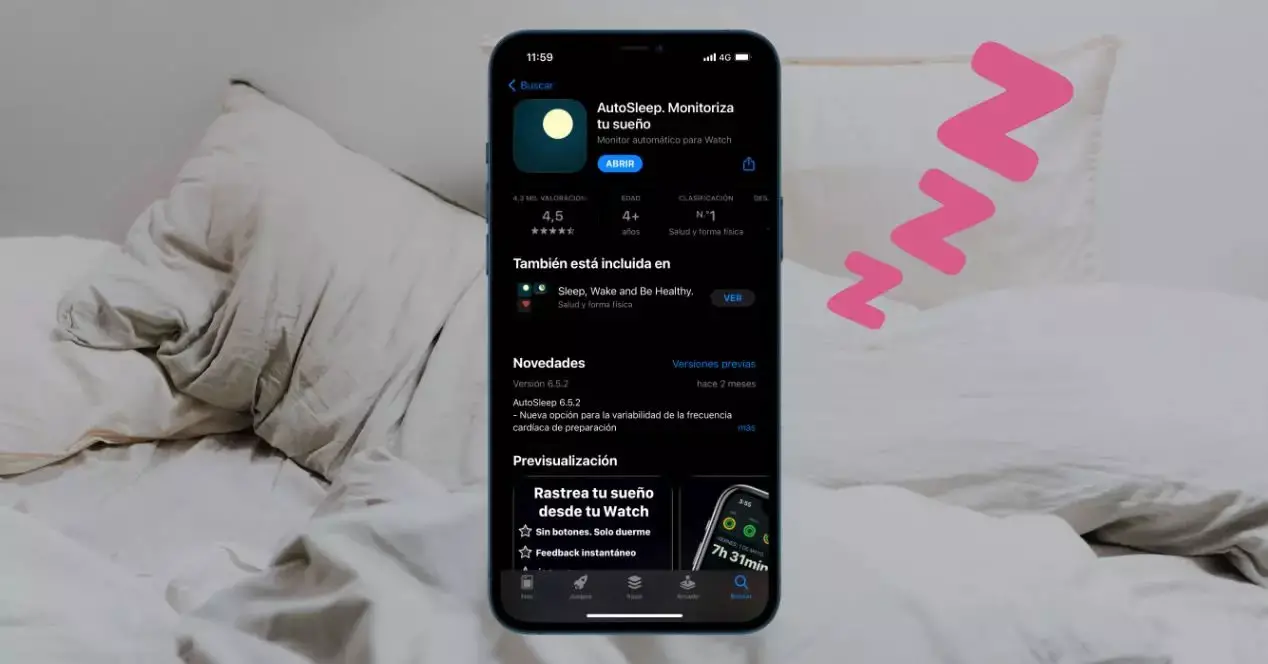 In order to have an accurate control of how you sleep, it is usual for the application, through the device with which you are using it, to be able to record and determine when you get up at night, the quality of sleep based on the movements that you are using. you can make while you sleep and even from the sounds that you can emit unconsciously. It is also very important that you measure your vital signs, hence the importance of doing it through an Apple Watch. Therefore, when choosing the app to monitor your sleep, pay close attention to what it uses to subsequently issue the sleep report.
Differences between measurements with iPhone and watch
As we mentioned before, the ideal if you want to know the information of your sleep during the night is that this measurement is made by the Apple Watch because it has a series of sensors that will be able to measure your vital signs throughout the night, making the information collected and the results it offers are much more reliable.
In case you do not have an Apple Watch, you can also do it with the iPhone, but really the results will not be as accurate as in case you did it with the Apple watch. What the iPhone will do is control your possible movements based on the sound you can generate, therefore, the degree of reliability is much lower.
Apps that control you while you sleep compatible with iPhone and Apple Watch
AutoSleep
Almost certainly the best application you can use if you want to monitor your sleep with your Apple Watch. AutoSleep is the # 1 app in the App Store's Health & Fitness category, and it's for a reason. With this app you can monitor your sleep automatically thanks to the Apple Watch, without having to touch anything, you just have to have your Apple Watch on your wrist when you go to sleep. You can also do this without having to wear the watch on your wrist, but the measurement will be less accurate. In addition, within the App you can modify the values that you have registered since there may be times when the app does not accurately record your activity during the night.
Slep Cycle – Sleep Tracker
Slep Cycle is capable of analyzing your sleep patterns and detecting snoring, if you speak while sleeping, cough or any sound you may make while you are resting. It has the capacity of intelligent alarm, that is, it will wake you up during a light sleep phase so that you are rested and full of energy as soon as you get out of bed.
NapBot
It is an automatic sleep tracking application with the ability to analyze sleep on your iPhone and Apple Watch. NapBot uses machine learning to track your sleep and present a detailed analysis of the different sleep phases you have gone through while asleep. It will also analyze your exposure to ambient sound to understand how it can affect the quality of your sleep.
Pillow
Pillow is your smart sleep assistant since it automatically analyzes your sleep cycles with the Apple Watch, although you can also do it without it, however, we recommend that if you have access to it, use it. It also has the smart wake-up function so it will help you wake up full of energy.
Sleep ++
This app takes advantage of the motion and health monitoring capabilities of your Apple Watch to measure both the duration and quality of your sleep. In this way you will be able to know how you are sleeping in order to make those changes necessary to improve the quality of your sleep and that night is the time where you recharge your batteries to face each day with all the energy possible.
Sleep Watch by Bodymatter
It is a sleep application that automatically tracks sleep thanks to the Apple watch. It also offers the possibility of using the app without the Apple Watch. It will offer you daily briefings on the quality of your sleep during that night and it is automatically synchronized with the Health application of your iPhone.
Beddit
This app requires the use of the Beddit Sleep Monitor that is sold in the Apple Store in order to monitor your sleep. This monitor helps the application to measure, manage and improve your sleep. It has an automatic and precise monitoring, obtaining as a result a complete image of your night, measuring your sleep time, heart rate, respiration, temperature and humidity in your bedroom.
Sleepbot
For Sleepbot to measure your sleep you will not have to do anything, you just have to go to sleep and this app will do the rest. If you wear the Apple Watch while you sleep, you will not have to do absolutely anything so that Sleepbot collects the different parameters and can help you understand how you sleep every night.
IPhone-only apps
Control and analysis sleep
This app is the perfect sleep solution for those who want to fall asleep easily and wake up the next day with enough energy to face the day to the full. It will provide you with a series of techniques that will help you improve your sleep while measuring how you sleep at night to synchronize all the data with the Health app on your iPhone.
Sleep Analysis – Sleeptic
This is the perfect app to use as a smart alarm clock and track your sleep. It also provides relaxing music to help you sleep earlier and easier. This app offers daily, weekly, monthly and annual statistics and graphs on the quality of your sleep to help you understand what happens while you sleep and how well or badly you rest.