Most Linux distributions have, for more than a decade, a feature known as virtual desktops. This function allows us to configure several workspaces and change from one to another as we need so that users can always have their programs and windows organized. To use this feature in Windows it was necessary to use third-party applications and programs. And these didn't work just fine. Luckily, with the release of Windows 10 Microsoft decided to bring users this feature.
The Virtual Desktop is a new feature of Windows 10. With it will be able to configure two or more different and independent desktops on your computer without using multiple monitors, so that we can have our workspaces much more orderly and organized.
Although this function goes unnoticed by many users, if we know how to use it, it can help us greatly in our daily lives. Microsoft also gradually adds new features to make it even more useful, such as the possibility of changing the name of virtual desktops that arrived relatively recently.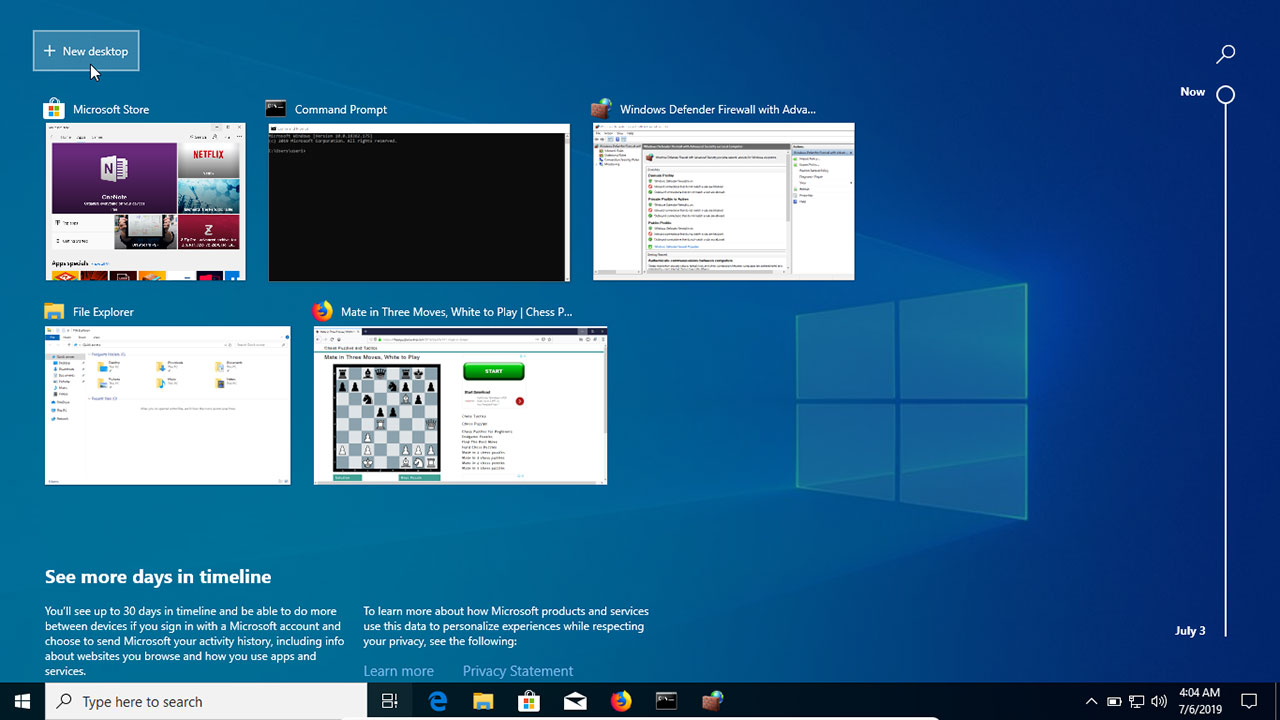 The best uses of Windows 10 virtual desktops
The most interesting use of virtual desktops is to be able to use the same computer for two or more things. For example, if we work with our computer, thanks to these virtual desktops we can have at hand a space to work, with the programs and configurations that we use in our day to day, and another for leisure, with our games or with applications such as Netflix to When we need to relax.
Another interesting use, although we do not use the computer to work, is to have certain applications set aside. For example, if we usually listen to music on our computer, we can have a full-screen virtual desktop with Spotify, while we use the main desktop to work. So, we can quickly go to the player when we want to change songs.
There are other ways in which these virtual desktops can help us in our day to day. For example, having a desktop for the browser and another for office automation. Or if we are programmers, we can have a desktop with the IDE and another with the program in debug mode. The possibilities are immense and depend on each one.
How to work with a virtual desktop
How to create a virtual desktop and name it
To create a virtual desktop in Windows 10, all we have to do is press the Windows keyboard shortcut + Tab to go to the operating system's timeline. At the top we will see a section reserved for these desks.
By default, we will be working with only one, the main one. To create others, what we must do is click on the "New desktop" button and we can automatically see this.
How to rename a virtual desktop
By default, Microsoft calls "Desktop x" to all the desktops we create. However, if we want to have these more organized desks, we can give them the name we want to know at all times the purpose of this desk.
To do this, all we have to do is click on the name of the virtual desktop in question. So, we can see the text box that will let us change the name to the desktop.
This option will be available to all users from Windows 10 20H1. At the moment, it is only available for Insider users.
How to close virtual desktops that we don't use
When we are no longer going to use a desktop, we can close it so that it does not take up space in the top bar of the Windows 10 timeline. For this we just have to place the mouse on it and in the upper right part of its thumbnail we will see the typical X to close.
We click on this X and the desktop will automatically disappear. If you have windows open, they will become part of the main desk.
How to move between virtual desktops
When we have two or more virtual desktops created on our computer, the next thing is to know how to move easily between them. For example, if we use the keyboard shortcut Windows + Tab (access the Windows 10 Timeline) we can see at the top all the virtual desktops that have been created.
If we click on one of them, we can go to it instantly. Microsoft has greatly optimized this feature. We shouldn't have problems.
On the other hand, there is also a faster shortcut to switch from one desktop to another. Using the keyboard shortcut Control + Windows + arrow (right or left) of the keyboard we can move very easily between all the desks we have created.
The limitations of virtual desktops
Undoubtedly, this function can help us improve our productivity by being able to have our work spaces much tidier. However, the implementation of Windows 10 virtual desktops has some important limitations that we must take into account.
On the one hand, all desks are the same as such. Although we can have programs and windows sorted as we want, in broad strokes the desktop is the same. This means that we will not be able to have the icons arranged in a specific way on each desk to facilitate the way of using the program.
Secondly, there are some applications (like Google Chrome, without going any further) that constantly take the focus of the desktop. It doesn't matter which desktop we are in, that when using these programs, the focus will automatically change to them, especially when we close other windows or programs. Microsoft has worked on this a lot and since the Windows 10 2019 updates it happens less frequently. But it is a handicap to consider.
Finally, also indicate that to be a function that has been blatantly copied from Linux, it lacks many features available in this operating system. Especially when it comes to personalization and effects. With some small changes, such as individualizing them, changing the background for each virtual desktop and even customizing the transition effects, Windows virtual desktops could gain much more value than they already have.
But it seems that in the face of Windows 10 20H1, the only novelty that will be included in this aspect is the possibility of changing their name.