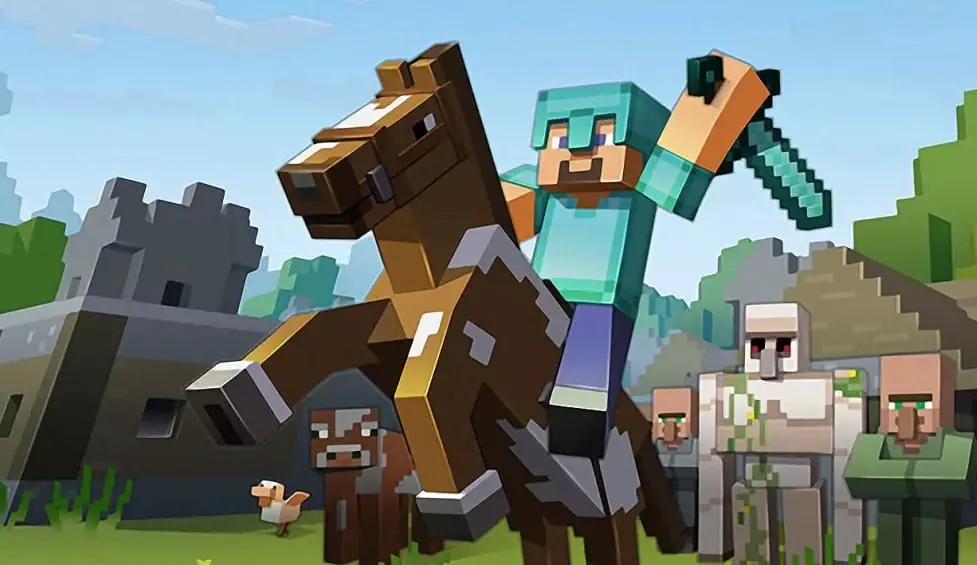 Minecraft is undoubtedly one of the video games that more followers has amassed over the past few years. And it is that the Mojang construction sandbox is perfect both to relax and build your own world and to live fun adventures in a squared world.
---
---
One of the great advantages of Minecraft is that due to its popularity, the game is present on multiple platforms. So, regardless of whether you are at your PC, console or have a good time with your smartphone, you can enjoy the game wherever you are.
If you are a Minecraft fan but you have already seen it, surely you are interested in expanding your horizons a bit. In the Google Play Store you will find hundreds of similar games where you will enjoy survival and construction without missing out on this classic Swedish video game. Would you like to know which ones we like the most?
Terraria
Terraria has many but many similarities with Minecraft. In fact, both video games were released the same year (2011) and offer an exceptional adventure, survival and construction experience.
In it we will immerse ourselves in a beautiful 2D pixelated world where we will have to explore, find resources, build and of course, survive enemy attacks.
Terraria is a video game very similar to Minecraft in all its aspects and is already considered as a true classic of the genre. If you were never convinced by the graphics of the Mojang video game or simply want a similar experience, we recommend that you download it now.
The Blockheads
If you like Minecraft, the platforms and you have always been passionate about The Sims , you will surely love The Blockheads .
This fun game with 2D / 3D graphics will take you to a sandbox world where you can explore and create your own adventures. In a similar way Minecraft, in The Blockheads you can build buildings, find materials and resources, explore with your friends or simply go in search of a hidden treasure ... but it doesn't end here!
As we have already told you, The Blockheads adds similar functions to life simulators, as you will have to feed your character, monitor his health and make sure he sleeps well every night. Highly recommended for both Android smartphone users and for all who have an iPhone.
Crashlands
Crashlands is for many one of the best Minecraft-like games you'll find for mobile. In it you will take the role of a space adventurer lost on an unknown planet and with only one goal: to survive.
Crashlands has colorful 2D graphics and a formula as fun as it is vicious. In it we will have to explore the planet, gather resources and materials and build our own base and its more than 500 objects.
Throughout our adventures we can mold the hero as we want thanks to an RPG type progression system. In addition to all this we will not be alone in our adventure, since Crashlands has the possibility to tame alien creatures to accompany us. Do you dare to try it?
Kiloblocks
Kiloblocks is the perfect alternative for all who love the Minecraft creativity and construction system but hate its elements of action and survival.
In this attractive game for Android we can build the building of our dreams with just a few keystrokes. First it will be necessary to choose the land and edit it until it meets our expectations, then build the building and finally edit it to your liking.
Kiloblocks is a good game to hang out and forget about everyday stress. Highly recommended for all lovers of construction games who do not want to worry about anything else.
Block story
You like Minecraft? Do you like RPGs? You will love Block Story! This fun mix of both genres features the best of Mojang's sandbox (material collection, object creation, construction, graphing graphics, etc.) with the RPG's own missions.
In Block Story we can create our own character and raise their levels in a way similar to a role-playing game. In addition to having a vast fantasy world to explore, the title features the added appeal of its dragons. These may seem terrifying at first, but as you progress through the game you can tame them and even fly over them.
Block Story is a fun, original game and a very good alternative to Minecraft. Although this one has some bugs and bugs, it is updated very often and is worth a try.
Survivalcraft 1 and 2
Survivalcraft has established itself as one of the best alternatives to Minecraft. In it we will become shipwrecked and we will have to survive in an unknown environment.
Both Survivalcraft work in a very similar way to Minecraft. In fact, even their graphics are very similar. Here we can explore, collect, create objects, weapons, buildings ... we can even plant our own crops!
As usual in this type of games, Survivalcraft allows you to play both solo and multiplayer. In fact, the title even offers the possibility of playing on a split screen with compatible devices. Ideal for aspiring Robinson Crusoe.
Minecraft earth
If you are a Minecraft fan since your launch, Minecraft Earth is definitely a must download. Following the boom in RA  (Augmented Reality) applications such as Pokémon GO , Minecraft Earth moves the Minecraft grid universe to reality.
Thanks to this application you can create all kinds of constructions from your Android mobile and see how they come alive before your eyes. To do this you will have to get resources by researching your neighborhood through your phone's camera and test your survival skills by defeating enemies.
Minecraft Earth is still in development although you can sign up for its pre-registration now . If you wish, you can also download its APK version under these lines and start playing right now.
RealmCraft
RealmCraft offers a fantasy world sandbox style very similar to Minecraft. In addition to having pretty attractive graphics, the game is available for free so it is ideal if you do not want to spend a penny.
This video game has everything you need to be a good substitute for Minecraft. Here you can create your character, explore an infinite world, create your shelter, raise animals and of course, fight against any enemy that gets in your way.
Depending on how you want to play RealmCraft offers two game modes: Survival and Creation. The first will give you the full gaming experience while if you just want to build and create, opt for the second.
GunCrafter
GunCrafter takes the Minecraft building system and moves it to the world of shooters. In this one you can get materials, design and create your own weapon and then test it on the battlefield.
While GunCrafter doesn't have Minecraft survival and exploration elements, it's frankly entertaining. And is that one of the strengths of this game is that in addition to building our weapons, we can then use them in multiplayer mode.
GunCrafter is an excellent choice for lovers of object creation and shooters who want to spend an entertaining time challenging their friends.
Worldcraft
Worldcraft was originally a free online multiplayer converted into a construction game. Many today consider him as a worthy successor to Minecraft.
Worldcraft has all the necessary elements for you to have a great time without spending a penny. In it you can explore, create your own house, have your farm and feed your animals, fight against monsters of all kinds and of course, survive.
If you want a Minecraft-like experience without deviating much from the gameplay of this title, check out Worldcraft. It's free!
ROBLOX
Today it is difficult to find someone who has never heard of ROBLOX . And this free online game has given a lot but that a lot to talk about in recent years.
More than a game, ROBLOX is a sandbox environment in which we can both create our own games and join any experience created by its players. And is that in ROBLOX we are all players and developers of video games.
In it we will create funny LEGO style characters and we can create or play any type of video game we want. Do you want an RPG, shooter, battle royale, survival game, etc.? Just enter the ROBLOX catalog and live an adventure. Essential for creative minds.
KoGaMa
KoGaMa is a game very similar to both Roblox and Minecraft. In it we will enter worlds and video games created by users to live as many adventures as possible.
In a similar way to ROBLOX, KoGaMa is a perfect title both for those looking for a variety of multiplayer games and for those who dream of creating worlds. All this can be easily achieved thanks to the tools provided by this Android app.
KoGaMa has games of all kinds, from survival and action to puzzle games, FPS or fighting games. The limit is only in the minds of the players.
Don't starve
Don't Starve is a perfect multiplayer survival game for everyone who wants a Minecraft-like experience but increasing its overall difficulty and simplifying its creation elements.
In Don't Starve we are in a sandbox environment where we will be offered challenges and objectives to meet to survive in our adventure. We will have to collect materials, build, keep ourselves well fed and of course, make sure we don't die.
Unlike Minecraft, Don't Starve is a roguelike game so every time we die, we will lose everything. Here the difficulty prevails so it is not recommended if you are looking for a degree to relax.
Cubic Castles
Cubic Castles is one of the best sandbox MMOs where to build and create in the company of friends. This is very similar to Minecraft because it allows you to explore, accumulate resources and perform all kinds of block-based constructions.
Cubic Castles stands out for being a relaxing and tremendously fun game. In it we can travel through lands of all kinds (deserts, forests, beaches, snowy mountains) in search of the most diverse materials to build your own kingdom.
In addition to being able to build and explore, Cubic Castles has a system of missions and objectives. If you meet them you will get improvements for your character with which to build even more things. Oh, and if you are a fan of the world of fashion and personalization, you will be happy to know that the game includes a superb amount of clothes and models with which to dress your character. Highly recommended!
Junk Jack
Junk Jack is an experience very similar to both Minecraft and Terraria. In it we will take the role of an explorer who can investigate the ins and outs of a beautiful 2D open world in search of all kinds of treasures.
In Junk Jack you can collect materials, food, weapons and all kinds of tools with which to then create your home. Once this is done you can also decorate it to your liking and create your own recipe book. If you get bored of so much peace, do not worry, you can also go hunting and destroy all the enemies that are within your reach.
As usual in this type of games, Junk Jack allows multiplayer play. One of its great advantages is that it is a cross-platform title, so you can play with friends who for example have an Apple mobile or device with iOS.
Minetest
Minetest is a free alternative to Minecraft for Android designed especially for lovers of mods.
Minetest offers a sandbox world very similar to Minecraft. In it you can explore, build and enjoy relaxing evenings creating your own world.
One of the points that differentiates Minetest from other similar games is its community of players. This is basically dedicated to creating mods and texture packs to change the appearance of the game. That is why for many, Minetest is more a Roblox-like video game creator than a survival title. Still, it's a good game to quench your hunger for more Minecraft.
We hope you liked this selection of alternatives to Minecraft for Android. Have you tried any of them yet? Do you think any are missing from this list? Share it with us in the comments section!
---
---