One of the things that is increasingly common to use when doing sports or going on vacation is sports cameras . These allow you to make recordings that in many cases it is not possible to get with smartphones and, therefore, it is not a bad idea to have one of these accessories at home. We show what they must offer to be fully successful with the purchase.
Until not so long ago getting one of the good quality sports cameras meant making a really big outlay, but luckily this has changed and nowadays you can buy one that perfectly meets what an average user needs. Therefore, the use of these types of devices that are valid to be used both in the mountains and on the beach has been clearly universalized without jeopardizing their integrity.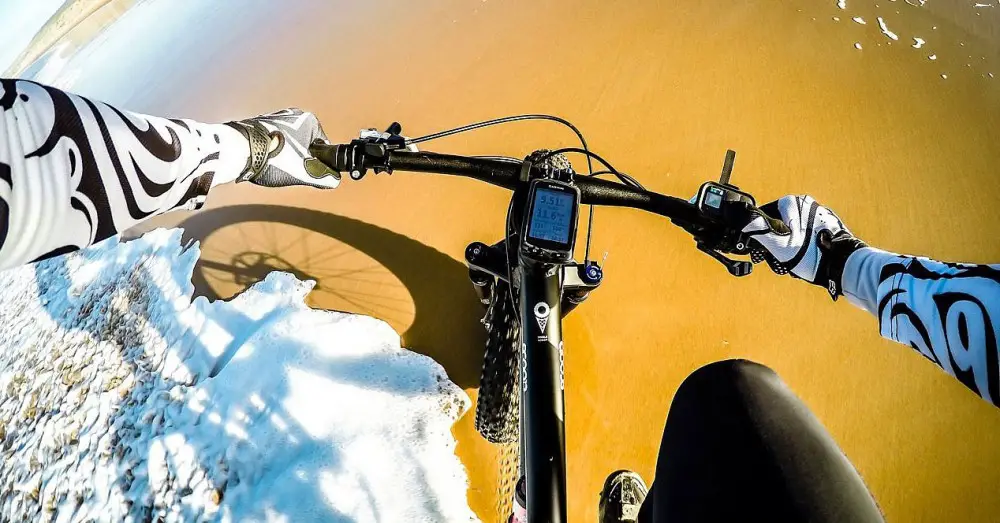 So much so, that for less than 50 euros it is viable to get a complete set of equipment that can be carried on the bike easily and reliably, and that it is even a good possibility to record the routes that are made when going hiking or running (wherever you go).
Indispensable in sports cameras
The first has to do with the resolution, since currently it is possible to do it for the price that we have mentioned before to do with models that reach 4K (Full HD is fine, but the ideal is to opt for the best possibility). The amount of frames per second should be 30 FPS, so the videos that are recorded can be enjoyed on the most advanced Smart TVs with good quality. By the way, if you wonder about the resolution that the sensor must have, it is a minimum of 12 Mpx , but we recommend that the choice be for 16-megapixel models.
Other important factors that should be reviewed is that different steps are offered when it comes to zooming , so you can get a 4X mark. This ensures advanced usage options if necessary. Other things that should be evaluated is that the offered angle is wide, with a minimum of 150 degrees , and that the slow motion is present at least with Full HD resolution since this type of recordings are always widely used by sports lovers.
Other things that sports cameras have to offer is water resistance . This can be included natively, which is the most recommended or, failing that, using a watertight casing that allows adding the mentioned resistance. Regardless of this, the minimum is that the chosen model supports five meters of immersion, but for the purchase to be of a good quality, the ideal is that they exceed fifteen meters and therefore it is possible to make recordings or take photos with ease. and as spectacular as possible.
By the way, to favor the use of the device, it is very interesting that the sports faces include a screen on the back where it is possible from seeing the configuration and the different modes of use that are used and even that the results can be seen that are obtained.
More options that it is important to review
One that is always convenient to ensure has to do with connectivity. Here we believe that it is essential to include both WiFi , in order to connect the camera to home networks and thus share the recordings directly. And, in addition, there is no lack of HDMI video output , to be able to connect sports cameras to televisions and monitors, so you can quickly enjoy the videos obtained.
When it comes to storage, ideally this should be done using microSD cards . In this way, changes can be made in the case of filling the one that is being used and, therefore, be prepared before this type of eventualities. Something that is also recommended is that a second battery be included in the purchase, since the autonomy of these models is usually not very high (one hour in most cases), and this is always appreciated.
Models we recommend buying
We leave a list of models that comply with everything that is essential to be sure of making a quality purchase among the sports cameras that are cheap. The reliability of the purchase is high, since the online store used is Amazon :
Glymnis Sports Camera
A model that includes everything that may be needed for an accessory of this type, since the resolution it reaches is up to 4K, which ensures that the image quality is high since it is accompanied by a 20 Mpx sensor. In addition, it includes WiFi to be connected and its resistance to water is 40 meters no less.
Campark X25
Among the things that attract the attention of this model is that it is from sports cameras that include two batteries, so autonomy is not exactly a disaster. With a viewing angle of 170 degrees, the quality of the recordings are 4K as it could not be otherwise. Important to indicate that it is capable of recording at 120 FPS with Full HD quality.
AKASO Sports Camera
It complies with the resolution of the sensor that integrates this device, since it reaches 12 Mpx. This allows you to record at 4K, and you can send what you have achieved via WiFi or see it on Smart TVs using its HDMI connection. Waterproof up to 30 meters deep, its rear screen is two inches.
NK Tunnel Sports Camera
A solvent model that records a4K and has a waterproof casing that gives it resistance to water. It includes both rear and front screen (this information), which differentiates it a bit from the other chosen sports cameras. Its autonomy is somewhat fair, but it neither lacks WiFi nor HDMI.
Apeman A77
It is one of the devices with the largest connection options, since part of HDMI has an AV output and also has a USB port. The recordings are of high quality since they get to be 4K, and it has a remote shutter that allows a really comfortable use of this product. Its resistance to water is 30 meters.
Garsent Sports Camera
The two-inch screen that includes this model in its back is high quality (HD), so it is perfectly visible what is being recorded at 4K resolution. With excellent water resistance through the use of an additional casing, its weight is below 250 grams.
Victure Sports Camera
One of the models that includes two batteries to forget about possible autonomy problems, and also offers a water resistance that fits perfectly even when recording when diving. With a 170 degree angle, its recording quality meets as it becomes 4K. For other sports cameras it's advisable to use a underwater camera housing so your camera stays protected against water.
Panlelo V1
The sensor included in this product is 16 Mpx, making it one of the best sports cameras among all those chosen in terms of 4K recording. Its maximum recording angle is no less than 173 degrees, and it has excellent protection since it includes up to seven layers of a cover that prevents problems.
Crosstour Sports Camera
The `protection that this device offers against the guide is really good, since thanks to a casing it is possible to use it up to 30 meters deep. It does not lack a two-inch LCD screen, nor a WiFi adapter to be able to access the Internet and thus share the recordings made.
Dragon Touch Sports Camera
Of the most complete sports cameras that exist for less than 50 euros, since it includes everything you may need. 4K recording quality; 30 meter water protection; two-inch screen on the back; and its connectivity is one of the highest. It allows 4X zoom and has a remote shutter release.