The App Store is a tremendous source of apps, where all students have at their disposal applications with tremendous potential to help them carry out all their tasks in the best possible way. From task apps, calendars, or those that allow you to edit all PDF documents and even take notes. In short, tools that will help them work better and obtain better results.
Task apps
We want to start this post talking about homework applications, that is, those that will allow all students to be able to control everything they have to do, with the advantage that they will not have to keep it in their memory, but it will always be in their pocket , thanks to your iPhone or, even on your iPad or Mac, to be able to consult it at all times.
Todoist: To Do List
One of the most popular applications in this sector is undoubtedly Todoist. You can use it completely free of charge, although it has a professional part that you will have to pay for if you want to use it. It has become the quintessential task application for different reasons. The first of these is the great interface that it has, making navigation through the app itself very intuitive and easy to carry out.
Another reason why Todoist is one of the most recommended task applications is because of the number of functions that it has within it to be able to customize the way you organize your tasks, since it has labels , filters, and projects . In addition, it works with natural language, making it extremely easy to write down new tasks on different days, projects in even hours.
stuff 3
Accompanying Todoist as one of the best homework apps is Things 3. Unfortunately on this occasion, if you want to use it you will have to checkout and pay for it, but the reality is that if you are going to use it intensively, it is well worth it. We could really say that it is the most Apple task app that you can find in the App Store given the minimalist design that it has.
One of the great advantages that Things 3 has is its wonderful compatibility with the Apple Calendar app , since it will allow you to see from the application itself the different events that you have written down in all the calendars that you have synchronized. In the same way, it also has several ways to organize all your tasks, something that is very important for users.
Microsoft ToDo
To finish with the most recommended task applications, we want to talk about Microsoft To Do. As its name suggests, it is the app that the giant Microsoft has developed so that you can manage all the tasks that you have to carry out in your different projects in the best possible way.
You'll be able to create color-coded lists , set expiration dates, and even schedule one-time or recurring notices. One of the great advantages that this app presents with respect to its competitors is that it allows the inclusion of files of up to 25 MB in each of the tasks that you register.
calendars
To be as productive as possible, not only do you have to manage your tasks well, but you also have to control and appropriately allocate the time you dedicate to each of those tasks and events that you have in your daily life. For this reason, it is vital to have a Calendar app that allows you to keep that much-needed control.
Calendar
The first option that we want to talk to you about is the native Apple application itself, that is, Calendar. This is one of the apps that is already installed by default on every Apple device, and which hides tremendous potential, giving you the possibility of managing all your time completely free of charge.
In addition to being able to create all the calendars you want in iCloud, it also offers you the possibility of synchronizing accounts from other services , such as Gmail, or any application that you may be using up to now. Obviously, it is available on all Apple operating systems and its synchronization is complete between all devices.
Fantastical – Calendar & Tasks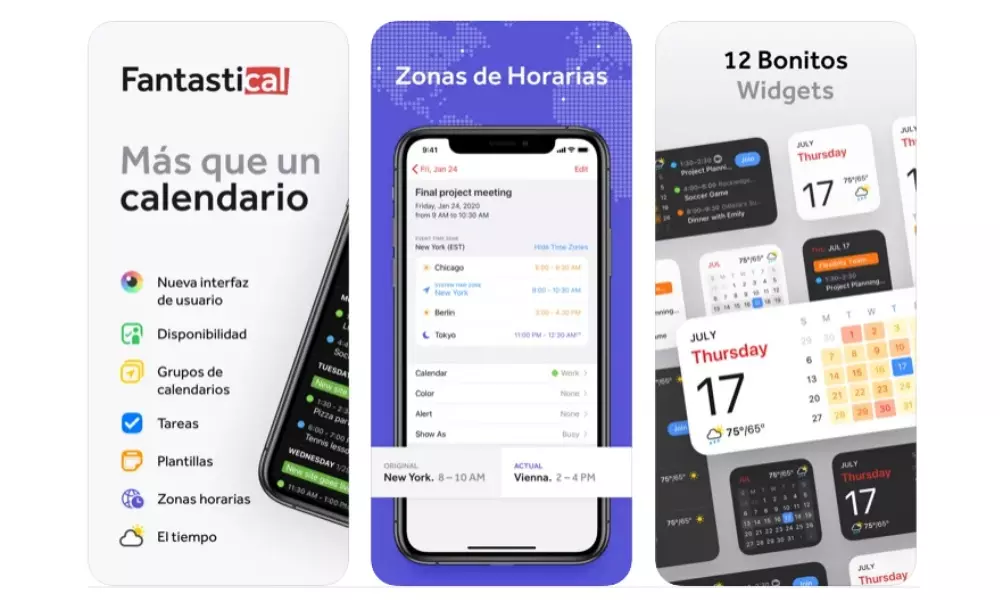 Fantastical is fantastic, and never better said. It is one of the best alternatives you can find if you want to be really productive by managing all your events and tasks from the same place. One of the negative points is that it requires a subscription to be able to use it after having passed the free trial, however, if you are really going to use it daily, it is well worth it.
Among all the advantages and functionalities that this app hides, the possibility of synchronizing with Todoist is one of the best, since in this way you will be able to have both your calendar events and your Todoist tasks, in the same application to be able to view them conveniently. together and have a much more global view of everything you have to do in your day to day.
Google Calendar: planner
This is one of the most used Calendar apps in the world, thanks to all the integration it has within the Google ecosystem of applications and services . Therefore, if you are a user who uses many services and apps from this company, Google Calendar seems like the best option for all the facilities that it entails.
However, it is also an option to take into account even if you are not a user of other Google systems, since as a calendar application it also has really interesting functions. These include the ability to create, manage and consult your tasks , the different calendar views available or, of course, the ability to synchronize calendars and accounts from other services.
TickTick: Tasks & Calendar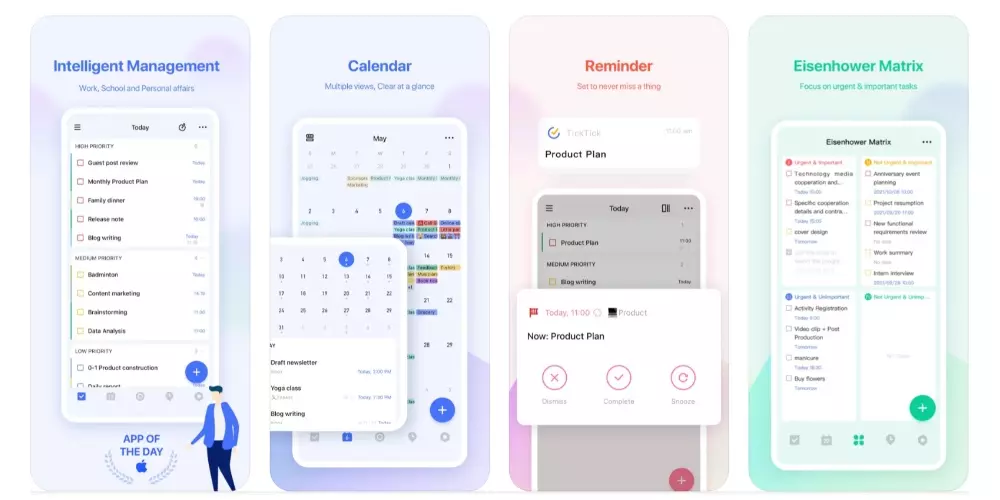 We finish the calendars section with an app that is perhaps a little less known than the ones mentioned above, but that has nothing to envy at the level it works for all of them. In fact, it has a peculiarity that makes it really special and for which you have to keep it in mind. This is the ability to manage both events and tasks together , that is, you will not need to synchronize this app with others to be able to manage all your time in it.
In addition, it also has its own functions that calendar apps have, such as the possibility of creating different projects, setting reminders or notices for different events, full integration with calendars from other services or even the possibility of adding tasks through emails .
Apps to take notes and edit PDF
One of the tasks that students most often carry out is to take notes, notes and edit the PDFs that teachers provide them for study and understanding. In this aspect, we can classify the iPad as the perfect device to be able to carry out all this type of action, even more so if you accompany it with the Apple Pencil and any of the following applications.
Good Notes 5
Within the world of PDF editing and note apps, there are two that are above the rest, and one of them is this one, GoodNotes. Obviously, it is an app that you will have to use together with an Apple Pencil and that, in addition, is paid, but there is no doubt that every euro you pay to use this app is really worth it.
It has a wide variety of possibilities when it comes to making notes , whether on a blank sheet of paper or on any PDF file that you have been able to import from any cloud service or email. You can change the type of brush, the color, include stickers, import images, in short, we can practically say that you can do whatever comes to mind.
notability
But obviously, if we talk about Good Notes, we also have to talk about the other big one in this sense, which is Notability. In essence, both apps are capable of offering you the best tools, both to create notes from scratch, and to be able to make notes on the different PDF files that you can import.
It has many tools to be able to unleash all your creativity, from different brushes , colors , highlighters , to even the possibility of including audio messages within the different files. You can also add GIFs and web pages to further enrich all your notes.
Applications to make video calls
Something that happens quite frequently in the life of any student is the need to make video calls with their classmates to be able to carry out a task, work or discuss any topic. Well, for this reason, it is practically essential to have a good app that allows you to do this.
face time
The first option that we want to recommend is the one that is already installed on your Apple device, be it an iPhone, iPad or Mac. It is FaceTime, which has also received a major update adding functions that make it one of the best apps to be able to carry out all the video calls you want.
With FaceTime you'll be able to share the screen with all the members of the call, but beware, not only users with Apple devices can use it, but you'll be able to share the link of the call with all the people you want. It also has improvements at the sound level, allowing you to isolate your voice from the rest of the noise that may be around you, as well as activate the bokeh effect so that you are the person who is perfectly focused on the call.
Skype
One of the best-known alternatives in the world is Skype, and that's due to everything that this application offers to be able to meet and carry out different tasks. In the same way that happens with FaceTime, with this app you can share the screen, meet with a large number of people and even record the video call to be able to use the video later or even just the sound.
Through its chat you can send all kinds of files , from different documents to photos, videos or even voice messages. In addition, during the call it offers users different ways to be able to interact with each other, such as reactions or even the possibility of "raising their hands" to ask for a turn to speak.
ZOOM Cloud Meetings
We end with one of the applications that has grown the most in recent years, and that is that Zoom has entered through the front door in the catalog of apps that allow all users to carry out these meetings online. It is very focused on the entire workplace , but for this reason it is also very useful for students.
Obviously it has all the functions that an application of this type needs to be able to satisfy the needs of a professional public. You will be able to share screen , collaborate on a whiteboard in real time, exchange different documents and files, it even allows you to activate a safe driving mode on the road to be able to meet in a call even when you are driving.
Apps to synchronize your notes in the cloud
Finally, we want to talk to you about the different alternatives you have to always have all your documents safe in a good service in the cloud. This is something that is always highly recommended to do, since in case you lose a document locally, you will always have the peace of mind that it is in your cloud storage service.
iCloud
For all users who use or work with an Apple ecosystem, that is, with different devices from the company, the best option is undoubtedly iCloud. However, there is no iCloud application as such, but the way it works is to contract your storage service first, and then use the Files application to save everything in iCloud Drive.
The point in favor of this storage service is that synchronization with all Apple devices is complete and, furthermore, practically instantaneous, so working with the ecosystem of Apple products and also its cloud provides you with a very satisfying experience and makes things really easy for you.
Google Drive – storage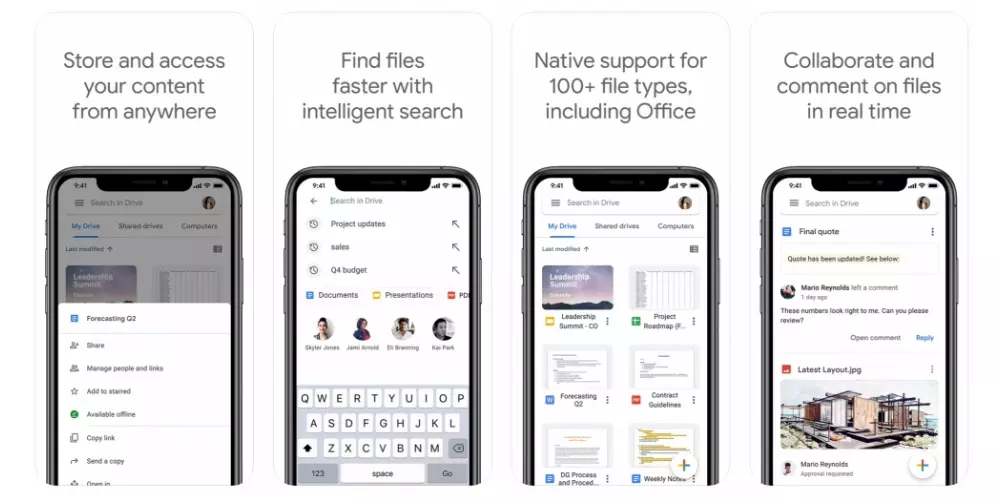 Obviously, in this section we had to talk about one of the most popular services, and also the most used in the world, such as Google Drive. This is caused, firstly, because it is a very high-quality service, but also because there are many users who enjoy other Google services on a daily basis.
That is precisely the great advantage that this service has, that in the same way that iCloud makes a lot of sense if you have an Apple ecosystem, in this case Google Drive has much more value if you use applications from the Google ecosystem in your workflow. , since that way you can enjoy all the synchronization it has.
Dropbox: Cloud and Storage
Finally, it is the turn of one of the most popular cloud storage services in the world, and that for many years has been the most used by users, it is Dropbox. It has an application to be able to use it on all the devices you have, whether or not they are from Apple, so you won't have to worry about having or not having your different files on all the computers you have.
One of the great advantages of this storage service is that it allows you to access all the files in your account even if you don't have an internet connection at that very moment. It also allows you to send large files just by copying a link, thus giving the other person access to view and even download it.
Which are the best?
Once we have already told you about all the applications that we recommend you take into account to improve your entire workflow as a student, we want to tell you which are the options that have convinced us the most. Although obviously, you have to bear in mind that these preferences are totally personal and adapt to our needs, which may or may not be the same as yours. So we encourage you to be yourself who choose the best option based on your requirements.
Best task management app: Todoist
Best Calendar App: Fantastical
Best app to take notes and edit PDF: Good Notes 5
Best app to make video calls: Zoom
Best Cloud Storage Service: iCloud