The Echo Dot is one of the most popular smart speakers on the market, and possibly the best-selling of them all. Its strengths, in addition to the good performance of Alexa, are undoubtedly the size and the price. For a few days I have tested the fourth generation Echo Dot watch and this has been my experience.
A design for any corner of the house
When I talked about the Amazon Echo, I already mentioned that the change in the form factor was one of the great attractions of this new generation of Amazon smart speakers. In this new Echo Dot with clock I repeat myself, the spherical design suits it very well. So much so that it is a speaker that due to its size is even more capable of fitting into any corner of the house.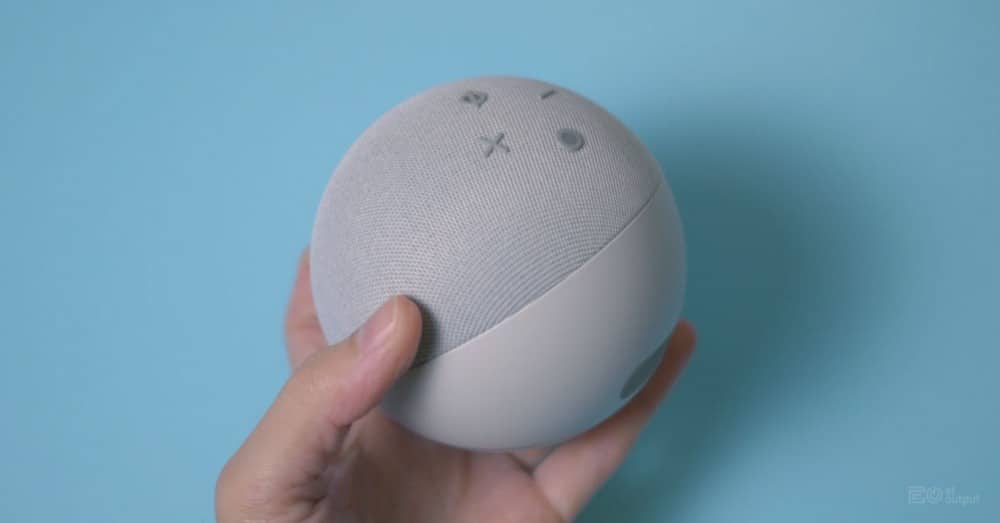 As if it were a small ball, its 10 cm wide and 8.9 cm high make it look good anywhere. It does not matter if it is a living room furniture, a bookcase, the bedside table, the office or desk where you work or simply play at the console. In addition, the fact of having a screen where you can see the time gives it an extra level of utility that is quite interesting.
This screen is what really differentiates it from the other model that there is without a clock. Is it essential? No, but if you are not very sure, the truth is that for 10 euros more it is worth betting on this version. Still it is you who must decide. As a detail, it can be turned off if you don't want it at some point.
For the rest, I have little else to tell you about its aesthetic section, the product looks very good, this gray color is very minimalist and that makes me like it even more. In addition, at the level of construction quality it also meets perfectly. No low-quality plastics and a feeling of fragility.
Control options and the Alexa experience
The new Echo Dot with 4th Gen clock retains the same layout at the level of buttons and connections with respect to the previous version. That is, with the four upper buttons you can control the volume, mute the microphones as well as invoke or cancel the interaction with Alexa.
In the back you find two connections. One of them is for the cable that feeds the device itself and the second is a 3.5 mm jack type so that you can connect it to an external sound equipment. Why the latter? Well, so that the music that it reproduces, for example, is listened to with higher quality or it does so through an installation of piped music that you can have at home or similar.
As I say, that connection is only for output , no input option to use the Echo Dot as a PC speaker. That possibility is only offered by the Amazon Echo that we recently analyzed and costs more than this model, in addition to that logically it sounds better and even something as valuable as a Zigbee switchboard for devices compatible with this connection standard.
Regarding the experience with Alexa, I am not going to assess again the capacity of the Amazon assistant in terms of response and understanding, you already know that it is at a great level and from my point of view it is the assistant that behaves the best. What I am going to tell you about is how it works at the level of response speed and quality of the microphones.
If you have used or have a 3rd Gen Echo Dot I will tell you that this new Echo Dot behaves exactly the same . If there is a difference, it is minimal and is not appreciated on a day-to-day basis. Therefore, it does not happen like in the new Echo where it does feel more agile. Even so, it is not a problem, because even being in another room as soon as you raise your voice a little, it listens and understands you without problems.
Sound quality
I would love to tell you that there are changes in sound quality, but it is not like that. That does not imply that it is bad, on the contrary. The Echo Dot seems to me to be a device that as a loudspeaker offers very good performance considering the price and its size.
I've been using it in different locations and for different things like listening to music, podcasts and even making a call thanks to the Drop-in function and it has behaved perfectly in all of them. Logically, if you are an inveterate audiophile, you will see that it offers what it offers, but despite this it is surprising that therefore little of so much.
Echo Dot third or fourth generation?
Perhaps this is the question that you have been asking yourself from the beginning, so I will give you an answer after these days of personal experience. As a 3rd Gen Echo Dot user, I have to say that the difference between the two in terms of sound quality, microphones and experience of use with Alexa is minimal or non-existent.
With a speaker with the same diameter, the reproduction of all frequencies is similar, so you can listen to all kinds of content, but without demanding the quality that the Echo or higher-priced smart speakers such as Sonos or similar would give you.
So why should you go for an Echo Dot with a 4th Gen clock instead of the old one? Well, simply and simply for an aesthetic issue. That is, the previous version was not ugly at all, but compared to this it is much more attractive and fits better in all types of environments.
So if design matters to you, better this new model . If not, the truth is that if you also intend to buy several, you may be interested in that difference in price between one and the other, then buy the previous one to get one more speaker. But hey, that's your decision.
The important thing, what you should be clear about is that if the previous Echo Dot have been sales successes, this new model too. Its form factor change is liked, the experience with Alexa remains the best and the sound quality maintains the level. So, if you are thinking of buying it or not, I can only advise you to do it. It compensates every euro it costs, even if it is not with one of the attractive discounts that can be found.