Always having the best characters in a game is difficult, but the effort will always be worth it. The same happens with the legendary cards of Clash Royale . Each one of them has different characteristics and abilities that make them unique on the battlefield, and with which any combat can be decided in a single instant.
Although, today, we find different powerful cards, it is the players themselves who finally decide to use one card or another depending on the advantages they give them, as well as their potential and versatility in the different decks. For this reason, we are going to show you which are the 7 legendary cards that any Clash Royale player should have in their deck, since they are the ones that are really worth getting.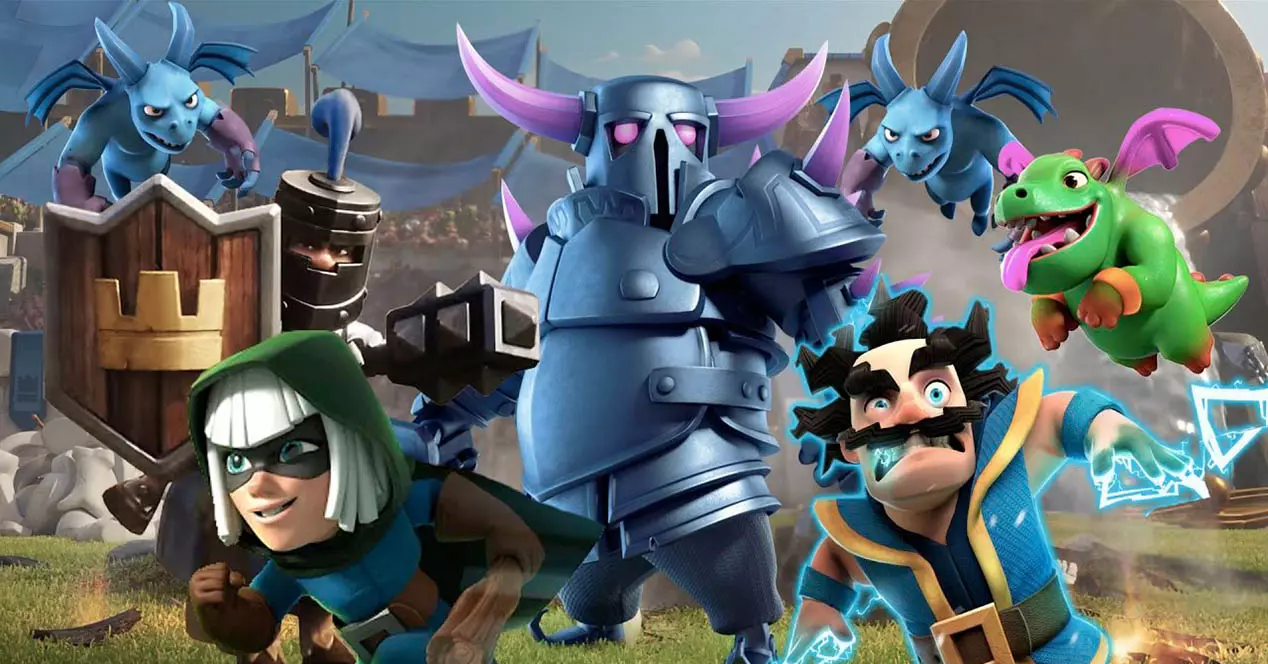 The 7 best legendary Clash Royale cards
In this title developed by Supercell we will be able to find different cards with different "ranks", since there are differences in common, special, epic and legendary. And, of course, the last ones by name alone show us that they are the most desired and difficult to get in the game. However, it is time to see the 7 best legendary cards that we could get in this title. In addition, we will value them at level 9 .
Mega knight
We are facing one of the most difficult warriors to stop in all of Clash Royale , whose objectives will be land enemies, so when we reach level 9 we will have a card that will have the following characteristics:
Area Damage: 222.
Jump Damage: 444.
Elixir: 7.
Health points: 3300.
Attack Speed: 1.7 seconds.
Objectives: terrestrial.
Jump range: 3.5 to 5.
Electric magician
Nor can we forget one of the characters in this game with which we can use electrical attacks with which we will be able to stop practically all the attacks that any player throws at us.
Damage: 186.
Elixir: 4.
Hit Points: 590.
Attack Speed: 1.8 seconds.
Scope: 5.
Stun Duration: 0.5 seconds.
Infernal dragon
Compared to other characters in this Supercell title, the truth is that this legendary card would be ideal for both ground and air targets , plus it will attack enemies by launching an infernal beam. The most curious thing is that, as the seconds pass after launching the attack, each time it will do more damage to the rival.
Damage: 30 to 350.
Damage per second: 75 to 875.
Hit Points: 1070.
Elixir: 4.
Attack Speed: 0.4 seconds.
Scope: 3.5.
Sparks
Another of the most feared characters in the entire video game is Sparks, one of those cards that we will never want to face due to his great ability with which he throws a lightning that is too powerful, destroying practically everything in the middle of his path.
Damage: 1100.
Hit Points: 1200.
Elixir: 6.
Attack Speed: 4 seconds.
Scope: 5.
Miner
This will be the ideal to directly attack the towers of our enemies, and there are few characters that go for the towers. Therefore, the Miner moves through the ground to any place we want. Its characteristics are as follows:
Damage: 160.
Tower Damage: 48.
Hit Points: 1000.
Elixir: 3.
Attack Speed: 1.2 seconds.
Mother witch
This legendary came to our decks in late 2020, and has been one of the most used characters ever since. When we attack our enemies they will transform into pigs that will run to attack the tower of our enemies.
Damage: 96.
Tower Damage: 384.
Health points: 560.
Elixir: 4.
Attack speed: 1.2 seconds.
Range: 5.5.
Graveyard
This type of legendary will be a great option if we know how to combine it with some other character, among the most used we find the Miner, among other characters. The characteristics are as follows:
Duration: 10 seconds.
Generation speed: 0.5 seconds.
Elixir: 5.
Scope: 4.
Life of each skeleton: 67.
Attack speed of each skeleton: 1 second.
In addition, as we increase its level we will increase the damage of the skeletons that are thrown, at level 9 they will manage to do a damage of 67 points each skeleton.