Watching television over the Internet allows us to access a fairly wide variety of free channels of all possible genres and themes. If you have a Samsung Smart TV or are thinking of getting one, these are some of the applications with which you can watch channels completely free.
Currently there are different platforms that allow us to access countless different channels without having to register or pay for them. In some cases they even allow us to record the contents and save them to be able to view them at another time. In the case of Samsung Smart TVs, these are some of the applications that you can install on your smart TV to start enjoying hours and hours of free content.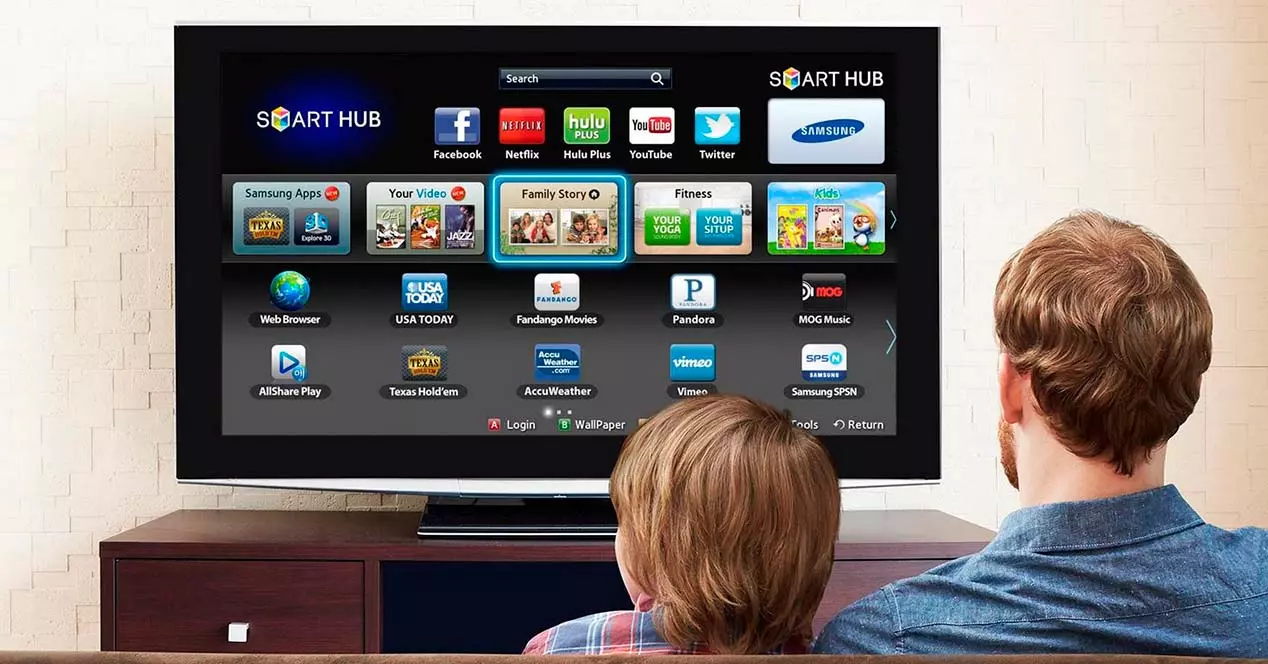 Samsung TV Plus
Samsung TV Plus is an application that is installed by default in the most current televisions of the brand. With it we have access to more than 100 free channels focused on topics as diverse as current affairs, entertainment or sports. To access the application you do not need to download it or pay anything to start using it. As it is included in your television, you cannot unsubscribe or delete it.
However, Samsung TV Plus is not available on all brand televisions. If you have a Samsung TV and you want to access these free channels, you must have one of the models manufactured after 2016 through the Smart Hub button by searching for the application icon and accessing it.
Pluto TV
Pluto TV is the first AVOD (advertising-based video on demand) streaming platform that came to our country. This platform is available for Samsung televisions with the Tizen operating system manufactured from 2016 onwards. Pluto TV currently has more than 80 free channels that we can access without registering. By downloading the application on our smart TV we will have access to both live channels and on-demand content.
It is a platform that is financed through advertising. Pluto TV allows us to watch series and movies on demand, as well as linear and thematic channels. In addition, they are continually including new channels with the goal of ending this year reaching 100 channels. One of the recent improvements that has been included in the app is a button through which we can search our favorite content more easily.
Tivify
Tivify is another of the free platforms that allows us to access more than one hundred television channels on various devices simultaneously. It is free if we select the Free plan, although it also has a payment that will give us some extra features. In the present case, it is available on Samsung brand televisions after 2017. In this case, it is necessary to register on the platform to access all its contents.
The free plan includes more than 80 free open channels on 3 linked devices, but only one simultaneous viewing. In addition to watching channels for free, Tivify also offers other very interesting features. Among them, unlimited access to the programming of the last 7 days on RTVE and regional channels and 60 hours of recordings that can be accessed at any time during 30 days.
Rlaxx TV
Rlaxx TV is an international streaming television service. Just this week we informed you that it is already available on Samsung Smart TVs manufactured in 2018 or later years. In addition to on-demand and on-demand content, it also offers several linear TV channels. Of course, all for free.
Rlaxx arrived in Spain last August and currently offers more than twenty free channels, which may change in the coming months, since it is in the midst of an expansion phase. Rlaxx TV has a global network of content providers that cover different topics, which makes it a platform capable of offering content for all tastes.
Rakuten TV
After Pluto TV arrived in the Spanish market, the next AVOD platform to arrive in our country was Rakuten TV. In the case of Samsung Smart TVs, the application is available in models manufactured in 2013 or later, being one of the applications that covers the largest number of Samsung TV models.
Rakuten TV is a platform that allows us to buy or rent movies, but it also has some free movies and free content. In addition, it also has thematic channels. For example, channels devoted entirely to sports or children's content. To access these channels, it is not necessary to make any registration to pay a subscription, as with Pluto TV.
Plex
Plex is a service with which we can create our own multimedia server to play local content from our network on various devices such as mobile phones, tablets, computers or televisions. In addition, Plex has a "Live TV" section with more than 80 free channels available.
If we want to see the free Plex channels, no registration is necessary. Of course, in this case not all the channels it offers are in Spanish and we can download its application if we have a Samsung television manufactured in 2016 or later years.