The smartphones have become much more than mobile phones, are authentic entertainment centers in our pocket. That is why it is more than usual to see people enjoying their favorite series or music during the tedious road to work. While most Android phones include an integrated video player , these are not usually very effective when playing any type of multimedia file.
If you are fond of consuming multimedia content from your mobile phone but you are not very satisfied with your mobile player, do not worry.
Under this line we leave you a selection with those that we consider the best video players for Android of this 2019. All of them are free so… what are you waiting for to download them?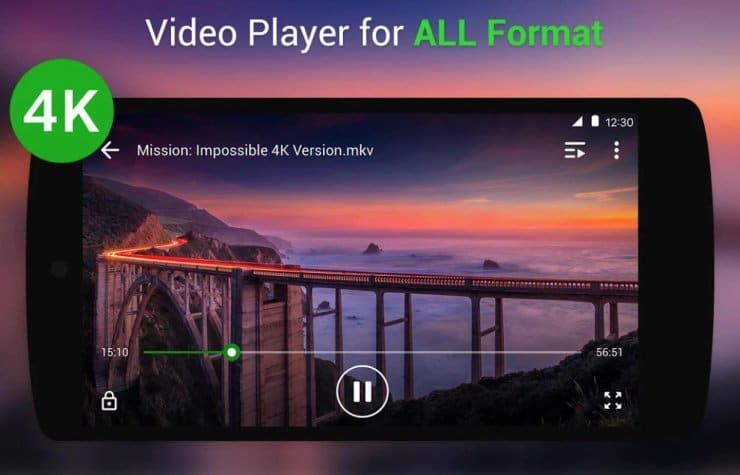 XPlayer
XPlayer is one of the best options to enjoy videos and multimedia content from your mobile without spending a penny on expensive apps. This allows the reproduction of video in high resolution (4K and Ultra HD) without thereby lowering the performance of our phone.
Among the many advantages of using XPlayer we find its versatility, since it is capable of playing all or almost all the video formats of the moment (MKV, MP4, M4V, AVI, MOV, 3GP, FLV, WMV, RMVB, etc.).
As we have already told you, another feature of XPlayer is that to ensure perfect reproduction, the application includes the celeration of your hardware to avoid the odious lag in the middle of a reproduction.
Finally, XPlayer includes additional features as interesting as the ability to download subtitles for your video as well as create private folders so that nobody can see your videos or delete them without your permission. Highly recommended.
VLC Media Player
If you are fond of watching videos from your desktop computer, surely you are familiar with VLC Media Player . This one stands out for being a fast , secure player and also capable of playing any type of multimedia file .
Its mobile version works exactly as well as the desktop version, so it is taking time to download it for your mobile.
VLC Media Player for Android allows a really intuitive playback of any type of audio or video file you download. Simply browse through your mobile folders until you find the file you want and have a good time enjoying your video. And it is that being an open source player , there is no multimedia format that resists VLC.
Like its older desktop brother, VLC for Android allows you to add subtitles to any of your videos in addition to improving its audio quality. In addition to all this, if you have a Chromecast device at home, you can send your videos to the TV by simply pressing the screen of your mobile.
MX Player
MX Player is another excellent video player whose popularity is evident with its more than 7 and a half million downloads on Google Play.
The popularity of MX Player is due to the excellent performance in video playback thanks to its system for multicore hardware decoding. In a nutshell: your videos will play 70% better than in most Android video players.
In addition to working really well, MX Player is a perfect option for everyone looking for a simple and intuitive player where it is very easy to watch videos. Its only weakness is that being a free player, it has enough publicity and can be annoying.
KM Player
If you are looking for a perfect balance between audio and video player, we recommend that you take a look at KM Player. This one is capable of playing any audio and video format instantly and completely free of charge.
In addition to supporting any audio format such as high resolution video, KM Player is capable of playing content directly from the Internet. This way you can play YouTube videos by simply typing in their URL or accessing videos stored in services such as Google Cloud.
Finally, KM Player is accompanied by interesting functions to improve your experience in front of the screen. For example, you can activate the "Night Mode" with which the screen will not damage your vision, the "Mirror Mode" or the ability to display the video you want as a pop-up while using another app.
FX Player
To finish the list we want to recommend FX Player, a video player that not only accepts files in high resolution format but also protects them from other people's eyes. And is that one of the most interesting options of FX Player is precisely its ability to password lock any of our private videos.
FX Player stands out as a player designed and developed exclusively for mobile phones. That is why it is so simple to navigate this and includes options as interesting as being able to watch any video as a pop up while using some other application.
In addition to all that has been said, FX Player offers smooth playback and the ability to watch videos directly stored on the Internet. Highly recommended!
We hope that our selection of video players for Android will help you. What is your favorite?