1. Avast Mobile Security
For a change, Avast has gone beyond what is necessary to offer more than an antivirus. Avast Mobile Security includes additional functions such as call blocker, firewall and even an anti-theft measure that allows you to block your Android mobile or delete your personal data in case of theft or loss. More good news: Avast Mobile Security used to be paid, but now it has a free version with ads.
If you decide to opt for the paid version of Avast Mobile Security, not only the ads are deactivated but you have additional functions such as a lock for certain apps; To run certain applications you must enter a PIN. It is ideal to prevent malicious malware from entering your favorite apps.
You can download Avast Mobile Security from this link.
2. AVG AntiVirus
AVG AntiVirus is a classic app with a robust and complete scan. You will find common suspects such as security in Wi-Fi issues (for example, scan Wi-Fi networks to alert you of the most suspicious), file cleaner of our smartphone …
The most unique and most interesting functions can be found in its paid version. It has a free 14-day trial mode, in case you want to try it. It also has applications-expansion such as AVG Cleaner, AVG Secure VPN, Alarm Clock Xtreme … that you can download for free from the Play Store.
You can download AVG AntiVirus from this link.
3. Avira Antivirus Security
To be one of the newest security applications to reach Android, Avira Antivirus Security has not taken long to catch up. It includes basic functions such as the typical scan for viruses, real-time protection … but it adds its own interesting functions such as external sd card scanning, or app scores according to your security level. The latter may seem silly, but you have to keep in mind that every two or three months appears the typical news that a malicious app has managed to sneak into the Google Play Store.
Its paid version also includes its own curious functions such as camera and microphone protection to prevent third parties from using it to spy on us, thus obtaining personal information. Any of these functions can be purchased within the app, in case we do not need the full pack.
You can download Avast Antivirus Security from this link.
4. Bitdefender Antivirus Free
The free version of this antivirus weighs very little, uses few resources from your Android and uses little battery. What else can we ask for?
The bad news is that to save so many resources, Bitdefender Antivirus Free does not work in the background, so you will have to manually run the scans for malware or schedule these tasks.
If you want, you can sign up for a free 14-day trial of Bitdefender Mobile Security, which includes antivirus and also real-time protection while browsing with Google Chrome. It also has anti-theft functions, among other elements.
You can download Bitdefender Antivirus Free from this link.
5. Kaspersky Mobile Antivirus
Kaspersky is one of the most popular antivirus on the market. It has two versions: free antivirus and a paid one. Both include useful functions such as blocking calls and SMS, scans, anti-theft system … Instead of focusing on superfluous functions that never work and the only thing they achieve is to deplete the battery of your mobile (those enhancers that promise a lot and do not fulfill anything ), Kaspersky Mobile Antivirus focuses on constantly updating your scan to catch malicious threats before they have time to act.
In case you are interested, its paid version, called Kaspersky Internet Security for Android, has additional functions such as anti-phishing, message filtering or monitoring your browsing to avoid entering dangerous pages.
You can download Kaspersky Mobile Antivirus from this link.
6. Malwarebytes Security
Surprise: one of the best antivirus for PC is also one of the best antivirus for your Android. Apart from having a database that is updated regularly, Malwarebytes Security scans even your WhatsApp messages, Facebook, SMS … in search of links that take you to a dangerous website.
You can download Malwarebytes Security from this link.
7. McAfee Mobile Security
Another big name in the world of anti-malware. McAfee Mobile Security is loaded with functions such as anti-theft functions, security for the Wi-Fi theme… It highlights its simple and intuitive interface, which includes tutorials so you know how to take advantage of its functions. McAfee Mobile Security is also an app prepared for Android Wear devices.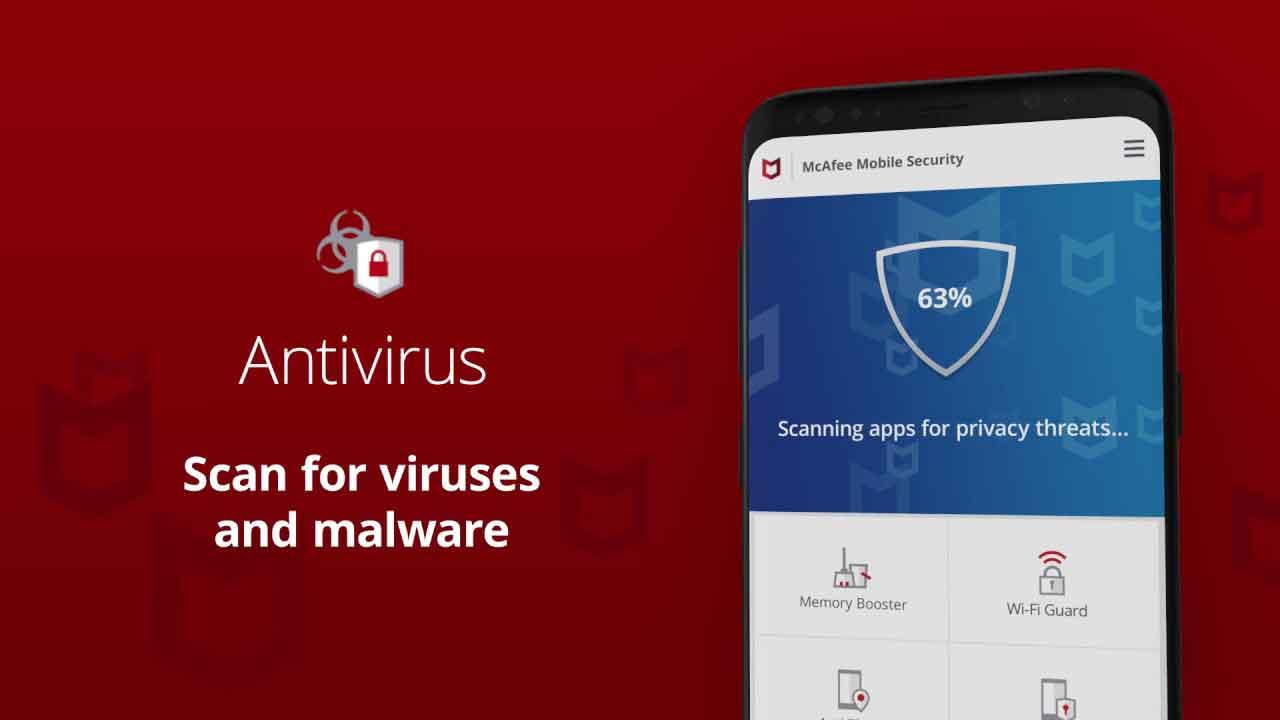 However, it is also true that it has many functions, such as the typical enhancers or memory optimizers that, as we mentioned in another section, do not go anywhere.
You can download McAfee Mobile Security from this link.
8. Norton Mobile Security
The vast majority of antivirus that you will find in this list and in any other detect between 95% -98% of the antivirus in the classic tests. Norton Antivirus and Security is one of the few that detected 100% of threats. This is due to Norton Mobile Insight, the engine behind your scanner.
Its anti-theft functions are also the sea of ​​detailed. You can for example choose to block your Android if you think it has been lost or if there have been 10 unsuccessful attempts to unlock it.
You can download Norton Mobile Security from this link.
9. Security Master
This list of best free antivirus for Android is about having many known and expected names, don't you think? We will vary a bit with Security Master, the old CM Security app for Android by Cheetah Mobile.
Its high scores in Google Play Store are no coincidence: its free version has a lot of safe features such as app blocker, scanner, notification cleaner … And yes, some features that are a bit like CPU optimizer or battery saver.
Among its functions, we discard a VPN that uses Hotspot Shield technology and that helps you easily access blocked websites in your region. The free version of Security Master offers you access to only three locations (United States, United Kingdom, Australia) and has a daily data limit of 200MB (very little, true, so you will have to use this function carefully so you do not exhaust it quickly ).
You can download Security Master from this link .
10. Sophos Mobile Security
Sophos Mobile Security has won the AV-TEST awards multiple times. It is one of the few free antivirus for Android that does not even include advertising. In addition to rigorous virus scanning, you have protections for your smartphone in case of theft or loss, authenticator to add security in two steps where necessary … even has a kind of advisor that gives you advice on how you could improve the security of your Android