Most of the televisions that are seen today include their own operating system, but sometimes this is not exactly very advanced and with the passage of time you want to improve it. A good option to achieve this is to get a player with the Android TV operating system, and an example is Youin You-Box that we have tested and we are going to tell you what you will find if you decide to buy it.
The first thing to say is that the choice of Google's operating system for televisions is a success, since it offers a fairly simple operation based on information boxes (in which you can see, for example, the applications that are installed ) and does not lack access to the official app store that the Mountain View company has, from which it is possible to download an impressive number of options that far exceeds what any other software offers and that in many cases it is not necessary to pay absolutely nothing for it.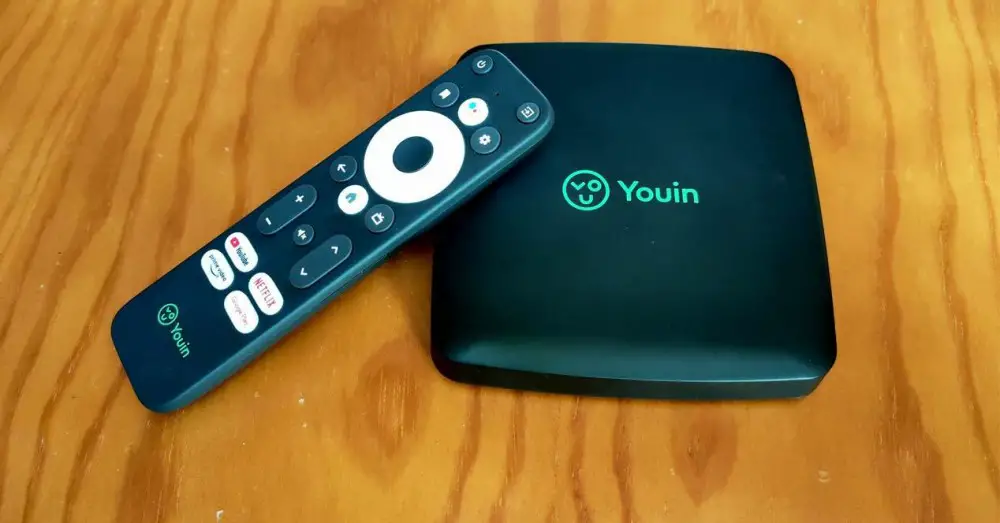 A design that meets a good note
Generally when looking for a multimedia player that will be placed next to the television, the ideal is that it does not have excessive dimensions, and here it meets the Youin You-Box perfectly, since it fits without problems in the palm of the hand . It should be noted that it is made of polycarbonate of a fairly good quality and that ensures durability, and that it does not lack an information element to know if the player is working or not (this is a front LED that can be blue or red) .
With a fairly solid base and that has shown us that it is solvent what has to do with reliability when placed on top of a piece of furniture, absolutely nothing drips due to the rubber bands included in each of its four legs, in the lower area it stands out that the case is perforated which has proven to be a good idea, as this serves as an efficient cooling system.
Some additional details that you should take into account about this model is what has to do with the design and that is that in the back area there are several connections, which are the usual ones with the television or the router. In addition, in the right area there are a couple of USB ports and a memory card slot that are very accessible. These are perfectly located, since they will be the ones you always use when connecting external storage devices where you have multimedia content, such as a pendrive.
Very good connectivity
Since we have talked about the location of the connections of this accessory, it must be said that the number of ports that you will find in Youin You-Box is excellent. Thus, for example, it does not lack three USB (one 3.0, another 2.0 and the last one is the current type C). In addition, it also has Ethernet to connect the player by cable to the router and, other options are an optical digital audio output and HDMI , which is what you will use to connect the device to your television.
If you are wondering about the wireless options, all the ones you may need are present. Thus, there is Bluetooth 4.2 that allows even the connection of game controllers. And, of course, it has WiFi to access the Internet without cables. We have found that this last option works quite well both in terms of coverage and transfer speed. Thus, when testing the device, the contents of platforms such as Netflix or YouTube are reproduced with excellent fluency and at no time did a notice of bad coverage or similar appear (this was the case even when the router was on a different floor than the Youin You-Box).
Good hardware that is very solvent
Inside this small player you will find hardware that is more than enough to be able to run all kinds of content including something that makes it different from many others on the market: 4K compatibility .
Thus you will find a quad- core processor that worked a maximum frequency of 1.9 GHz that is capable enough so that you do not have problems with high resolution videos as we have seen when using the Youin You-Box. In addition, it comes with 2 GB of RAM , which is an adequate amount and has proven to be more than enough for Android TV 10 to work without the slightest problem. It includes eight gigabytes of storage space, where just over half is free to install applications or save content. There is the possibility to increase the capacity by using microSD cards up to 32 GB.
In the tests that we have carried out, the operation has proven to be excellent and we have not detected very pronounced delays when installing applications or accessing one to another when they are open in the background. Therefore, the choice is adequate and without fanfare, what is necessary is provided to be satisfied.
We liked almost everything about the command
This item is key to the operation of the Youin You-Box player. Its dimensions are quite small and the grip it allows is very good , since it does not slip excessively and fits very well in the palm of the hand. It is necessary to highlight some details in this accessory, such as the inclusion of several buttons that allow direct access to platforms such as Netflix, Prime Video or the Play Store itself. In addition, the upper area also includes its own button for the Google assistant (the microphone enabled for this works perfectly).
Another good thing that you find on the remote control is that it has enough buttons to manage reproductions despite being small, and an example is that it does not lack its own to raise or lower channels … something that you will not find for example in the own of the new Google Chromecast despite having similar dimensions. But there is something that has not fully convinced us: when leaving it on the table due to its shape it dances excessively and on some occasion when we grab it we have mistakenly pressed something that we did not want.
Use experience with the Youin You-Box
We have tested the player as the usual access device when enjoying the contents on the television and the truth is that we have been quite satisfied . The operation is very good and when it comes to viewing content, it should be noted that the definition is high, since it respects the original resolutions that can be up to 4K at 60 FPS. That is, it fits with any current TV. In addition, we have verified that the compatibility with HDR content exists and works well, something that is clearly noticeable in the good colors that are shown when watching series.
In the sound section, it should be noted that it offers wide compatibility with technologies such as DTS and Dolby, and in general we believe that the operation is good. Of course, sometimes a small click appears when you go from one application to another or when you took an ad and playback begins. It is not annoying, but it is something that may be corrected by an update.
With a fairly simple installation process in which it is even possible to complete it from the phone following the steps of the very useful assistant that is included, navigation through the Android TV operating system is very comfortable and intuitive, and you will not miss a good number of options among which there is the possibility of changing the resolution used or activating the use of a Chromecast player that integrates Youin You-Box. This, among other things, allows the sending of content from the phone and is an addition that we believe is important to highlight.
Our opinion
Taking into account that this is a product that barely costs 70 euros , what it offers is more than enough to be satisfied and enjoy an operating system intended for televisions (note that you can also connect it to a monitor that has an HDMI port) which is one of the most complete that exist. We have not detected any compatibility problems and the image quality responds perfectly even to be a very good possibility with 4K TVs.
It will be necessary to see how the updates of the operating system are managed, which right now uses a very current version and that works without the slightest problem, everything has to be said. The fact is that this is a very good purchase, since it combines simplicity, good operation and effectiveness . Very little more can be asked of this Youin You-Box .