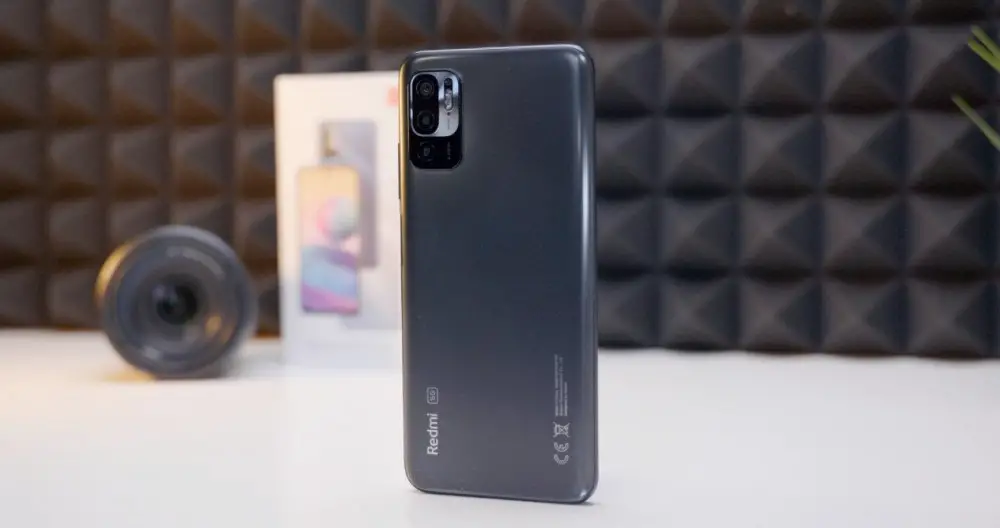 The Xiaomi Redmi Note 10 5G arrives with the intention of democratizing 5G, but causing collateral damage to the user who will not know which of all the members of the Redmi Note 10 family is really the most interesting of all. After having tried it for a few days, we tell you what you can expect from it.
Design with DNA of the Redmi Note 10 5G family
Xiaomi's terminals, with the exception of some very specific proposal that have managed to surprise in terms of design, are easy to recognize and this year even more just by looking at the main camera module. And it is following a very marked and characteristic aesthetic .
In the case of this Redmi Note 10 5G it drinks from two of the models that make up the family and that we have already known for a long time, the Redmi Note 10 and 10 Pro. So what we have is a rear with a very elegant and matte finish. very good touch. It is true that fingerprints stick easily if your hand is a little wet, but it is not that it is something strange neither in this nor in many other phones today.
Regarding the colors, it is available in blue, gray, green and silver . So there are varied options for everyone to choose the tone that they like or attract the most.
On the right side are the volume control buttons and also the power button that, in addition, is combined with the fingerprint reader. This reader, together with the face recognition itself, works accurately, quickly and agilely. Details that always like, because there is nothing more unpleasant than having to walk at this height introducing the pin or pattern that you can also create.
On the left side is the tray that gives access to the two SIM cards that can be installed or combine a SIM with a microSD card to expand the internal storage. Finally, at the bottom is the USB C connector for charging and data transfer and at the top a headphone jack and the classic IR sensor that Xiaomi usually introduces in many of its proposals.
In general, it is a device that without risking is at a great level. It is well built and not having premium materials is not something that penalizes you because you have to be aware of the price and the type of range that it really is. In addition, it is much more important that the hand feels good and is comfortable in the day to day, two aspects in which it passes without problems.
Hello 90 Hz soda
To start talking about the technical sheet of this Xiaomi Redmi Note 10 5G you have to go first to the most visible component, the screen. Here Xiaomi does not throw the house out the window, but it does offer an LC D panel where its 90 Hz refresh rate mainly stands out. And yes, the jump with respect to other more normal screens is remarkable, because that fluidity helps to further enhance the feeling of performance of a device that offers what others have already presented in terms of processor, RAM or storage and many others. manufacturers will do over the next few months. Because it will be a technical sheet that is repeated like that of the high-end currently.
With a diagonal of 6.5 inches and a Full HD + resolution , the experience when consuming all kinds of multimedia content, moving around the operating system itself and the interface of all the apps that you may have installed is quite good. What's more, we are not going to say that it is the best screen in its range, but it is good enough to stand out in aspects such as brightness and color. Perhaps by contrast not so much, especially since we have quickly become accustomed to the advantages of AMOLED panels, but still I do not think that anyone who bets on it is going to be so demanding in this section considering its price.
Performance, battery and sound
As I said before, the Redmi Note 10 5G technical sheet is going to be very popular in the coming months in this range that seeks to offer the latest in connectivity at a very contained price, access to 5G networks. So in parts, this is what this hardware offers:
MediaTek Dimension 700 5G Processor
Mali G57 GPU
4 GB of RAM
64 or 128 GB of storage
5,000 mAh battery
18W fast charging with the included power adapter
With this data, both the operating system and applications move relatively smoothly. Maybe on specific occasions if you miss a little more power, but in normal use I don't think you will have any problems even if you want to play. That would not be the phone that I would recommend for it, unless they are very casual titles, but how can you do it?
Where that lack of gross performance may be noticed a little more is when it comes to processing and handling the different options of the camera application, but later you will see that this is not that important, much to my regret.
In most cases the experience is satisfactory and the good thing is that neither this CPU / GPU combination nor the possibility of connecting to 5G mobile networks weigh down energy consumption, so that the autonomy in the day-to-day of the device is good. You can reach a day and a half of use and stretch depending on what type of use you give it. In the same way, if you make intensive use of topics such as the camera, video recording or butt games, you will notice that the consumption is faster.
Still, with the charging system, it is easily solved despite not being the fastest either. So you do not have to have problems or qualms when deciding to bet on this device if the rest of the aspects interest you.
And taking advantage of the fact that we talk about performance, another important aspect of the user experience is the sound quality and here it complies. The best thing is that you have a 3.5mm headphone jack and that always gives you options to use wired helmets that are surely interesting in this range.
MIUI 12 and those apps you don't need
MIUI 12 as a layer is one of those proposals that you usually like, but that Xiaomi puts so many apps that you have not really asked for and surely you will not need is a bit annoying. Although the most annoying on certain occasions is the advertising also included.
I put myself on the side of the brand and I can understand certain movements, but being who they are it costs me a little more. Because they really no longer need to use the price strategy to make themselves known and hence advertising is included that helps them generate income and lower the cost of the product. Although your marketing and finance department will have considered all the possible variables that this could generate. But the average user with less knowledge will surely end up annoying in the long run, even if a little of it happens at first.
The photographic section, its great lack
After getting here it is clear that with its pluses and minuses, in all sections the Redmi Note 10 5G complies and certain aspects are forgiven for the price it has. However, as a user who cares about having a good camera, the photographic experience with this phone is very fair.
Xiaomi makes use of four cameras, of which only two are really useful: the 8 MP front and the 48MP rear, which is really the main and only one. Because then there is a sensor to measure depth and a tele macro of those that you wonder why they have really incorporated it instead of a wide angle.
Knowing all this, the photos that can be obtained are not bad, but they are still very fair and somewhat erratic in certain more complete lighting situations. It is not a phone like those Mi A1 or Mi A2 that with a similar price stood out in this section. Maybe I have become very demanding, but if you look at the results you will see that they do not attract the attention at all.
Photographically it is a phone that does not contribute anything. His captures are correct , but do not expect anything else because he will not give it to you. With a little patience and editing you can save some shots and improve others, but if you want good photos, you will have to look at other options.
A phone that bets on 5G
As has already happened with other recently launched devices, this Xiaomi Redmi Note 10 5G is a phone that clearly bets on 5G connectivity. In that sense, for the 229 and 249 euros that it officially costs according to the storage configuration it is not bad at all, but in the general calculation it is a bit short for me.
If we take into account that there are still many cities and areas where 5G connectivity is still limited, then betting on the inclusion of this technology supposes collateral damage that mainly accuses the photographic section that is diminished.
So think about it before you go for it. Because if you are not going to be able to take advantage of 5G, models like the Redmi Note 10 Pro are not much more expensive and worth more.