To play comfortably on PC, the ideal is to have a good mouse and keyboard in good condition. In this field, mechanical keyboards are infinitely superior to membrane keyboards. The problem is that the market is very varied and makes it a bit complicated for us before launching to buy one of these keyboards. If you want to buy a mechanical keyboard , but you don't want to complicate your life with cables, here we show you a few tips on what to look for in one of these products and which are the most interesting in wireless format that you can buy today.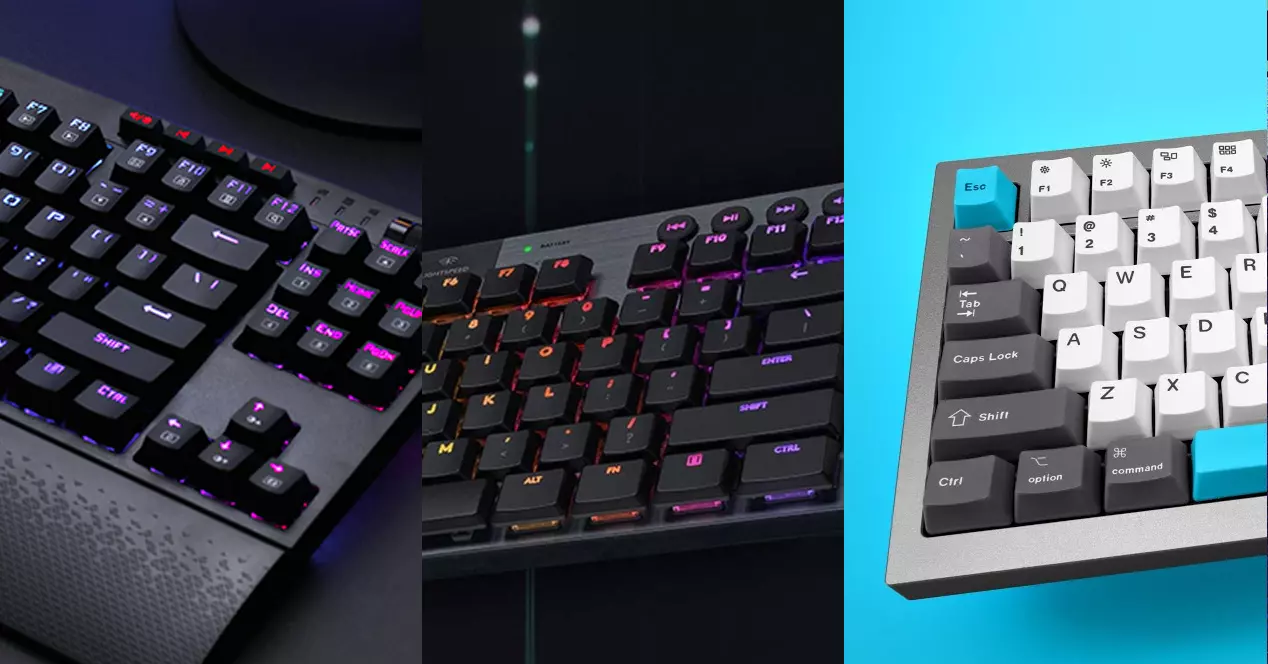 What features do I have to look at before buying a mechanical keyboard?
These are the considerations to take into account when choosing a keyboard specially designed for gaming.
Switches Type
There are several types of switches depending on what you are looking for on a keyboard. Each brand has its nomenclature — usually with color names. So that you do not get confused, it is best that you know that there are three types of switches on the market . You don't need to know what Cherry MX Red looks like or how Gateron Green works. Simply by knowing the types that there are, you will be able to recognize the type of button that a keyboard in question has.
Linear

 : They barely make noise and are totally direct. The keystroke is smooth and you will feel the same throughout the entire keystroke. There is no feedback.

Tactile

 : They are similar to the linear ones, but halfway through we will notice a small bump. By applying a little more force, we will overcome the obstacle, knowing through our touch that the keystroke has been registered.

Clicky

 : They are the loudest and preferred by people who are dedicated to writing. When it comes to using them, they are very similar to the tactile ones, only that we will receive a double confirmation when we reach the point of action. If you've ever heard ASMR sounds from keyboards, you were hearing a 

clicky

 keyboard without a doubt.
Ideally, you should touch these three types of switches with your own hands so that you can decide for yourself which one best suits your needs. If you do not have access to a store, small samples with different switches are sold online for you to touch and decide before making a bad purchase.
To play , however, the ideal is to use a linear switch . By being faster, you can take some advantage in your games if you are good. If you are also going to use the computer to work, then the best keyboard you can buy is a tactile one . And if you are going to play very occasionally and you dedicate yourself to writing, then you should assess very well whether to stick with the touch or if it is worth a clicky .
Keyboard format
Depending on the space you have and your needs, you have to decide the size of the keyboard you are going to use:
Full size

 : have between 104 and 108 keys depending on the keyboard layout. They have all the function keys and the numeric keypad on the right. They're big and heavy, but you won't be missing a key if you're playing 

Microsoft Flight Simulator

 , for example.

Tenkeyless

 : also known as TKL, these are keyboards without the number keys on the right. They are very common and ideal for most users.

75%

 : We will sacrifice the F keys and many of the specialty keys for a compact design.

60%

 : this time we will have the minimum and essential. Almost everything you can imagine will have to be done using the function key (fn), so you will not lose functions. They weigh very little and are ideal for small desks. They are also very useful if you use very little dpi on your mouse and you need a lot of space on the mat to be precise when moving through your games.
Keyboard layout
As a general rule, we are going to see ISO and ANSI keyboards . ISO keyboards are the ones that are sold especially in Europe, and have the 'Enter' vertically. On the other hand, the ANSI variant has the longer 'Enter', but with a horizontal layout. You will only find keyboards with 'Ñ' in ISO distribution , as well as Spanish versions that have a correct distribution. However, if you are going to use the keyboard solely for gaming, don't be afraid to buy an ANSI keyboard . There is much more offer in this format and you will always be able to remap the keyboard by software or change the keycaps for ones that adapt to your language.
Best Wireless Mechanical Keyboards
Taking into account the qualities described above, these are our current favorite models.
Logitech G915 TKL LIGHTSPEED
We start with this TKL with ISO-Spanish distribution . The switches are tactile , although it can also be purchased with clicky type switches , but with American distribution. It connects to the PC via a wireless USB receiver. The Logitech G915 TKL LIGHTSPEED has its own fully customizable RGB lighting system through the Logitech G Hub software, as well as special keys to control music and other functions on our computer. It is not a cheap keyboard, but it is a quality product that also integrates seamlessly into the Logitech ecosystem.
It also exists in full format and is called the Logitech G915 LIGHTSPEED.
Redragon K530 Draconic
Redragon has many great quality keyboards for sale. This 60% has the ANSI distribution of the United States . However, it is quite worth it for its price and its tactile switches . It works by Bluetooth 5.0 and you can turn it into a wired keyboard while charging it or if you want a lower latency thanks to the USB-C cable. You can configure the lighting to your liking and its design is spectacular.
Keychron Q1
The Keychron Q1 is one of the most customizable keyboards on the market today. In a barebone, that is, they sell you the skeleton. And you will be able to mount the switch and the keys that you like the most. The first thing you have to decide is the barebone design, that is, ISO or ANSI . Once done, you can equip Gateron, Cherry MX and Kailh switches . Of course, whatever kind you want . The keyboards are wireless, 75% formatted and compatible with both Windows and macOS. You can choose the keycaps based on your language and operating system. You can configure it step by step on the Keychron website and thePrice is quite affordable for all the amenities they offer.
Redragon K596 Vishnu 2.4G
For approximately 100 euros, this Redragon has linear switches and macro keys to assign to all kinds of games. The distribution is ANSI and the connectivity is done through a 2.4 GHz USB Wi-Fi connector.
Krom KLUSTER
60% design , Spanish ISO distribution and Bluetooth connectivity . Its price is difficult to beat and it has a customizable backlight. It is also compatible with macOS. Regarding the type of switch, use linear switches .
Our recommendation
Buying a mechanical keyboard is not easy in general terms, although it is a little easier task if all you want is to play. To play video games, the most correct thing is to use a keyboard with linear switches , such as the Cherry MX Red or the Gateron Red, which give an optimal result both for speed and precision.
If you're not going to be typing a lot of text on your keyboard, the best thing to do is forget about buying a keypad with a number pad . You will save a lot of space on your desk. In the same way, you can buy a keyboard with ANSI (and even American) layout if your idea is simply to play games on the computer. From our recommendations, the Redragon K596 Vishnu 2.4G is perfect if you're not on a big budget. However, the Keychron brand also has other keyboards that are not barebones, but Prêt -à- porter keyboards such as the K2 or the K8 that are really cheap and that for approximately 100 euros you will be able to play like a true professional with an ANSI distribution. Ythe switches that best suit your needs .