The impact of Windows 11 in the desktop and laptop market continues to grow thanks to the sales of new equipment and the jump of some users to said OS. But for reasons like today's, many others prefer to stay on Windows 10, and it's no wonder given its performance and stability, but above all because of Microsoft policies such as TPM2.0 or the latest: Windows 11 will need an SSD to be installed and as primary disk!
Adapt or die has always been the premise that has driven a computing sector that has as many different levels as there are people. The problem is when you don't give people and companies options, which usually causes a negative reaction towards the product, no matter how justified the decision is. Well, Microsoft has returned and is doing it with force despite the fact that the market surely agrees with it, and the users?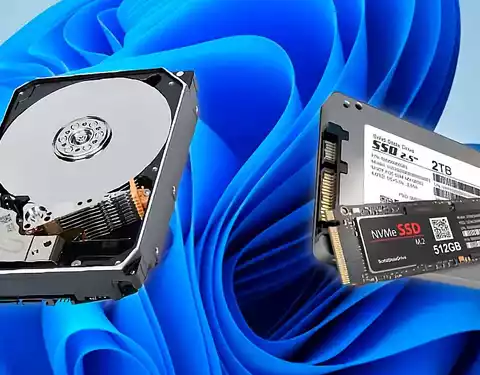 Either you have an SSD as a boot drive or you won't be able to install Windows 11
In a new Trendfocus report, the most key data about Windows 11 is given after the fact that the Redmond company left millions of PCs around the world out due to poor support of its OS. TPM 2.0 was just the premise, limiting CPUs a consequence of the prevailing "poor security" and now comes the excuse of performance.
Ladies and gentlemen, Microsoft will require a system startup drive for Windows 11 and from 2023 of the SSD type, that is, the startup disk where the company's operating system is installed has to be a solid-state drive . Neither a flash drive, nor a CD, nor a traditional hard drive, a full-fledged SSD , which will undoubtedly sow the seed of discord.
Taking into account that SSDs are sold more than HDDs, this measure would give Microsoft the reason, in part, but… It is not always or will be like that. There are laptops that continue to be sold with HDDs because they are focused on specific tasks that need more capacity, or simply entry-level laptops that want to offer more space in a single unit at a low price.
Its operating system, its rules, shot in the foot?
Microsoft will leave out this type of equipment and manufacturers will have to make the leap at whatever cost to be able to say that their products support Windows 11. Why does Microsoft make such a decision that it is not essential for its operating system? According to rumors, it could be essential to opt for SSD, although the reasoning is not the best.
Everything seems to revolve around DirectStorage and logically the best performance is going to be achieved with an NVMe SSD. But Microsoft does not specify this type of protocol as mandatory, we could install a SATA SSD without problems to install Windows 11, so what happens?
Well, Microsoft would have set that minimum of SSD vs HDD despite the fact that, in theory, HDDs are more than capable of allowing decent performance with DirectStorage, because CPU resources will be saved and even if the GPU has to access the interface SATA will do the same in the case of an SSD of this type.
The only thing that could justify here is the latencies and access times to the information, but is it so relevant as to leave millions of PCs out? Will you have to install Windows 11 before that limitation takes effect and you will never be able to format again because you have an HDD? Complicated, it seems again more of an excuse as a collection measure with plot overtones of little weight, as happened with TPM 2.0…