2021 has been the year of the massive arrival of devices and displays compatible with HDMI 2.1 . The high-end Smart TVs launched this year with 120 Hz panels equip it, and even some 60 Hz also because of the improvements offered by the standard for gaming, such as VRR and ALLM. It is also equipped with the PS5 and Xbox Series X , as well as the NVIDIA RTX 3000 and AMD RX 6000 graphics cards. However, there are devices that claim to have that connectivity, but in reality it is a lie.
This is how they alert you from TFTCentral , the portal specialized in monitor analysis. HDMI 2.1 connectivity is something that is increasingly being looked at when buying a new screen, since it allows to emit signals in 4K at 120 Hz, or 8K at 60 Hz , both in 10 bits without compression, thanks to a higher bandwidth. They also offer support for Variable Refresh Rate (VRR) and Auto Low Latency Mode (ALLM) , eliminating tearing and reducing latency when gaming.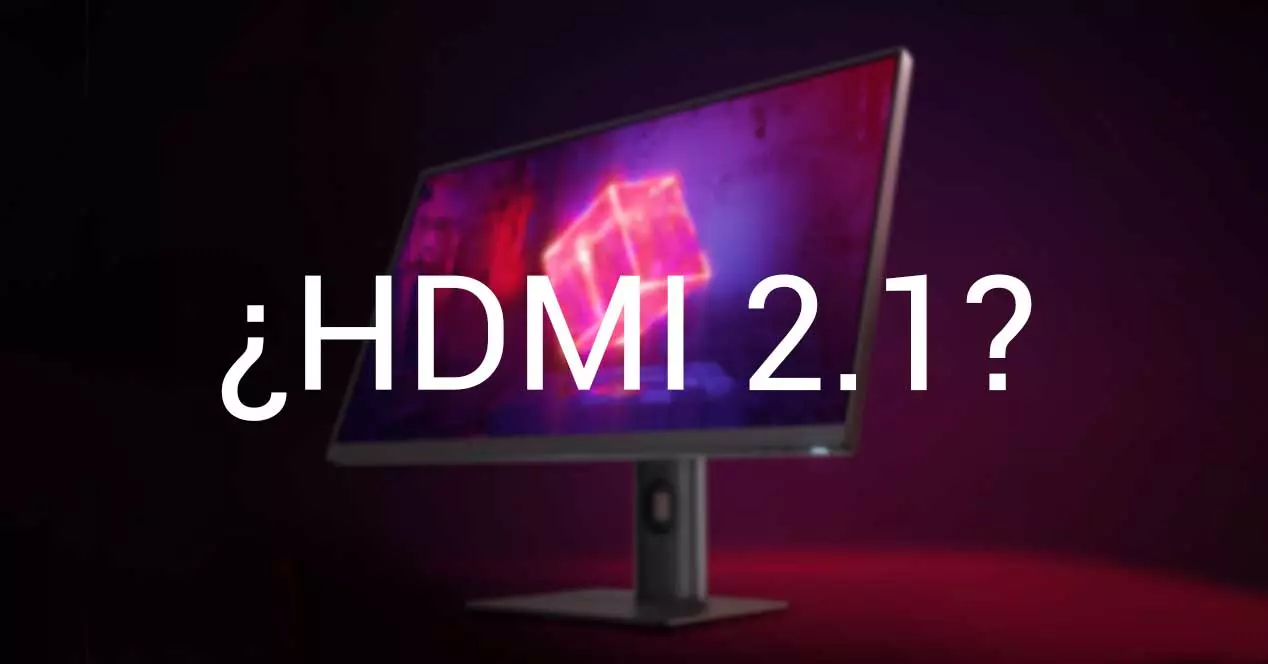 HDMI 2.1 "should" have unique features
The HDMI 2.0 standard uses a signaling system called Transition Minimized Differential Signaling (TMDS) to offer up to 18 Gbps of bandwidth, supporting up to 4K at 60 Hz with 8-bit depth. With HDMI 2.1, Fixed Rate Link (FRL) is used to reach up to 48 Gbps , which allows you to enjoy 4K at 120 Hz at 10 bits without compression, and even 10K at 120 Hz with compression. HDMI 2.1 is compatible with both signaling systems, as the cables and connectors are backward compatible to work with devices that only have HDMI 2.0.
Identifying whether or not a panel has HDMI 2.1 is as simple as going to the specifications. Or not. In TFTCentral they saw that Xiaomi's new 24.5-inch Full HD monitor with a refresh rate of 240 Hz had two HDMI 2.1 ports .
However, if we go down to the bottom, a text appears saying that it says the following:
"Due to the subdivision of HDMI certification standards, HDMI 2.1 is divided into TMDS (the bandwidth is equivalent to the HDMI 2.0 protocol) and FRL. The HDMI 2.1 interface of this product supports the TMDS protocol, the maximum supported resolution is 1920 × 1080 and the maximum refresh rate is 240 Hz ".
Now you can call HDMI 2.1 what is HDMI 2.0
Thus, for practical purposes, the monitor only has HDMI 2.0, as it is not compatible with the FRL system of HDMI 2.1. Therefore, TFTCentral contacted the HDMI Licensing Administrator via HDMI.org to inquire about device certification under the new standard.
The organization's response was not helpful. For starters, they claim that HDMI 2.0 no longer exists , and that devices shouldn't be advertised as HDMI 2.0 compliant anymore. HDMI 2.0 functionality is now a subset of 2.1 functionality . Also, all new HDMI 2.1 functionalities are optional , such as FRL, VRR, ALLM, and bandwidth enhancements. So if a device says it has HDMI 2.1 ports, it has to say what functions it supports.
Therefore, according to this, all the new devices launched from now on will be HDMI 2.1, although in reality they do not support any new functionality and only have what until now we knew as HDMI 2.0b. This is a nefarious way to advertise a product, as users now don't have a way to quickly distinguish what, for all practical purposes, is really a new standard for all the changes it offers. That is precisely the goal of the new standards.
When a person sees that a monitor or television supports HDMI 2.1, even if they know that for example it will not have 4K at 120 Hz because the monitor is 1080p at 144 or 240 Hz, what they can expect is that it supports functions such as VRR or ALLM , but actually they are not present, even if I put HDMI 2.1. This, however, can be even more dangerous with 4K monitors at 120 or 144 Hz, since they can put that they have HDMI 2.1, but in reality they do not allow to achieve those refresh rates for HDMI, and do it only for DisplayPort.
In short, now we are going to have to look closely at all the devices that we buy with HDMI 2.1 connectivity ; especially monitors and televisions. Most manufacturers are still sensible, naming HDMI 2.0 ports as such to avoid confusion. However, some like Xiaomi talk about HDMI 2.1 in products that do not have it, so you have to be more careful than ever, reading what functions each device, panel and cable supports, such as FRL, VRR, ALLM and a bandwidth 48 Gbps.