If you use WhatsApp Web you will know that there are many problems with the browser version of the messaging app. It has many advantages when talking with friends, family or work since we will not need to leave the computer to pick up the mobile phone if they send us a message. But there are also many problems in WhatsApp Web: it does not connect , it disconnects from time to time, notifications or messages do not reach me …
Surely it has happened to you at some time and there are many users who complain that its operation is not the best but there are errors with an easy solution and we review what you should do in each of the cases.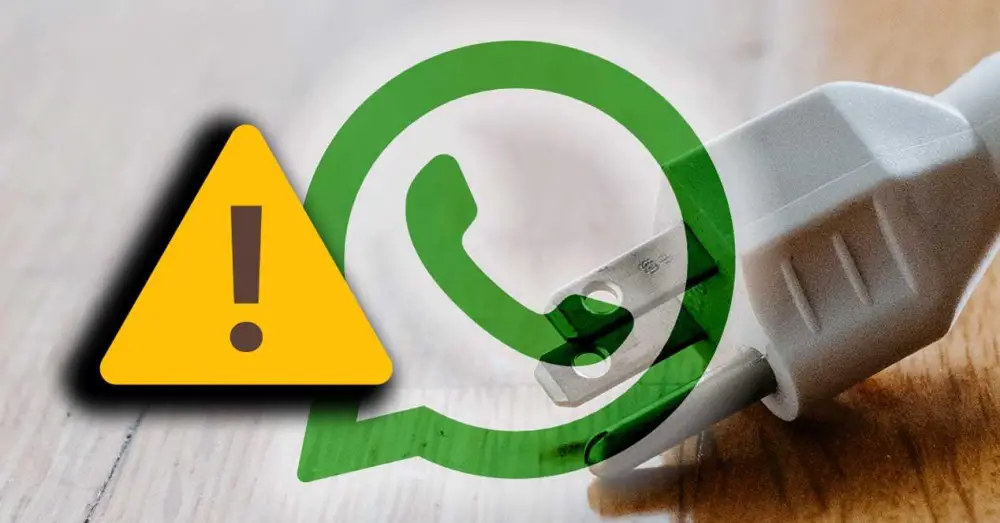 How WhatsApp Web works
Unlike Telegram in its web version, the computer version of WhatsApp depends 100% on the mobile phone. That is, you cannot use the browser version if you do not have your smartphone turned on, connected to the Internet and with WhatsApp running at that time. They do not work independently. Therefore, it is possible that if there is a connection problem on your phone, WhatsApp Web will stop working for you. It is common to find the message " connecting " or to be disconnected continuously and the messages do not reach you or they do not let you send them.
It is due to this need for interconnection between phone and computer that there may be many problems in WhatsApp web, that it does not work, that it does not load, that it disconnects continuously and you miss the messages.
Continuously disconnects
Your connection may not be too stable and that causes the network to continuously drop on your mobile and, therefore, on your computer and on WhatsApp Web. It is usually the most frequent and you can not do anything except improve the Internet or WiFi coverage that you have at that moment or wait for it to stabilize after a while if they are occurring temporarily.
But it is not always due to the Internet crash but it is possible that it is due to the configuration of your smartphone or some application that limits the use of it when you have low battery , for example. Or by optimization and savings settings, in some cases.
Battery optimization
It may be that your phone is configured to save when you are not using it and that makes the apps not work or deactivates when the smartphone is locked. That is, your Android phone crashes and the apps stop working to consume fewer resources. At that moment when the phone is locked, WhatsApp Web stops working. We can fix this from the battery optimization settings in the settings.
The route may vary depending on the phone, brand or version you have of the operating system, but in all of them we will find a similar option with "smart settings". To do this, the steps that we must follow are the following:
Open settings on mobile phone
Go to the Battery section
Tap on the option "Battery use"
Choose "Battery optimization"
Here you will find a list with all the applications
Choose "WhatsApp" in that list
Once inside we will see several options:
Smart control
Optimize
Do not optimize
It is likely that the first is checked and that is why your phone disconnects the apps when it crashes because it understands that you are not using them.
Stay connected
Depending on the phone there is one route or another. From the help page of Samsung, for example, they recommend looking for the option " Apps without supervision" that will make WhatsApp not disconnect when you lock the screen. Or in Huawei we can choose that the mobile data WiFi connection remains active when the screen turns off, preventing it from being disconnected. To do this, the steps that we must follow would be similar:
Open settings on your phone
Go to the Battery section
Find the section "More battery settings"
You will see the option that interests us: "Stay connected when the device is in sleep mode ." Activate this option to prevent WhatsApp from disconnecting when we lock the phone.
Other common problems
There are many problems that you will have experienced if you are one of those who use WhatsApp Web frequently. Problems that make messages not reach you, that they are not sent to you, that notifications do not arrive, that you cannot use it because it says that it is already open …
Without connection
As we have explained in the first section of this topic, WhatsApp Web strictly depends on WhatsApp on the phone, so the classic message that you have seen many times may appear: "Phone without connection. Check that your phone has an active Internet connection ".
In this case, check that the phone is correctly switched on and that it is connected to a network. It can be to the WiFi network or it can be to the data rate but the Internet must work on the mobile to be able to "send" the content to WhatsApp Web without any problem. Check that Airplane Mode is not activated that you will generally find from Settings> Mobile networks and that we can activate or deactivate through a switch.
You may also see that the message you see is that the computer has no connection. In this case, even though the phone is connected to the Internet, your computer may not be. The message you will see here will be different so we can identify if it is an error or another. If the computer has been disconnected, just check that you have the WiFi connected or that the cable is plugged in and that you do not have Airplane Mode activated.
Notifications do not arrive
If the notifications do not reach you, it does not have to mean that there are connection errors but that you may have disabled them at a specific time or for some reason. We can check it from the browser and it will vary depending on the browser you are using but they all have notification control that you can monitor if you do not know when you receive a message.
In the case of Google Chrome, open WhatsApp Web and go to the upper left corner of the screen in the browser. Tap on the lock icon in the navigation bar and a menu with options will open.
Open the " Notifications " section and three options will appear: "Ask" (Determined) / "Block" / "Allow". Make sure that it is activated and that notifications are allowed so you can know when someone writes to you.
It does not work
The error may not be any of the above, but it does not work directly. WhatsApp is compatible with many browsers or the main ones but not all, it is something that we must take into account. One of the connection problems may be due to the fact that your browser is not compatible with WhatsApp Web and you must install another to log in.
You can use the latest versions of Google Chrome, Mozilla Firefox, Microsoft Edge, or Opera or Safari. But not all browsers are supported. For example, Internet Explorer is not.