Numerous rumors and leaks have circulated regarding the upcoming iPhone operating system until Apple finally unveiled iOS 17 during its Keynote event. While it may not be the most groundbreaking version, it still brings noteworthy updates. In this post, we will highlight the three key features that have captured our attention. Continue reading to stay informed.
What's new in iOS 17 for the iPhone
During Apple's Developers Conference, the iPhone operating system, iOS 17, always garners the most attention. While it may not bring a revolutionary overhaul, it surpasses initial expectations of focusing solely on performance and stability improvements. Instead, Apple has introduced notable visual and functional innovations. Let's delve into the three most intriguing features.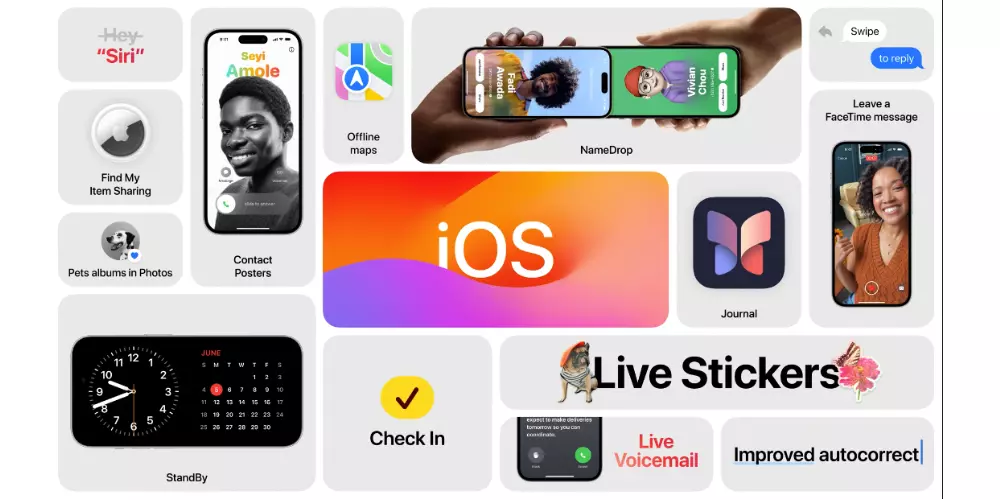 Apple has placed emphasis on the always-on display, enabling users to utilize their iPhones even when not actively interacting with them. With iOS 17, Apple introduces "Stand By," a function that allows users to leverage their iPhones while they are charging and placed horizontally. The always-on screen will showcase information such as time, calendar events, temperature, and a wide range of customizable options. Users can personalize the Stand By screen to their preferences, courtesy of Apple's offerings.
The second noteworthy addition is the native application called "Journal." Although it had been previously leaked, its significance should not be undermined, as it represents a new Apple application available on all iOS 17-compatible iPhone models. True to its name, Journal serves as a diary app, allowing users to express their feelings, emotions, and document their daily experiences. What sets it apart is its seamless integration with other native apps, enabling users to enhance their entries with photos or videos. However, the standout feature is its ability to securely and privately alert users if their continuous state of mind suggests the potential for mental health issues. Journal provides options and recommendations to address and overcome such challenges.
Lastly, iOS 17 introduces "NameDrop," a personalized contact card feature that allows users to easily share their contact information with others by simply bringing their iPhones physically close together. This innovative approach offers a convenient and modern alternative to traditional physical business cards. With NameDrop, users can effortlessly exchange their personal data and contact details, streamlining the process of sharing information in various social and professional settings. It adds a touch of convenience and eliminates the need for physical cards in our daily interactions.