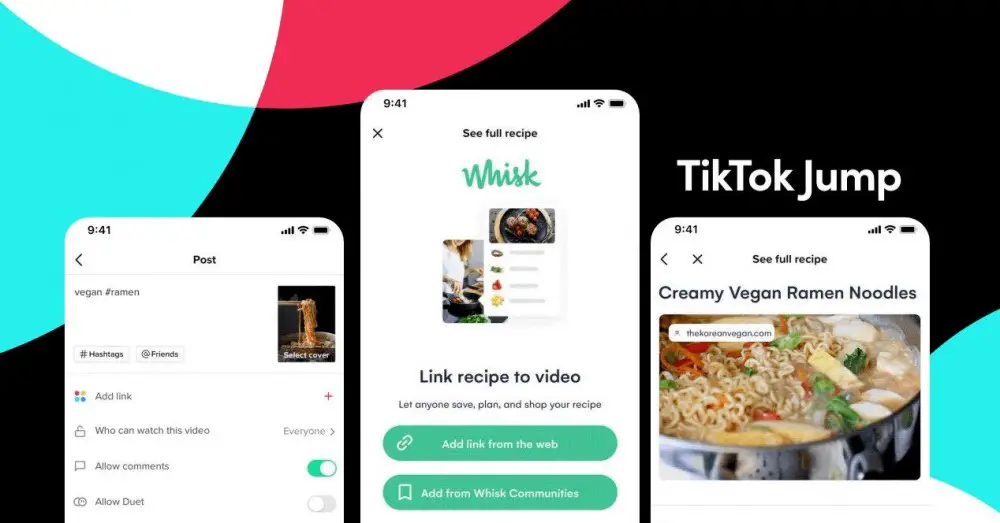 TikTok has launched a new functionality that may represent an important change in terms of the user experience and, mainly, the relationship of content creators with the social network. Because now you can add elements that will allow a much richer interaction. So let's talk about what TikTok Jumps are.
What are Tiktok Jumps
In February 2021, TikTok began to test a new functionality within its application through which it allowed its users to connect with external content in a simple way from the screen where they were viewing the video. He called this characteristic Jump . A fairly successful name if you take into account that it is practically that, a jump from one place to another that allows access to complementary, more detailed information and, ultimately, a richer and more dynamic user experience.
Well, now that feature was officially announced for all users of the platform. So behind are all those months of testing and now anyone can start using it. Although what you are going to find now is only the tip of the iceberg, because as the company itself indicates, all this will grow. Still, before continuing, the way TikTok defines Jumps is as follows:
Jump is a new option for creators to share engaging and informative content on TikTok. Built by third-party vendors, Jumps are mini-programs and services that creators can link within their videos. Users around the world can click on those links to explore recipes, take quizzes, discover helpful learning tools, and much more, creating more dynamic and hands-on experiences for our community.
That is to say, the Jumps could be defined as a kind of Swipe up of Instagram . The difference is that here you do not need to have a minimum number of subscribers and you can use them from the first day you start sharing content on the social network. Although you will have the limitation that, for the moment, you will not be able to link to any URL you want but it will have to be through one of the services or providers that integrate with this functionality.
The interesting thing is that to be able to integrate into this TikTok Jump it seems that internet service providers are not going to have it very complicated, since knowledge of HTML 5 and minimal technical integration are enough for everything to start working. So it is to be hoped that the use and possibilities it offers will soon grow.
How to create TikTok Jump
If you have a platform and you want to create your own integration with TikTok Jump, all you have to do is visit the page that the company has created so that you can sign up and after filling out a form they analyze the viability that you can join part of Jump.
Thus, among the questions that they will ask you to validate or not your request there are some such as what is your product and what does it offer, link, monthly users, etc. With all this data they assess and determine whether or not it would be interesting to give access.
An option that at the moment may not appeal to everyone, but it is a way to control the initial experience a bit so that it does not become a headache but rather something that adds up. Hence, for now the providers that are within TikTok's Jump are: Whisk, Breatwrk, Wikipedia, Quizlet, StatMuse and Tabelog. But BuzzFeed, Jumprope, IRL and WATCHA are coming soon.
How to use TikTok Jumps if you are a content creator
The use of TikTok Jump if you're a content creator is very simple. Once you have recorded your video, after filling in the basic fields requested by the platform on a regular basis with each new publication, in one of the final steps you will see that an Add Link option appears.
When you tap on this option, a screen or menu opens that gives you the option to choose any of the services that are already available. Once done, you simply have to choose that content that you want to be linked through your TikTok publication.
In the video above you can see how to add a link to a recipe posted on Whisk. So in TikTok you can make the typical short video, with the whole process accelerated to the final result and in Whisk you can have all the information step by step, in detail and with the entire list of necessary ingredients.
Why TikTok Jumps May Matter
Venturing to say that a new functionality can completely change the experience of using a platform is risky, but this time there are signs to believe that it could be so. Because with Jump it is true that TikTok is going to gain much more interaction, despite the fact that it does not allow adding URL links freely as Instagram does when certain requirements are exceeded and met.
However, if TikTok continues to evolve and begins to choose to add more e-commerce options , it would not only be a place of entertainment, but also one where little by little you can see more informative, useful, educational content and, attention, a site where to be able to buy what you see and catch your attention.
So imagine Jump for the main online stores and be able to acquire that product that you are seeing through the tiktoker on duty. If you are interested, you would not have to go out and look for it on your own, you would just have to tap on the link posted next to the video and voila. You would be redirected to the store in question and then back to TikTok to continue viewing more content.
However, this will be seen little by little. For now, we will have to see how it evolves and know what that new icon is that you see next to a message in the TikTok videos.