Today there are many ways to consume content of all kinds at home. Platforms such as Netflix, HBO, Prime Video or Disney Plus are already some of the most popular services to watch series, movies, documentaries and much more from our televisions. Another of the most popular platforms is Movistar +, and we are just coming to talk to you about it today. We tell you everything you need to know about Movistar +, what it offers and how to watch them from any smart TV .
What is Movistar +?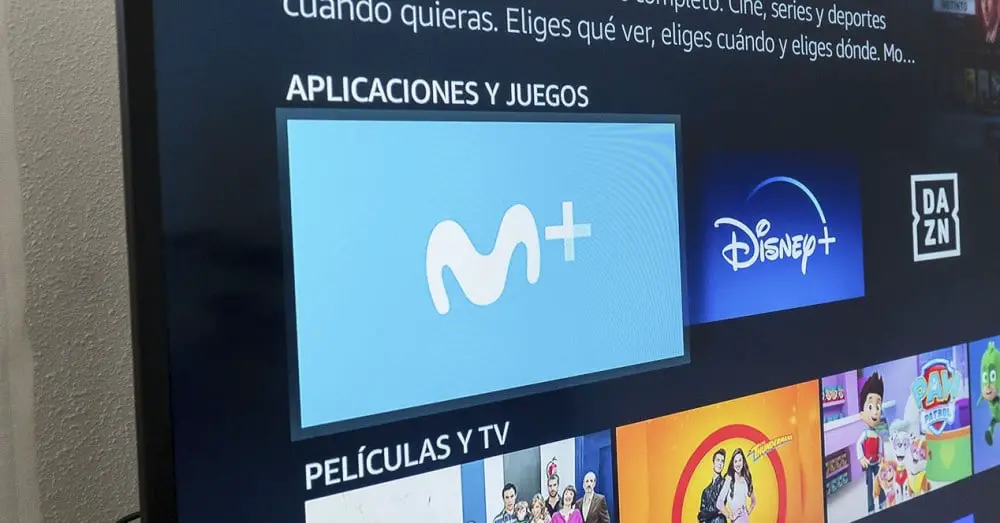 If you have not been living in a secluded place from civilization, you will know exactly what this service consists of. But, in case you have been oblivious to it, you should know that it is a content service via streaming on demand provided by the Movistar company.
Among everything that this service offers you can find content of all kinds regarding: movies, series, motor, children, football and a long etcetera. But we talk more about this in the next one right now.
What does Movistar + offer us in its catalog?
The first and most important thing you should know is that this Movistar plus platform is divided into different packages that we can hire. Depending on which one we choose, we will have a greater or lesser availability of channels. The packages that are currently offered are:
Basic: this package has an amount of around 80 television channels (Movistar is adding or eliminating some time to time) between the included content to general level (Antenna 3, LaSexta, Telecinco, La 1, La 2, etc.) , children's programming (pack of Disney channels, among others), entertainment channels (#O, among others) and the Teledeporte channel. This pack is, so to speak, mandatory when hiring the fiber service for your home. Of course, in some of the most basic offers that commercials usually make, they can include the Standard Netflix service or reach the Premium . To know for sure the latter we recommend that you consult it before making the contract.
Movistar LaLiga : all First Division football, 7 Second Division games per day, programs, reports, interviews and football summaries. This package is priced at 25 euros per month.
Engine : all Formula 1 in full with all races and even the possibility of choosing the camera you want at each moment of each race. This pack is priced at 7 euros per month.
Cinema : a package with more than 1,500 films available at any time, each night they ensure a new premiere and much more content from the big screen. This pack carries a price of 10 euros per month.
These are some of the most interesting packages separately from the platform. But, if you want to save money and, in turn, enjoy much more content together, you have some packs that include much more:
Movistar Familiar Series : is, according to the company, the most complete offer of entertainment for the whole family. This includes the series channels of Movistar +, Movistar Deportes and Movistar Liga de Campeones. Its price is 55 euros per month.
Premium Extra : this includes football, series, sports, cinema and some of the on-demand channels that Movistar has in its catalog. This pack has a cost of 65 euros per month.
Total Premium : in this case, this package offers the same as the Extra, including among the on-demand channels the one dedicated to bullfighting. This pack has a cost of 85 euros per month.
Remember that among all these packages you can also contract, with the corresponding extra payment, the Netflix and Disney + services.
Now that you know the main thing about all the content that the Movistar + catalog offers , let's see how we can enjoy it from our Smart TVs.
How to watch Movistar + on any Smart TV
Like any other service, depending on the operating system of the device we have, this Movistar + service will be installed in different ways. Although you can rest assured that they are all quite similar. Let's see the step by step of each of the most common systems that we can have in our homes.
Android TV devices
One of the most common platforms is Android TV . We will find this on televisions such as those from Sony, Philips, Xiaomi or, we will even have a large catalog of devices based on Android TV such as the Mi TV Stick from Xiaomi or the Fire TV Stick from Amazon, among others.
By carrying the Google operating system, all these computers have the Google Play application store, which is the only thing we need to be able to install the Movistar plus service :
From the application search engine of your TV or TV Box with this operating system, locate Google Play and enter it.
In this interface of the store you will be able to see all the apps available from its catalog. Locate the search engine icon (in the shape of a magnifying glass) and access it. Once here, write the name "Movistar +".
When this application appears in the search engine, access it and click on "Download" so that it will be added to your catalog of applications on the device with Android TV.
Once installed, you only have to access it from your home screen and enter your username and password with which you previously subscribed to the Movistar service.
LG smart TVs
In the case of smart TVs from the LG company, the process, as we mentioned before, is quite similar to the previous one but with small differences. This is because the system that these screens have is not Android TV but WebOS , which is the exclusive property of the manufacturer.
On your LG Smart TV, locate the store with the name "LG CONTENT STORE" and enter it.
Once here, access the search engine on the magnifying glass icon and write the name of this service.
Once located, enter it and click on "Download" so that it is added to your installed apps.
As in the previous case, once you already have Movistar Plus on your television, you will only have to log in to access all the content that you have previously contracted.
Samsung smart TVs
Again, there is another smart TV manufacturer that does not use Android TV on its screens. These are Samsung's televisions, which use Tizen as their operating system. The procedure, like the rest, is quite simple:
Access the application store of your Samsung TV with the name "Smart Hub" . Here you will find the entire catalog of apps available for this operating system.
Open the search engine for this store and write the name of the Movistar service.
When you have located it, access it and click on download so that it is added to all the applications downloaded on your screen.
Finally, from the start menu, open the Movistar + app and log in with your credentials that you previously obtained with the hiring of this service.
Apple tv
The Apple TV is a device very similar to the proposals of Google or Amazon to turn any screen into a smart device but, yes, with Apple's tvOS operating system. Once again, the procedure to install the Movistar Plus service on this computer is very simple:
Locate the application store that, in this case, has the name of "App Store" and enter it. You will be able to see the entire catalog of apps available from its catalog.
Here you have to locate Movistar + by writing its name in the search engine, in the form of a magnifying glass, which you will enter in one of its corners.
Once you have found it, you will only have to download it so that it is included with the rest of the applications installed on your Apple TV.
Finally, you only have to log in with the Movistar Plus registration data in this application to access all the contracted channels.
In this way, following the process you need, is how you can enjoy the Movistar + service on any Smart TV . If you have questions about any of them, do not hesitate to leave us a comment and we will try to solve it as soon as possible.