If you are one of the people who likes to enjoy multimedia content on the iPhone or iPad, surely you have ever stopped to think about which are the best players to carry out said action. Below we show you some of the best video players for iOS if you want to comfortably enjoy series, movies and even personal videos from your iPhone or iPad.
The best free options
There are a lot of such apps available, but a big division can be made between paid apps and free apps. If you don't want to pay but want to enjoy good video quality, here is a list of some of the best options.
VLC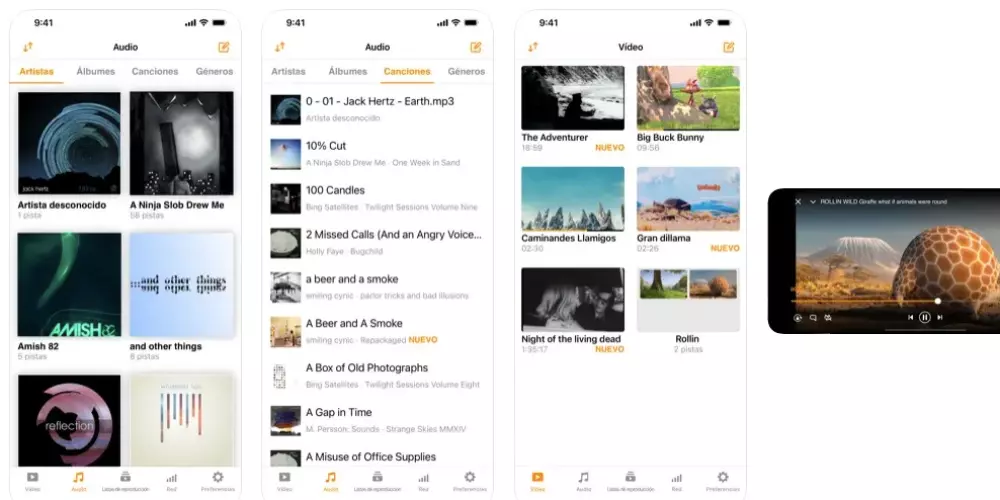 VLC for iOS is a popular yet undying iPhone video player app that allows you to play a wide range of different movie files on your device. VLC for iOS is a completely free and open source media player that can play all your favorite video content like movies and shows in almost all formats without conversion.
Also, you can sync media to your device using WiFi Upload. This video player for iOS is fully compatible with iPad, iPhone and iPod touch. You will be able to view your video content from Dropbox, Google Drive, OneDrive or iCloud Drive. Also, it can play all media file formats and organizes your content with well-organized libraries. It also supports subtitles and comes with playback speed control.
Infuse 7
Infuse 6 is a very good video player app for iPhone, which allows you to play anything. The perfect app to watch your favorite videos in almost any format including WMV, MP4, AVI and MKV etc. With powerful streaming options, this iPhone video player app is a video player app that offers wonderful playback options in 4K w/ HDR and Dolby Vision.
It has the possibility of listening to several audio tracks, it has 8 video zoom options and continuous playback or by chapters. It also has gesture controls and you can play the videos on the television through an HDMI or VGA adapter. Its download is free but you can opt for a paid subscription to access more benefits.
PlayerXtreme
PlayerXtreme Media Player is a powerful streaming app that allows you to play and browse all your movies, shows and music stored on your local devices. It is a good video player for iPhone devices, which supports all file formats and allows you to enjoy streaming via SMB, UPNP and WI-FI. You can also set a password on your library to restrict unauthorized access and protect your files.
Its interface is based on spontaneous video banners, which makes navigation easy to organize your entire movie collection. You will be able to play files from your email attachments, download videos from network devices. One of the great advantages is that this app has hidden folders that are invisible to guest users. It also supports HD playback (in 1080p) for all formats.
OPlayer Lite
OPlayer is a local player that with multi-format. You can transfer the videos from the computer directly to the app. It has a very simple use with which you will be able to manage your videos putting them in a new folder, renaming them or moving them. You will be able to adapt the luminosity, the sound and the position of the subtitles as you like or need.
To play, you can choose if you want a specific order or if you prefer everything to be played randomly. The point where you left the last video is automatically saved so you don't have to manually search for it again. It also has a timer so that the app turns off when you tell it to.
MCPlayer
MCPlayer HD Pro Wireless Video Player is one of the best and smoothest media player for iPhone users that allows you to watch your favorite movies, music videos and video files directly from your home network. It supports the following video formats: GP, AVI, WMV, ASF, MP4, MKV, MPG/MPEG, TS, M2TS, 3GP, VOB, FLV, MOV, M4V.
You will be able to create your own list to watch videos later with a simple click. This app is an advanced video player that has Dolby technology, but also many other audio formats. It also includes a wide variety of subtitles that are already integrated into the video file.
The best paid options
If you want to guarantee certain features of this type of application, it is most likely that you will have to pay, either when downloading or subscribing to a plan within the apps. Here we leave you with a list of some payment options so that you can enjoy your videos without complications.
YxPlayer
YxPlayer is a potential solution for iPad and iPhone users as it allows video playback in all file formats. Videos and photos can also be shared with other family members using the YxPlayer platform. It can work with MPEG-1/2/4, RMVB, FLAC, ALAC, PCM and HTTP etc.
This apps is about a very fast media processing platform, being almost one of the fastest in the App Store. It has a plan called Professional which is a video playback solution. It is a tool that extends external file support, so you can enjoy almost any video on your iPhone. It also takes up very little space, so you won't have memory problems.
GoodPlayer
With this app you won't have to convert your multimedia files before playing them, since GoodPlayer can play a large number of formats, including: AVI, Xvid, DAT, VOB, FLV, WMV, MKV or MP4. That is, a large number of formats without the need to convert or touch them.
You can watch archive or streaming videos. You will simply have to transfer your media files to your iPhone using iTunes or over Wi-Fi, and then play them. Thanks to its browser, you are not facing a simple local movie player, but a movie player and streaming media player.
8Player
Here is one of the smoothest and simplest players on the list. With this app you can extend the support to all popular video file formats, and it can also play content in 1080P resolution without any interference. The developers of this video player have concentrated on every detail of the video so that you can expect satisfying results every time.
It offers an easy customization facility, and you will be able to view a wide range of video file formats, but you will also be able to view images and music. Without a doubt, an app to keep in mind since it has many available actions that will make playing videos a simple and comfortable task.
AirPlayer
Among the best video players for iOS, AirPlayer shines for streaming HD videos, music, photos wirelessly. This is one of the best offline video players for iPhone that supports a large number of different formats. You will be able to transfer your videos from your computer to your mobile with the sharing function. It is easy to operate and you will be able to play many different formats easily. Also, no video conversion required.
Supported video formats are: XVID, AVI, RMVB, MKV, MOV, MP4, M4V, etc. Supported music formats: MP3, WMA, OGG, AAC, etc. It also has a photo browser and offers the possibility of viewing photo thumbnails. This app also has the Airplay function, so you can share your videos to the device you want.
KMPlayer
With KMPlayer you will be able to play in HD, UHD, 4K and even 8K format. It covers almost all popular HD file formats like WMV, MPEG1/2/4, 3GP, OGM, MKV, DVD, VCD, etc. It is fully equipped with different features like speed control, playlist settings, quick button, video zoom and move, subtitle settings and so on.
In addition to the above, you can mark the position of the media you want to play. You will be able to change the brightness, contrast, hue or saturation so that you get the best image quality depending on where you are watching the videos.
These are our favorites
If we have to choose a free one, the best is VLC. It is an app that everyone knows and that does not require much complication to use. It has a simple interface and you will be able to play a large number of video and audio formats without problems.
Regarding the paid ones, the one that stands out the most is AirPlayer. It is an app in which you will have no problem playing any type of video, and which also has a very familiar interface. You will be able to watch videos connected to a web or without any type of connection, which means that you can continue watching videos wherever you want.