If you work from home, you already know that two of the most frequent recommendations are: try to separate rooms and have everything you need to work comfortably. Accomplishing both is not always possible, but you should try whenever you can. Especially now that with solutions like those from IKEA it is easy. Here are some recommendations to have a more efficient telecommuting space.
A comfortable table and chair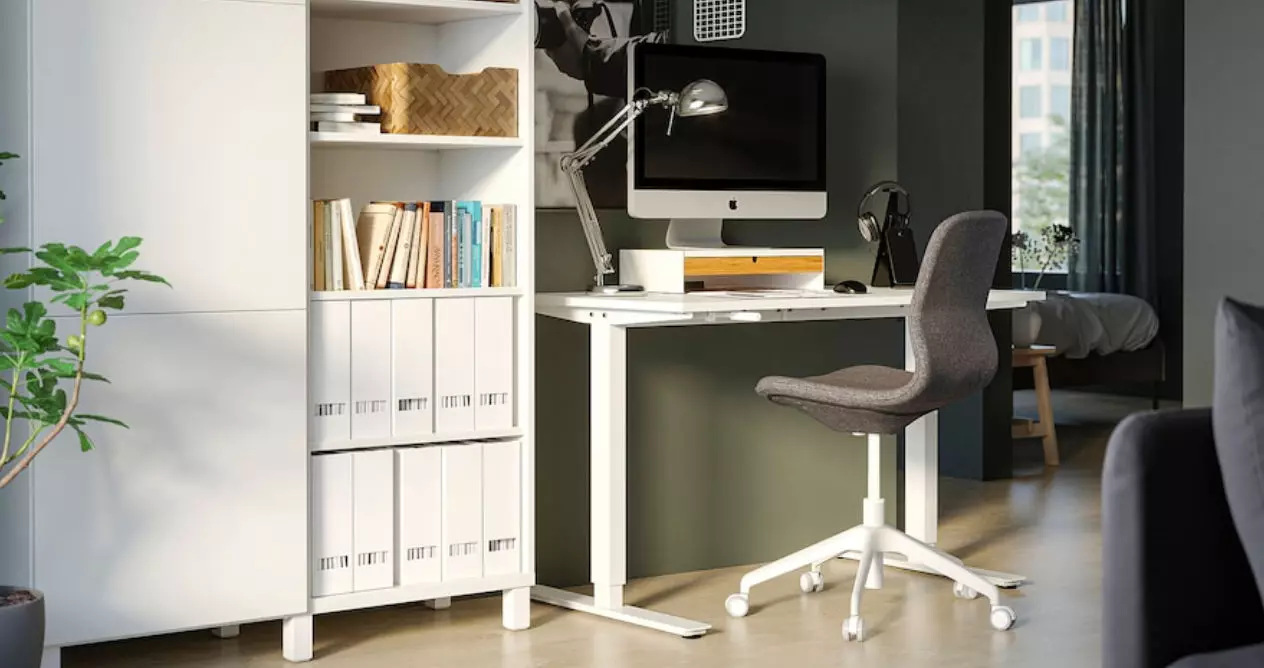 We have already spoken on more than one occasion about the importance of the table where you work. Depending on the activity you carry out and the material that you usually use every day to carry it out, it will be interesting that it meets some characteristics or others.
To start with, we always recommend spacious desks, with a good width and depth. Because this way you can place everything you need without feeling overwhelmed by it. Then there is the issue of height, which is also important. Although here the most interesting thing is that you can regulate it or that it is directly a desk that allows you to work standing and sitting. Because that way you change your posture every so often and you stay a bit more active.
There are many desks to work standing or sitting and IKEA itself has interesting proposals such as the Bekant, Skarsta, Rodulf or Idåsen series . Each of them has its own peculiarities, advantages and disadvantages, but in general they offer that ability to work as you feel more comfortable at all times.
Similarly, finding a chair that you are comfortable with for long periods of time is also important. Although the ideal is that you do not spend more time sitting than is really necessary. So, here again it's a little searching until you find the best chair to work for you.
IKEA accessories for comfortable work from home
Now that you have your table and chair, that you also have the necessary equipment to carry out your professional activity from home, let's see some accessories that you can find at IKEA and that will help you enjoy a more pleasant experience.
EILIF, separate from the rest of the house
When you work from home, unless you live alone, it is important to be able to isolate yourself while doing your activity. In small homes, it is not always possible to have a separate room and even if you have one, it is interesting to be able to separate yourself from whoever may be working with you.
In many offices there are the famous cubicles. Although it is not the idea, because open spaces offer advantages when working, it is true that being able to improve yourself a little is attractive. For this, in IKEA there are the EILIF panels that give you that option and incidentally, due to their design and materials, they can also be useful to control the sound rebound a bit. The latter is interesting if you dedicate yourself to podcast or video topics.
ELLOVEN, a memo board on wheels
For creative users, for those who organize using numerous notes, etc., there are the new ELLOVEN wheel boards. These allow you to have a double-sided vertical space that you can move wherever you go and it is interesting.
TROTTEN
Continuing with the theme of the notes, this other note board called TROTTEN is also interesting if you work from home. Because you can place it where it is most comfortable for you to see and always have in view your next goals or useful information for the project or work that you are carrying out at that moment.
At IKEA there are more note boards, some metallic to place magnets and others made of cork or fabric for pushpins, but these two recent proposals (TROTTEN and ELLOVEN) seem the most striking and attractive by design.
SUMMERA
This other accessory that you can find at IKEA is a SUMMERA organizer with six compartments that you can place in different drawers (can be cut to fit the size of the drawer). In it you can place all that material such as pens, clips, scissors or even batteries, chargers, etc., that you may need in an orderly manner.
In addition, an interesting detail is that due to the type of material in which it is manufactured, the noises caused by dropping these objects as well as possible scratches on the surface of the drawer are avoided.
Flexo TERTIAL
We have mentioned it on more than one occasion and we have to keep talking about it. It may not be the most aesthetic of all those offered by the brand, but the TERTIAL gooseneck is the most versatile. You can fix it to the table or place it on the wall. There are so many possibilities that the result is a very versatile lighting solution to have that extra light where and when you need it. Even if the only thing you are looking for is to have an indirect light that helps you make working time more pleasant.
Björkåsen, a table to change the environment
Finally, even if you work from home and have a space dedicated solely and exclusively to your professional activity, it is good to be able to change the environment as you would in the office. Sometimes just to have a coffee and regain strength, others to do other less demanding activities in concentration such as checking email.
You can do this in the kitchen at home or wherever you want, but since the idea is to be comfortable, a good option is to bet on this new laptop stand or laptop table from IKEA. It is the Björkåsen model.
This can be adjusted in height, also tilted to find the ideal position when writing with the laptop and, as if that were not enough, it also has so that you can place your cup of coffee, tea or other drink that you are drinking.
Other furniture to consider for your home office
To finish adapting your home office, nothing better than accompanying all this with a closet or shelf that allows you to store all those possible documents and other information that you generate.
For this you can use what you already have at home or opt for furniture designed for use in offices such as the Bekant series from IKEA. Here there is no longer a precise recommendation, because there are factors such as the space of each house that influence. Therefore, it is a job that you will have to do, but with what we recommend your workspace will improve quickly.