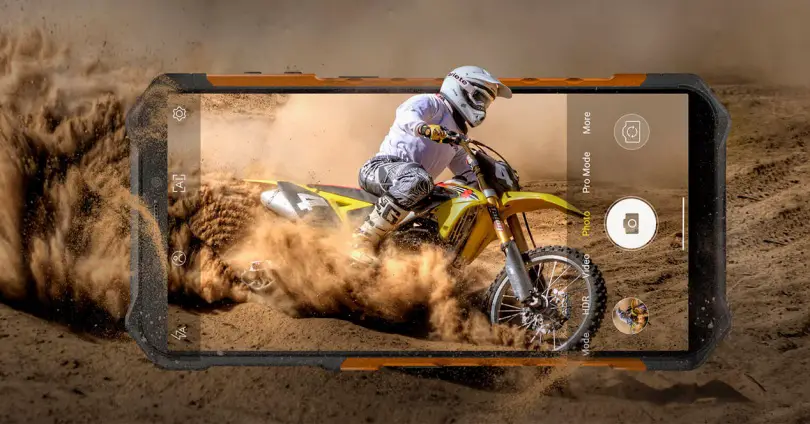 Choosing a mobile phone for work is not an easy task, especially if we face difficulties and complex situations that could endanger the terminal, that is why ruggedized terminals are the most recommended option, making us forget about possible problems . Among the terminals that best adapt to all situations, the Ulefone Armor X5 Pro model is one of the most recommended.
It is a terminal that allows us to get the best of itself and at the same time save good money in our pocket, in this way we can have what we need without leaving too much money. As we are going to discover, this Ulefone Armor X5 Pro boasts from beginning to end of resistance, power and other capabilities that make it meet the needs of users.
Solid and ready for all kinds of situations
This mobile is not afraid of anything and this is achieved thanks in part to its construction that, being made of a very resistant aluminum alloy, gives it the ability to withstand all kinds of shocks or falls that can occur during work. This is achieved thanks to the integration of the MIL-STD-810G certification with which it ensures us to work in all kinds of situations regardless of temperature, altitude, radiation or other types of situations that other smartphones will not resist.
We are facing a rugged mobile designed to work together with us, making our tasks easier and for this reason it also integrates a side button in which we can customize the actions so as not to have to use the screen, although its panel is also prepared to work with gloves and not pose a problem. It also has all the tools and systems necessary to carry out expeditions in the mountains, knowing our position at all times with the high-performance GPS, Glonass, Beidu and Galileo systems.
The best value for money without forgetting anything
Inside this model we come across all the power we may need on a day-to-day basis, for this it integrates an eight-core chip known as Helio P22 that is accompanied by 4 GB of RAM and 64 GB of memory that will give yes for many photos, applications and multimedia content. We can enjoy all this through its 5.5-inch screen with IPS LCD technology with Corning Gorilla Glass 4 to avoid scratches and damage to it.
It also has a facial recognition system, which allows us to unlock the mobile without having to touch the device and offer us greater speed when using it. But this is not everything, because we also have a double rear lens of up to 13Mpx with which we can photograph and record in all kinds of situations, even take photos under water thanks to the immersion system with which we will not have problems using it at different depths. Ahead we also have an 8 Mpx camera, for high-clarity selfies or video calls.
A mobile that won't let you down
Being a mobile designed for work, we cannot overlook an element as important as the battery, this time with nothing more and nothing less than 5,000 mAh capacity in its lithium polymer battery with which we achieve autonomy for the whole day without getting messy no matter how much we have to use our mobile phone during work. This offers us up to 34 hours of uninterrupted music, 9 hours playing video and more than 400 hours on standby. Had enough capacity to function as a power bank to recharge other devices.
But in a mobile that boasts a price like this, they have not overlooked details such as the integration of the NFC to be able to pay wherever we want without resorting to the wallet, having everything necessary in our off-road mobile. It also has high fidelity sound to enjoy music through it, Bluetooth 5.0 connection to connect to other devices and long-range dual band WiFi. Nothing is left out of the possibilities of this great smartphone made for work and the most complex situations at a very competitive price.