If you want to save money on your food delivery purchases on Uber Eats, both in supermarkets and in restaurants, you will find several ways that will make you spend much less on your orders. So we are going to tell you about some of the main ones, whether you are a new user or if you have been on the platform for a long time and do not know how to take advantage of the potential of this service.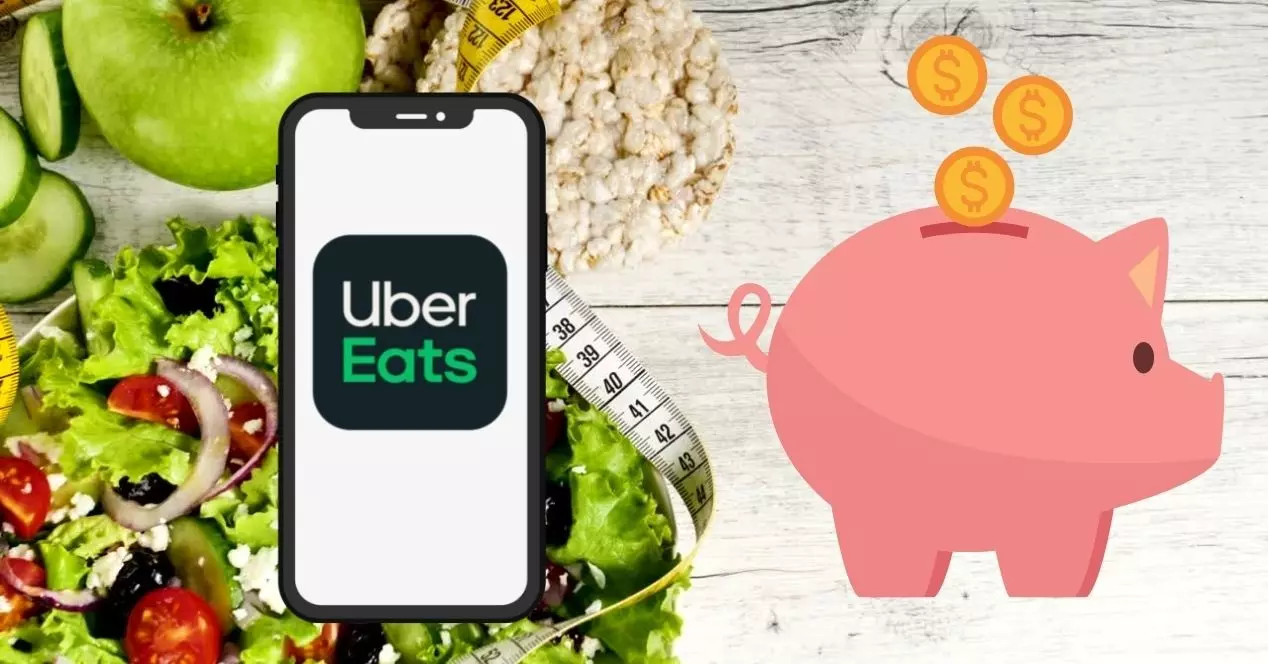 There are many ways you can save money, whether it's temporary discounts, inviting friends or taking advantage of restaurant promotions. This will be especially interesting for you because when you go to place an order, Uber Eats will add a commission to its price, make you pay the indicated shipping costs and, in addition, if the order is less than a certain amount of money, you will have to pay a small amount. extra, so saving to offset these expenses and having your food delivered cheaper may be your priority. If you want to know more about this keep reading.
New user code
If you enter the platform for the first time, you can take advantage of the new user code through which you will save a significant amount of money on your first order. This discount can vary according to the time, currently with VERANOHOLA you can have a discount of 10 euros on your first order , although it is worth checking if there is another that suits you at the time you read this in case you are more interested.
There were certain times when they gave discounts of 15 or 18 euros for orders over 20 euros, which was a great saving, so keep an eye out if you find a more interesting promotion. When you order, you can pay with your mobile and receive your food at home much cheaper.
Use Eats Pass
With Eats Pass you can save on shipping costs as these are 0 euros on orders over 10 euros that meet the requirements. Its price is only 4.99 euros per month , so if you make several monthly shipments you will soon make the most of its potential and save money on them. If you are going to make frequent orders, it only pays you to do it the first time for free.
But, in addition, since they offer you the first month free , the first time you activate it you will not pay for it. You just have to go there, cash your pass and accept the subscription. Check that they charge you what corresponds and the payment method before accepting, and if it is free that no charge is applied to you. We recommend that, if you do not want to keep it active, you cancel it immediately to avoid any subsequent charges. You will continue to enjoy a free month, even if you cancel it, until the day you would have to renew it.
See restaurant promotions
One way to save a lot of money on Uber Eats is with restaurant promotions. They are also offered by other establishments, such as some supermarkets. These can range from free shipping to buy 2 for the price of one, 3 euros discount or 8 euros discount, among others. If you look at the establishments that offer you a greater discount , you can save a significant amount of money, for example, those that offer you an 8-euro discount for purchases over 10 euros. The offers vary with the weather, the days and the moment, so you should pay attention to them.
To find out which restaurants have a promotion, go to the top of the page in restaurants, there click on offers or scroll down the page until the option Today's Offers appears and click on everything. In both cases, you will arrive at a page where you can see all the offers from nearby establishments that offer you the service at that time in your area.
How to check it step by step:
Go to Home
Go to Restaurants, top left
Go to Offers, top left
Restaurants with promotions will appear
If you want a specific restaurant , look for it in the search engine at the top, with a magnifying glass, and see if it has any promotions. Otherwise, check if you have any discount that has reached you by email or appears on the platform, as we will discuss below.
Take advantage of platform promotions
These can reach you by email, in which it is worth checking to see if you have any new email with a code that you can use to take advantage of in your orders, provided that you meet the minimum requirements of the promotion, or on the platform itself.
Generally, you will see them when you enter and they will appear in green so that you can accept them if you are interested, and even use them immediately or later until their expiration date. Check that they are applied at the time of purchase, otherwise it will cost you to claim them.
If you want to know if there is any current promotion, you will have to follow these steps:
Enter Uber Eats
Go to Account (bottom right)
Give where it says Promotions
The ones you have will appear there
You can give to buy now or use it in the order itself
It also doesn't hurt to pay attention to restaurant rewards to reward your customers.
invite friends
You can also save a lot of money by inviting your friends to join the platform. Although previously the figure was higher, today you can get a discount of 7 euros on an order of more than 20 euros if you get one of your friends to join with your code and place an order.
The other person you invite will also have access to a discount of 10 euros for a minimum order of 20 euros if they register with your invitation code and make their first order.
To invite a friend, you can follow these simple steps:
Go to Account (bottom right)
Give Invite friends
Copy the code, write it or share it directly from there
Use the promotion that suits you best
If you find that you have several promotions at your disposal in an order that you are going to make, use the one that suits you best . If one appears by default, you can try to see which is the one in which you are going to pay less or which suits you best.
Change the promotion for another that interests you more by applying it instead of the other before placing the order. Sometimes a percentage discount is more than the free shipping costs, or vice versa, among other situations that can occur. It does not always have to be the cheapest, because you may, for example, want to take advantage of one and save another for another order. In case of more than one option available to you, make an analysis to choose the one that will allow you to save more.