E-book readers are here to stay. A device that allows you to store thousands of books in a really compact size so you can read wherever you want. And the truth is that the user experience is simply impressive, making you do not miss the traditional book.
Of course, when choosing a good e-book reader, there are a number of factors that you should take into account. And one of the characteristics that we consider most important is water resistance. Yes, there are submersible ebook readers , so you will have the possibility to use them wherever you want without worrying about anything.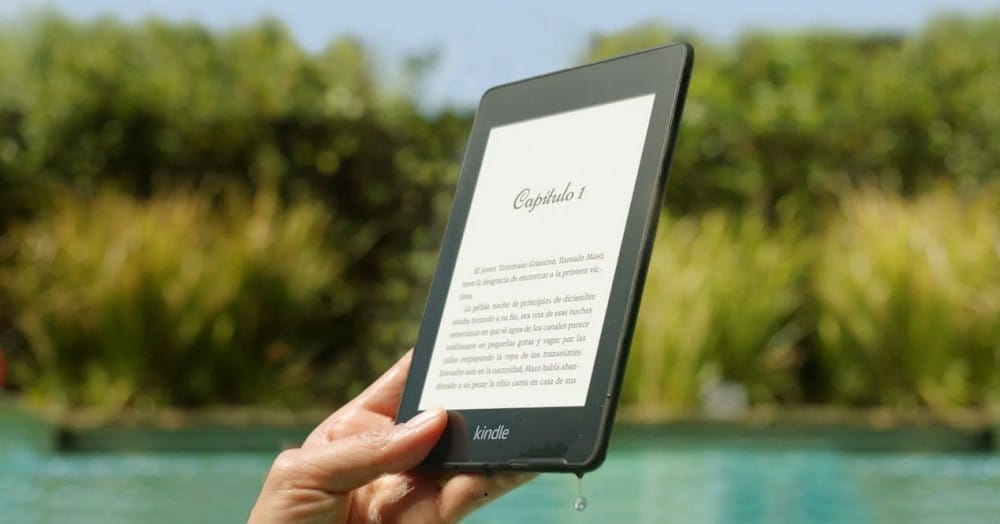 How to choose a good e-book reader
When choosing an e-book reader, you must take into account different factors. And the first and most important has to do with the screen. Many models are offered as book readers, but do not have a panel suitable for reading these types of formats. More than anything because they do not have an electronic ink screen.
Also known as E Ink , this type of panel is made up of a three-layer system. The outermost is simply a protective sheet, while the middle layer is where capsules with particles are placed inside, and in the last layer there are electrodes.
Say that the microcapsules located in the middle layer hide inside particles of titanium oxide- These particles can be black if they have a negative charge or white if they have a positive charge. The system is very simple: by activating the electrodes of the last layer, the middle layer is stimulated so that the particles are pushed to the surface of the capsule. With this, a surprising and perfect result for reading is achieved.
For this reason, E Ink displays are much better than LCD panels when it comes to reading books. It is true that the color limitation will not allow you to enjoy certain content, but in return the autonomy is notably higher, being able to be used for weeks without the battery being a problem.
Another feature that we consider very important is water resistance. The truth is that e-book readers boast a scandalous autonomy, making them a perfect travel companion. And the idea of being able to read in the pool, the beach or the bathtub without worrying about whether the gadget gets wet is a value to take into account. So, better buy an e-book reader that has water resistance.
Models to consider
The truth is that the variety of electronic book readers allows you to choose from a wide range of possibilities. But if you are looking for a good reader that is also waterproof, don't miss our compilation with the best options to consider. To do this, we have made a complete selection of ten models that will more than meet your needs.
Kindle Oasis
We begin this compilation where you will find the best e-book readers with the most vitaminized model of the online sales giant. The Kindle Oasis is a product that does not lack detail: it has resistance to water, it has an adjustable light to read at night … Come on, what options will you not lack with this complete device.
PocketBook Inkpad 3 Pro
Secondly, we want to recommend one of the jewels in the crown of PocketBook , one of the heavyweights when it comes to buying a device with these characteristics. In the case of the PocketBook Inkpad 3 Pro, you will enjoy a device with 16 GB of capacity, so you will have plenty of space to carry your entire collection of books wherever you want.
Tolino Vision 4 HD
We already anticipate that the manufacturer Tolino boasts a complete catalog of waterproof e-book readers, so you will see several models of this firm within our compilation. In this case, we want to recommend the Tolino Vision 4 HD , a very vitaminized reader that boasts some very interesting functions.
Kindle Paperwhite
Another of the models that could not be missing in a compilation of this type is the acclaimed Amazon Kindle Paperwhite. A product that boasts 8 GB of capacity, more than enough to carry your entire book collection, as well as water resistance.
Tolino Vision 3 HD
We return to Tolino to recommend its Tolino Vision 3 HD. Another waterproof book reader that also boasts an electronic ink screen to enjoy the best quality when reading your books.
Pocketbook AQUA 2
We continue this compilation with the best waterproof readers with this other model from the firm PocketBook. We are talking about the Pocketbook AQUA 2, a device that has adjustable lighting so you can read comfortably at night.
Tolino Vision 2
We return to the Tolino firm to recommend this other waterproof e-book reader . In the case of the Tolino Vision 2, this is a high quality product that will more than meet your expectations.
Kobo Libra H2O Zwart
Without a doubt, the Kobo Libra H2O Zwart is the manufacturer's main workhorse. Their weapons? In addition to offering water resistance, it has a 7-inch screen and 8 GB of capacity so you can enjoy your e-books without space being a problem.
Energy Sistem eReader Pro 4
If you are looking for an electronic book reader that allows you to install additional applications, this Energy Sistem eReader Pro 4 will be your best ally. To this we must add its 8 GB of internal memory, expandable up to 128 GB through its microSD card slot, to have a product that will satisfy the needs of the most demanding users.
Tolino Epos
We close this compilation of the best electronic book readers that you can buy with this Tolino Epos. A model with a 7.8-inch screen so you can enjoy a large-format panel perfect for reading.