As defined by Wikipedia, a torrent file stores metadata about files and folders that are to be distributed and used by a torrent client. In other words, Torrent clients are a file manager that will allow us to carry out downloads of various kinds, such as programs or Linux ISOs, for example. In this article we are going to tell you what, in our opinion, are the best torrent clients that you can use on Windows.
We are not going to go into how it works or what you can download in torrent format, in this article we are only going to talk about our personal experience using various clients for it under the Windows operating system. This means that the evaluations that we are going to make are subjective, and in fact we are going to order them according to our preference, from best to worst. With that said, here we go.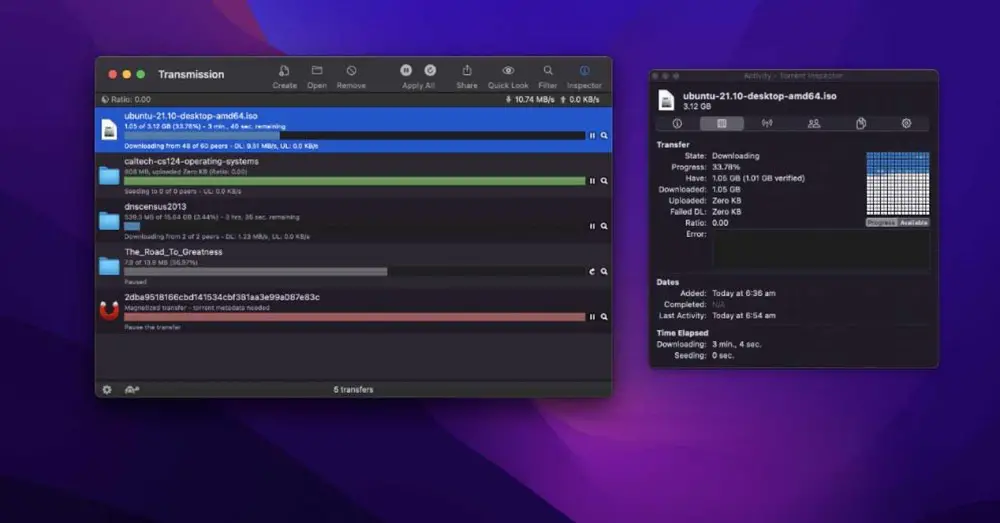 Transmission, the most powerful and simple torrent client
Transmission is one of the most used torrent clients in the world thanks to its simplicity; it can be installed in server mode on a NAS, on Windows PC, Linux or Mac, and of course it has its client for Windows that you can download and install for free. By the way, it's open source.
Advantages: This client is completely free and is also completely free of advertising . Its interface is minimalist and easy to understand, it is fast and powerful, and as we have already mentioned, it has support for almost all existing platforms. In addition, it also has a web interface that, properly configured, will allow us to manage our downloads even from a smartphone.
Disadvantages: It does not include an integrated search engine, which means that it is only used to manage Torrents that you have previously downloaded from another site.
qBittorrent, a great alternative for Windows
qBittorrent is a lightweight, open-source, fast and powerful torrent client for Windows, Mac and Linux. Unlike some torrent clients for Windows, this one won't ask you to install anything extra on your system (it doesn't have Bloatware), which is sadly to consider an advantage.
Advantages: It is completely free and free of advertising of any kind. Its installer is lightweight, as is its interface, which is easy to use. It allows remote torrent downloads and even prioritize downloads. Unlike Transmission, it incorporates a built-in search engine.
Cons: The interface looks like it's from the 90s.
uTorrent, the most used (but not the best)
uTorrent is the most widely used torrent client for Windows, although this does not mean that it is the best (again, from our point of view). It is compatible with Windows but also with other platforms, and it has a free version (uTorrent Classic) but with advertising. Its ad-free version is priced at $4.95 per year.
Advantages: light client and minimalist interface, quite easy to use. It has a bandwidth prioritization function and advanced functions that allow, for example, turning off the PC when the downloads are finished.
Disadvantages: Free version advertising is very intrusive and annoying. Also, even though the client is fairly lightweight, the application takes a long time to start.
BitTorrent, the "official" client
BitTorrent is the official client for the BitTorrent P2P protocol, and is known as the original client, with more than 20 years of existence now. It is compatible with Windows, MacOS and Linux, and also has a web interface (with a separate installer). The bad part is that, like uTorrent, the free client is ad-supported, and the paid client costs $4.95 per year (that's the ad-free version, then they have the PRO version for $19.95). The client is identical to that of uTorrent, as the latter is in fact a blatant copy of the original.
Advantages: clean and intuitive interface, with a light and fast installer. It has many features, such as scheduling and prioritizing torrents.
Disadvantages: intrusive advertising in the free version. And be careful because many antivirus detect it as Malware (download it only from its official website just in case).