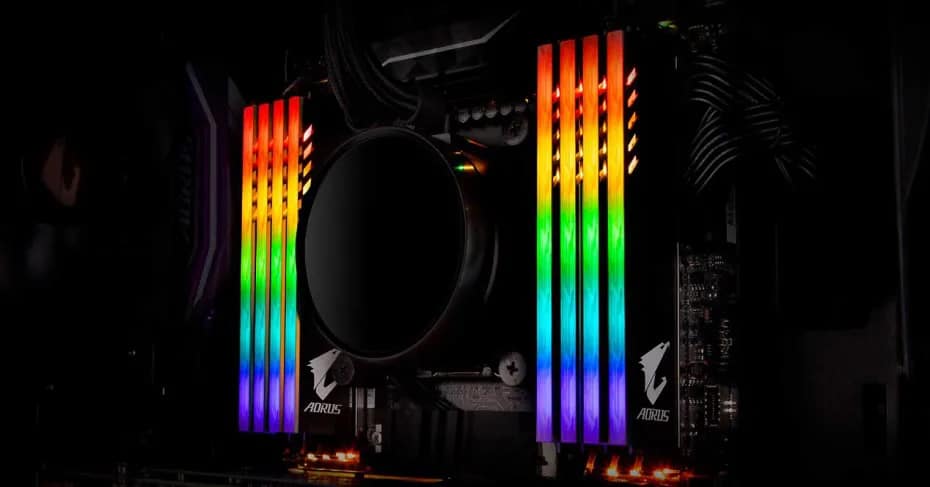 It is currently difficult to find RAM modules or kits that do not have the famous RGB LED lighting system among their ranks. Normally if we do not have it, it means that we have opted for sobriety or our RAM is something old. In any case, today we bring you the best RGB LED heatsinks for our memory, where we can opt for this lighting system without changing modules.
---
---
EZDIY-FAB RGB
The first kit we see partially copies the style of a brand known as G. SKILL and its Trident Z. Unlike these memories, these RAM kits do not have RGB lighting control , so we will simply have the LED system predefined and that we cannot change.
Therefore, the price is somewhat lower than other kits that do incorporate control in their ranks.
upHere

MBK5-2
A basic kit for those who want to customize their equipment, as they are offered in four different colors: black, red, gray and blue. Unfortunately, its RGB lighting system cannot be controlled in any way , since it does not carry connectors for it.
Hence, its price is somewhat lower than other kits that we will see below.
Another one of those highly recommended kits that arrive marked, but at a slightly lower price. They have support to be controlled by the motherboard through the corresponding 4-pin and 12-volt connection .
In addition, it is compatible with DDR2, DDR3 and DDR4.
ASHAMA RGB LED RAM
It is one of those kits with controversy. It is advertised as a set of heatsinks with 3-pin and 5-volt connection, but the truth is that in the descriptions only a fan connector appears, so in principle it would not have any control over its lighting.
In certain forums they claim that they are highlighted kits and that many come with RGB connection for motherboards, hence their price.
Bewinner RAM Shell
One of the few kits that will allow the control and synchronization of the RGB system with our motherboard through a 4-pin and 12-volt connector . Integrates its corresponding thermal pads apart from the aluminum heatsinks to improve the cooling of the modules.
For all this, its price is more expensive than kits that do not allow lighting control.
Jonsbo NC-1 RAM
Another of those kits that simply feeds on a 3-pin fan connector and therefore does not allow lighting control beyond the effect it integrates as standard. As we have seen, they are very cheap kits that add cooling and a highlight to the system.
We can find them in black or red.
Thermaltake

Pacific R1 Plus DDR4
It is the most expensive kit of the whole article, where the most remarkable thing is that it is not even a heatsink kit to use, but an LED cover that overlaps our memories. It has the peculiarity that Thermaltake only declares compatibility with DDR4 because of the anchors and the dimensions of the slots, but they have been seen working on plates with DDR3 or even with DDR2.
It obtains compatibility with the main motherboards provided they have a 3-pin connector for 5 volts.
---
---