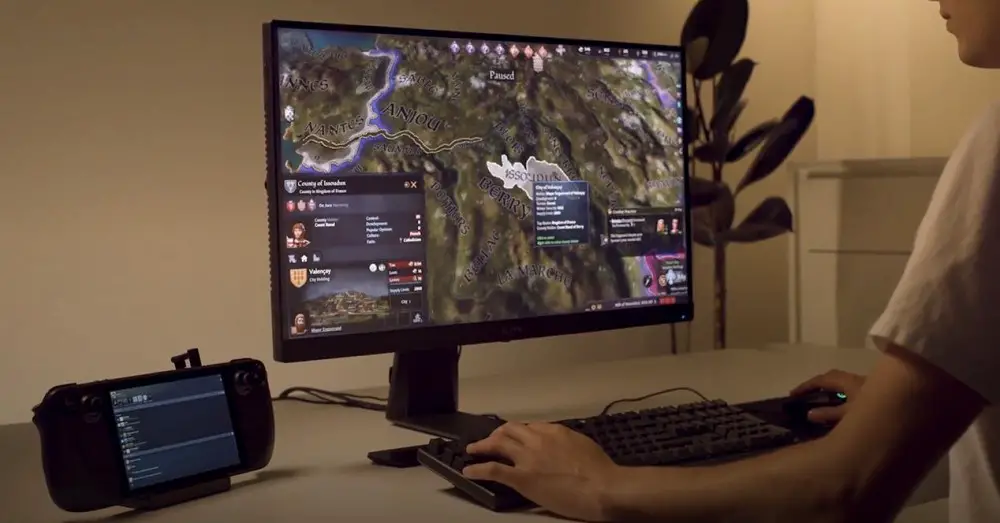 Valve has surprised us with the launch of a portable console that actually hides a PC inside. But the truth is that, with the appearance of a Switch, the hardware that it mounts is similar to that of an Xbox Series X and a PS5. So where do we agree? What kind of device is the Steam Deck ? Let's review its characteristics and compare it with the competition.
What is the Steam Deck?
It is Steam's portable console based on a new version of SteamOS, an operating system created by Valve and based on Linux that will be able to run all kinds of games thanks to Proton technology , which will run games without the need for adaptation by developers .
You only need an internet connection to access the extensive Steam catalog and download from there any game you have in your library. However, it does not end there, since in case you prefer to turn it into a regular computer, you can remove SteamOS and install Windows directly so that you can do whatever you want with the device.
How is it different from the rest of the consoles?
Basically we are facing a PC, and that implies that the games are those of PC. In a certain way, today we could almost say that Steam Deck could offer you the best of both worlds, since you have the entire PC catalog, the portability of Switch, and Xbox and PS5 games thanks to the Game releases. Pass and the latest Sony releases on PC such as Horizon Zero Dawn , Days Gone or Death Stranding (and what is to come).
Can I install Windows?
That's right, when we say that you can enjoy Xbox Game Pass and PlayStation Studios games available for PC, it is because you can install Windows natively to make it work like a normal PC. This will obviously take away a large part of your experience, which is intended to be used with SteamOS, but which will inevitably sound very palatable to many users.
And the possibilities after doing this are endless. From downloading and installing games from other game libraries (such as the Epic Games Store), to enjoying cloud gaming services like xCloud. Not to mention the classic Netflix or the messaging services that we use daily.
A brain that sounds to us
Inside the Steam Deck we will find an AMD processor with Zen 2 CPU and RDNA 2 GPU of eight computing units with a total of 16 GB of RAM . This leaves the Nintendo Switch quite evident, which with an NVIDIA Tegra processor (which has already been running for several years) is well below the level of graphics and computing power. If this processor sounds familiar to you, the answer is very simple, since it is the same as the Xbox Series X | S and PS5.
Well, it is actually the same platform, since each of them has presented a custom configuration in each of the cases, and that is just what has happened on the Steam Deck. In his case, the Valve console has a processor with 8 computing units, while Xbox Series X, Series S and PS5 mount 52, 20 and 36 computing units respectively.
As far as the GPU is concerned, the differences are much more evident, since while the small Steam Deck offers 1.6 teraflops , the X Series, S Series and PS5 reach 12.15 TFLOPS, 4 TFLOPS and 10.28 TFLOPS respectively.
Nintendo Switch vs Steam Deck
Nintendo's proposal is a consolidated platform that mainly bases its offer on exclusive high-quality games. The idea of the console is to be able to play anywhere, transforming the console from a laptop to a desktop console with a dock. The Steam Deck will also be able to do that, although the dock will arrive later after its launch.
Something that does claim to have Switch are its Joy-Cons. The removable controllers on the console allow you to set up a multiplayer party in a matter of seconds, as the control system transforms into two small gamepads thanks to its extraction system. Of course, the new version of Nintendo will mount an OLED screen, something that will visually place it above the Valve proposal.
It is inevitable to compare both consoles taking into account the physical similarity, but in terms of power, Steam Deck wins by a landslide. You just have to see how Control runs on the small console and remember that the game is only available in streaming (Cloud Version) on Nintendo Switch. That's where you see the difference between one and the other, although you know what they say about graphics not being everything, right?
Xbox Series vs Steam Deck
In this case the comparison is quite complicated to carry out since we are talking about a laptop (with desktop functions) and a desktop to use. In a matter of numbers, Microsoft consoles arrive more than enough, but the experience of playing triple AAA games from wherever you want is something that inevitably attracts attention.
As far as Xbox Game Pass is concerned, the advantage of being able to install Windows on the Steam Deck makes Microsoft's cloud service also available on the small console, so the streaming game proposal is also present.
PS5 vs Steam Deck
As in Xbox, the comparison in this case is usually somewhat unfair, since we cannot compare the raw power of a desktop console with that of a small laptop. Sony will continue to enjoy their fantastic exclusives, but recent deals have allowed a couple of games to debut on PC under the original label, so these titles (and future ones) could also be played on the Steam Deck. .
Basically, Valve's console will be limited to 60 fps, and it will not reach higher rates as it happens in PS5 with its 120 Hz. After all, we must remember that the screen that it mounts is 7 inches with a resolution 800p, and although we can connect the console to an external screen, its performance will be focused on the experience in portable mode at that resolution.