A second monitor is very useful, especially for working. However, monitors cost a lot of money and occupy a space that many of us will not have on our desk. In addition, they imply having HDMI or DP ports available on our PC or laptop to connect them. And a plug nearby. Luckily, there are alternatives that will allow us to take advantage of devices that we surely all have at home, such as an old laptop, a mobile phone or a tablet, to use it as a second monitor. And one of the best applications for this is SpaceDesk.
SpaceDesk is a program designed to allow us to convert any computer or device into a secondary monitor for our computer. This program only requires a server (which we install on the main computer) and a client (which we will install on the secondary) to be able to use a laptop, mobile or tablet as the second monitor connected to our computer.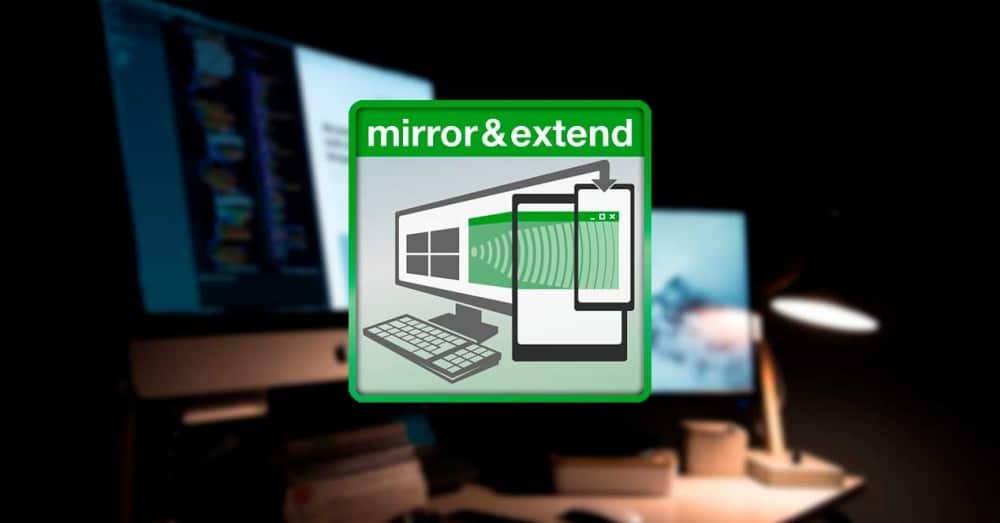 This is a very new program. So much so that, to this day, it is still in beta phase. Despite this, it is a very stable tool and offers excellent performance on all types of devices. We will hardly notice the difference between a second real monitor connected to the PC and SpaceDesk.
SpaceDesk features and requirements
SpaceDesk works through the local network. Therefore, the only requirement that we must meet is that both the main PC and the device that we are going to use as a secondary screen are connected to the same router. It doesn't matter whether it is by cable or Wi-Fi, it works the same. We can even connect it via USB and use the Tethering configuration of smartphones.
This program offers users all the features of a secondary monitor. That is, we will be able to use it to extend our main desktop or to duplicate it. It also allows us to use a keyboard and mouse to control the PC remotely, and even do it from the touch screen.
Another important requirement is that the main computer (to which we want to connect the second monitor) must be using Windows 8.1 or Windows 10. We will not be able to use SpaceDesk (at the server level) in other versions of Windows or in other operating systems (such as Linux or macOS).
As for the client (the computer or device that we are going to use as the second monitor) there is much more freedom. We can use any computer with Windows 7, 8.1 or Windows 10, any Android smartphone and tablet or any iPhone or iPad. In addition, any operating system that can run an HTML5 compatible browser can be used as a second monitor.
Many improvements (especially security) on the way
The connection between client and server of SpaceDesk is made through TCP / IP v4 protocol (and in the future you can also use TCP / IP v6). However, for now it does not have a point-to-point encryption system . This means that all the information that is transmitted between both devices can be seen and captured by anyone connected to the network.
It is also important to note that it does not have security measures . We can connect to the server without password or anything. Being a tool designed to work only on a local network there should be no problem, but that does not mean that it is a serious lack of security.
These two security measures are already raised by the developers, who will implement them in future versions. In addition, image encoding will also be improved and features such as audio via Wi-Fi will be added.
Free, but with a "Pro" version on the way
Since SpaceDesk is still in an early stage of development, this program is completely free, and without limitations, for all users.
From the third quarter of 2020 we will find two different modalities of this program. The first of them will be free, and will allow us to connect only one device (that is, have a single additional screen) at the same time, and we will not be able to use the touch controls to control it. The Pro version , designed for commercial use, will support multiple screens, full touchscreen, automatic rotation, remote control by keyboard and mouse and much more.
Although at the moment we do not know the price (nor if the free version will have other limitations), purchases will be made through in-app purchases from the devices. We also do not know if it will be a one-time payment or we will have to pay one of the subscriptions that are so fashionable.
Connecting a second monitor to Windows has never been so easy
While some applications may seem difficult to configure, SpaceDesk has opted for simplicity. To use this program we do not have to configure anything on our router (or open ports or anything) or on our PC (configure firewall, etc.). All we have to do is make sure we use the correct operating system and install the client and server on the PC and device.
The server that we install in Windows (on the main computer) does not have any configuration. The only thing we will see when opening it will be the PC data. We can see the version of the server, the license and the IP address of our computer. Nothing else.
The clients that we can install on Windows, Android or iOS have a few more settings. For example, they allow us to configure the quality of the broadcast, the resolution that we want our second screen to have and the operation of the peripherals.
As for the way to connect to the PC, there is no mystery. On the main screen of the client (in our case an iPad) the server that we have open on our main PC will automatically appear.
Simply clicking on your IP will automatically connect to the computer and the second monitor will automatically start working. We can change its configuration, its location and its operating mode from Windows, both from its configuration and with the keyboard shortcut Windows + P.
Download SpaceDesk
On its main website we can find all the download links, both for the server, which only works in Windows, and for the clients, which we can find for Windows, Android, iOS and HTML5 browsers.
We remember that the server must be installed on the main computer to which we are going to connect the second monitor . Clients are installed on the devices that we want to use as the second screen .
Alternatives to SpaceDesk to have a second monitor
Of course, SpaceDesk is not a revolutionary program in the sector. On the net we can find many other alternatives that allow us to do the same, that is, to convert our devices into monitors and secondary screens:
Air Display: the most complete alternative for macOS.
AirParrot 2 : another popular alternative to place a second monitor on our PC.
Duet Display : a lag-free alternative to turn any Android or iOS tablet into a second screen for Windows and macOS.
iDisplay: converts all kinds of equipment and devices into secondary screens.
MaxiVista : somewhat obsolete, but today it still works.
Twomon USB, TwomonAir : a quick and easy alternative to connect a second monitor in Windows and macOS.
XDisplay / Wired XDisplay : very powerful if we don't mind relying on a cable.
ZoneScreen : one of the oldest, especially useful for computers from Windows 98 to Windows XP.
What is true is that, in features and price, SpaceDesk is one of the best . We should not miss the opportunity to try it if we want to be able to use a second screen on our PC without limitations.