When browsing the Internet we can make use of many tools to encrypt our connection and avoid problems that damage security and privacy. An example is VPN services, which help us navigate public wireless networks more safely and hide the real IP address. In this article we are going to talk about SoftEther , an interesting option that we can take into account. We are going to explain how to use it in Windows.
What is SoftEther VPN
SoftEther VPN is a multiprotocol VPN software that we can use in operating systems such as Windows, Linux or macOS, among others. Its name comes from Software Ethernet. It is open source and totally free. It is an alternative to other options such as OpenVPN and Microsoft servers.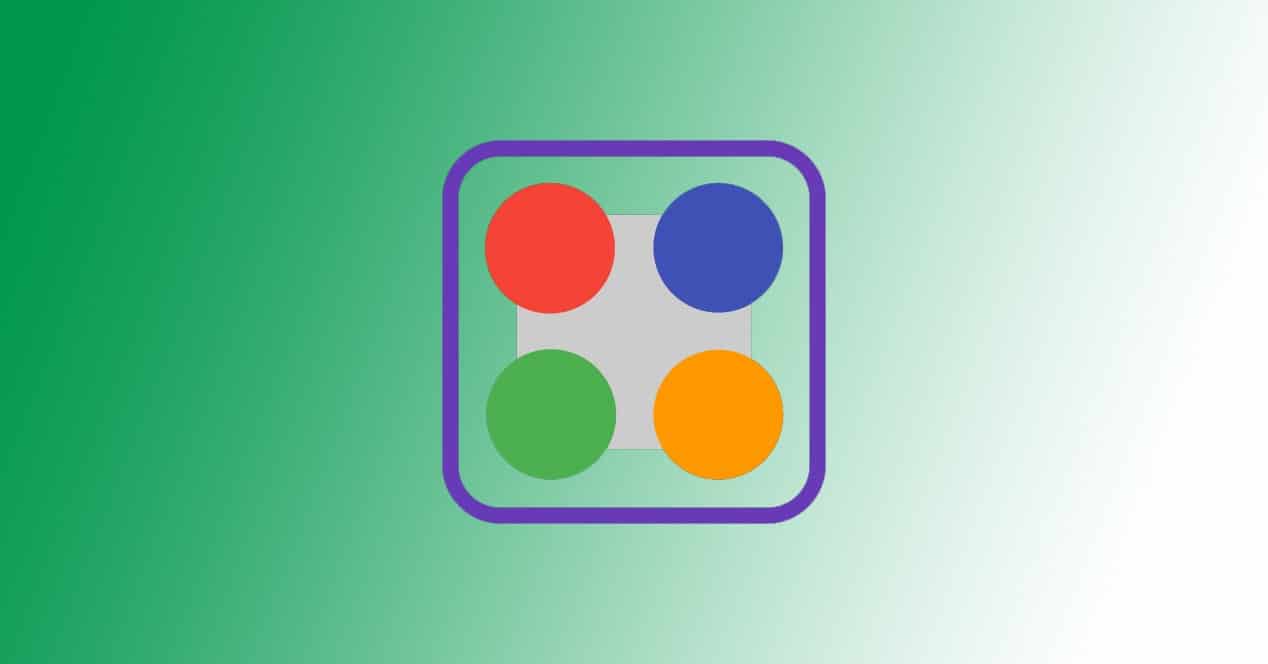 It is considered a faster option than OpenVPN and it should also be noted that it is compatible with Microsoft SSTP VPN for different versions of Windows. It has its own protocol: SSL-VPN . It is fully optimized for this tool, offering very fast performance, low latency, and firewall resistance.
Allows virtualizing Ethernet through software enumeration. SoftEther VPN Client implements Virtual Network Adapter and SoftEther VPN Server implements Virtual Ethernet Switch. We can easily create remote access VPN and site-to-site VPN , as an expansion of the Ethernet-based L2 VPN. It also allows you to create a traditional L3-based VPN with IP routing.
SoftEther VPN is highly compatible with today's most popular VPN products globally. It has interoperability with OpenVPN, L2TP, IPsec, EtherIP, L2TPv3, Cisco VPN Routers, and MS-SSTP VPN Clients. It is currently the only one in the world that supports SSL-VPN, OpenVPN, L2TP, EtherIP, L2TPv3, and IPsec, as a single VPN software.
SoftEther main features
We have seen what SoftEther is and now we are going to see what its main features are. A review of the points that we must take into account of this software. We have already mentioned some aspects, such as that it is free and open source.
Ease of establishing site-to-site and remote access VPNs
SSL-VPN tunneling over HTTPS to pass through NAT and firewalls
Innovative VPN over ICMP and VPN over DNS features
It is resistant to highly restricted firewalls
Integrated dynamic DNS and NAT traversal so no static or fixed IP address is required
AES 256-bit and RSA 4096-bit encryption
Security features, such as VPN tunnel and registry
High performance with 1 Gbps with low memory and CPU usage
Supports Windows, Linux, macOS, iOS or Android, among others
Support for SSL-VPN (HTTPS) and the six major VPN protocols (OpenVPN, IPsec, L2TP, MS-SSTP, L2TPv3, and EtherIP)
OpenVPN cloning feature supports legacy OpenVPN clients
IPv4 and IPv6
In short, these are the main features that SoftEther has. This multiplatform VPN server and client software offers a wide range of options. It has a great performance in the different operating systems where it is compatible.
How to install SoftEther on Windows
We are going to explain step by step how to install SoftEther in Windows. We are going to test it in what is the most used operating system on desktop computers, although it should be noted that the process for its installation and use is similar in the rest of the operating systems where we can use it.
The first thing we have to do is go to the download section of its official website . There we will find the different options to download the program. We also have the link to GitHub and be able to consult the source code of the software. There are multiple servers to choose from where to download it from.
Keep in mind that we can download the server, client, bridge option, as well as choose the platform. The installation file is about 50 MB. Once we have downloaded it, the next thing we have to do is run it on the system. You will begin with the installation, a simple and intuitive process. It will ask us for permits for its installation and we must accept.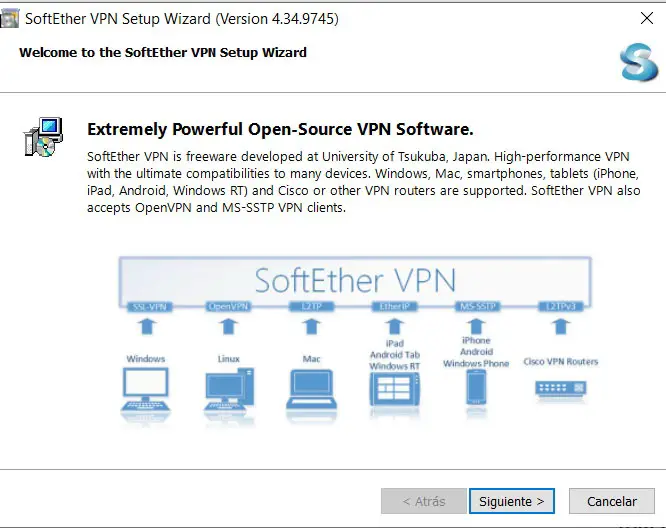 Once we have installed and run it for the first time, a window like the one we see in the image below will appear. We have to hit Connect to start using it. It will ask us for an administrator password.
If we want to create a remote VPN server with SoftEther we have to mark that option in the new window that will open later and click next. It will ask us for confirmation and we accept. We will also have to create a name.
Once this is done, it will create a Dynamic DNS function for us. It will assign a Hostname, global IPv4 address and everything as we see in the image below. We can change the name and assign the one we want. We click on Set to Above Hostname.
Once created we have to give it to exit and in the window that appears mark the option of Enable L2TP Server Function (L2TP over IPsec). You also have to choose the username, but as we will only have one created, it will already be marked by default. We give OK.
In the next window we give you to disable VPN Azure and mark OK again. After this we create a new user and fill in the corresponding data. We have to put the name and the type of authentication, basically, in addition to the password.
We will automatically see in the new window that the user we have created already appears. We can simply close that window by giving Exit and in the previous window, in step 3 choose the Ethernet controller and close. We can check that the status is Online, as we see in the image below.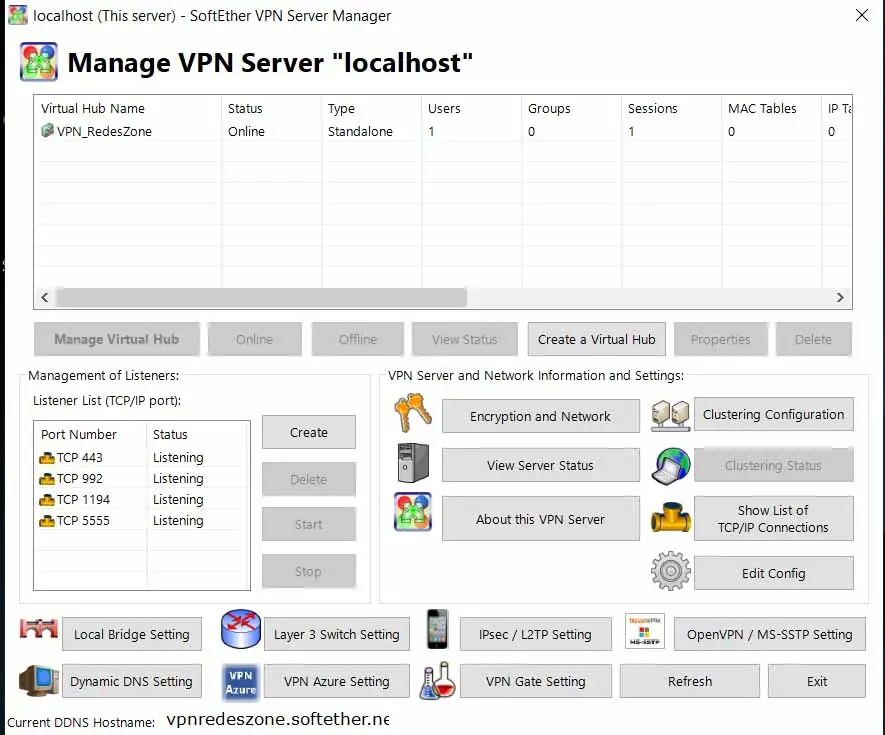 If we select the user and click on Manage Virtual Hub we can enter the different points that we can modify. We can click on Virtual NAT and Virtual DCHP and enable SecureNAT. Later we enter SecureNAT Configuration and there we will see the options of the card interface, such as the MAC address or IP address.
We can see in the main window the list of listening TCP / IP ports. We can create, delete or pause the ones there are.
Install SoftEther Client
We can also install the client version of SoftEther VPN . The process is the same. We have to go to their website and there this time select Client. You have to choose the operating system where you want to install it. When we open it, we will find a window like the one we see in the image below.
We have to give Add VPN Connection . You have to give it a name and it will start creating the new virtual network in Windows. This will take a few seconds. It will automatically appear at the bottom of the main window, with the name we have created. Make sure that the status is Enabled.
Once this is done, you have to go to Connect, we click New VPN and a new window will appear to fill in the data as we see in the image.
There we have to put data such as the host name, which in our case, as we configured it before, would be vpnredeszone.softether.net. Also choose the port and disable NAT-T.
You have to put username and password on the right and click OK. The offline connection will now appear in the main window. Simply right-clicking and clicking Connect will establish the connection and the IP will appear. We will see that it appears as connected.
In short, following these steps that we have been explaining, we can download and configure SoftEther as a server and client. We can create a VPN easily and safely.