When buying an Apple Watch, there are many users who wonder whether it is appropriate or not to wet the Apple Watch, especially when it comes to inserting it or using it in the shower or during a bath on the beach. Apple already makes it clear that it can be used to do certain sports, but could it be damaged by it? We will tell you everything in this post
You can shower with the watch if you have one of these models
The possibility of wetting the Apple Watch depends on the watch model you have and therefore, the fact of putting it in the shower or not is also conditioned by it. First of all, you have to know that all Apple Watch models are water resistant, but some more than others.
The first Apple Watch only have IPX7 certification, which makes it resistant to splashes typical of processes such as washing hands or running in the rain. This changes from the Apple Watch Series 2 granting this model and all subsequent models ISO 22810: 2010 certification and making them able to dive for water sports such as swimming.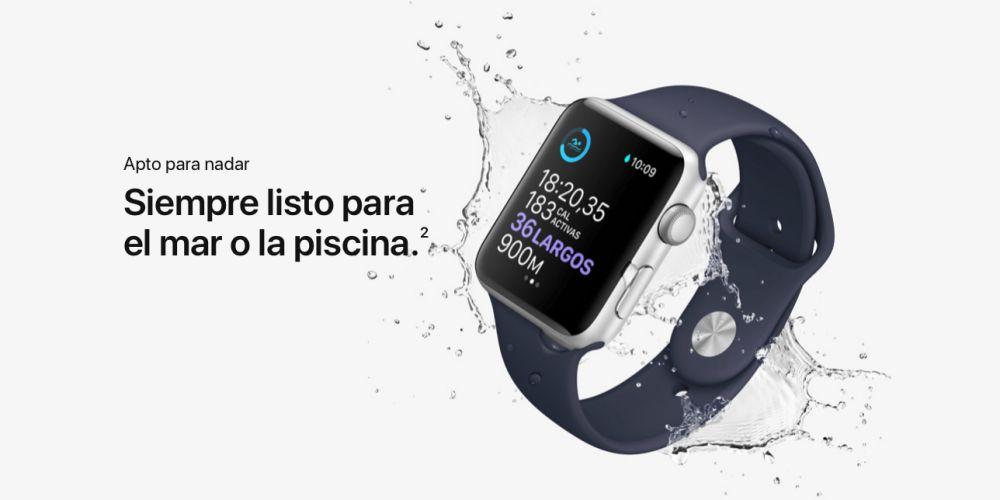 Therefore, if you have an Apple Watch Series 2 or later, you can use your Apple Watch in the shower without worrying about it, since this watch is prepared for contact with water. However, if your model is an Apple Watch prior to Series 2, even though it has splash resistance, our advice when wetting the Apple Watch is to try to avoid contact of the watch with water, especially from as direct as can be given in the shower.
What about water sports?
Here things change, and that is that any model prior to the Apple Watch Series 2 cannot be used to record any water sports. However, from the Apple Watch Series 2 you can use your watch to record water sports workouts such as swimming or surfing, that is, taking into account that the maximum depth that the Apple Watch can reach is 50 meters, for which perhaps for sports such as scuba diving or diving would not be highly recommended.
If you wet your Apple Watch, do this
Finally, if you choose to use your Apple Watch to shower or perform any activity that involves the watch being in contact with water, we recommend that at the end of said activity, you go to the control center of your Apple Watch and click on the symbol of the drop of water, in this way you will manually activate the procedure that the Apple watch has to eliminate the traces of water that may have remained. What this process does is emit a series of sounds and vibrations that expel the remaining water that has remained inside the watch. This will ensure that your Apple Watch is dry after going through water.