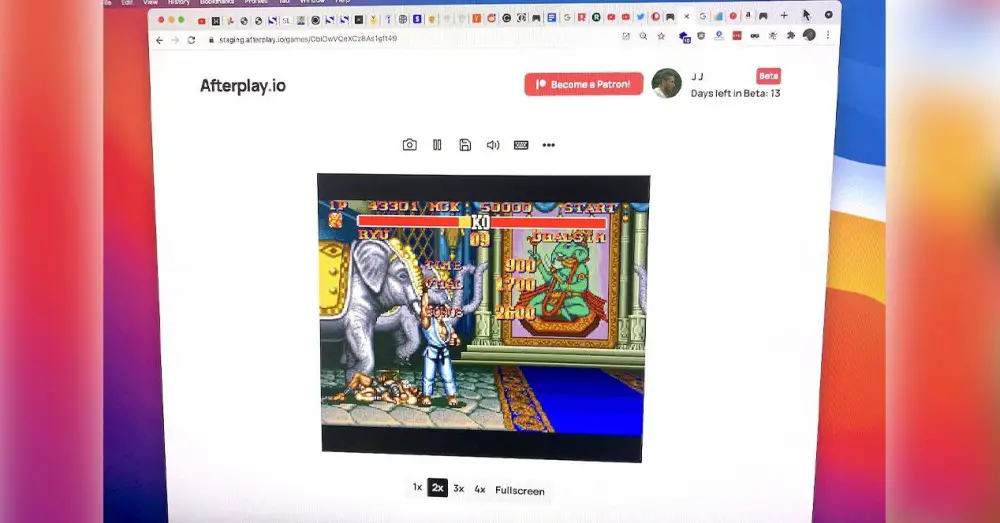 If you are a lover of the most classic console games such as the Game Boy Advance, Super Nintendo, Mega Drive and others, you are going to be amazed by what we bring you today. You may have already played one of these consoles using emulators downloaded to your PC, but what if you don't need to install anything to play? Today we bring you a compilation of the best online emulators to play retro games from the browser .
Emulators + ROM's, how do they work?
If this is the first time you hear about emulators or ROMs, the first thing is that you know what they are about and what are the key points of this system to play games. We could say that, to carry out this process, we have two different parts:
Emulator or kernel : the first member of this equation is in charge, as its name suggests, of acting as the console. It is an "app" that will emulate any old video game console that you can imagine such as the SNES, Amstrad, Neo Geo Pocket, Spectrum and a long etcetera. Some are endowed with certain advantages such as autosave, stability improvements, speed and many other details.
ROM's or games : this second part is easy to understand. ROM's are the games themselves in a compatible extension that allows emulators to play them and start playing.
So, in order to reproduce a title that you played (or wanted to play) in your childhood, you will need to find both elements, that is, the game and the corresponding console emulator.
For our part, we cannot indicate or encourage you to use ROMs. But it is completely legal for us to tell you about emulators and where to find them, and the rest will depend on what each user wants to do on their own responsibility. But, as you already know, the internet is very wise and it sure has a solution for this.
Online emulators: the most comfortable system
However, although the most common way was to search for both pieces, currently there are many web page options that, in their code, include the emulator itself .
Therefore, the only thing we would have to do is own the ROM in question that we want to reproduce, load it / upload it to the web and start playing. Or, there are even websites that directly include classic games within their code. Although of course, these may stop working in the future if they do not legalize and pay all the necessary fees.
That said, below we show you a list classified by consoles of the different emulators available and the ROM extensions with which they are compatible. And, in the case of incorporating the games, we will also indicate it to you.
Nintendo Entertainment System NES
The best websites with an emulator that allows us to reproduce NES titles are:
NESBOX : it is an emulator that will be linked directly (as a directory for the games) with our Onedrive account.
tripletsandus : here the games are already included on the page itself. We will only have to look for our favorite titles and click on "Play Now".
8BBIT : ditto of the previous one. A list of titles with a search engine among which you can locate and play NES games simply by clicking on them.
Super Nintendo SNES
Turning now to the Super Nintendo SNES , on our website we have already told you once about the star online emulator for this (and other consoles). This is afterplay.io , a website with an incredible amount of possibilities.
First of all, if you want to enjoy the experience to the fullest, we recommend that you "sign up" for it from the upper right corner. Once this is done, the next step is to upload your own ROMs directly to the web. Something as simple as:
Click on "Add Game".
Search for the compatible file in the appropriate path of our computer. The extensions that Afterplay can play are: .gb, .gbc, .gba, .sfc, and .smc .
Open the file and wait for the game to load. I would already be.
From this ROM loading interface you can:
Make the screen smaller or larger.
Save the game at any time and, even if you close the browser, it will remember those saved points.
Consult the keys of use through the keyboard icon.
Link a Gamepad.
Load more than one game within your profile.
However, if you don't want to go through that searching for ROMs, you can choose to use the Snesfun website (http://www.snesfun.com/). Here, again, the way to use it is to locate the title we want to play among all those available and click on it to start playing.
GameBoy, GameBoy Color & GameBoy Advance
Turning now to the most popular portable consoles in the history of Nintendo, we have grouped the online emulators available for GameBoy, GameBoy Color and GameBoy Advance :
GBAFUN : within this website we will find games to play directly from both GameBoy Color and GameBoy Advance.
Afterplay.io : as we mentioned before, this website is compatible with more consoles such as GameBoy, GameBoy Color and GameBoy Advance, in addition to the SNES.
Sega Megadrive & Genesis
Going now directly to the Sega Megadrive , there is an online emulator from the same GBAFUN "family". It is SSEGA and its operation is identical to the previous one:
We look for the game in its own browser, without having to download ROM's.
We click on it.
We started to play.
If you need to know some details of commands or saving, you can consult the interface options of this emulator.
Other interesting web emulators
In order not to repeat ourselves too much because, from here on, all emulators work with the integrated gaming system, we are going to name you the consoles for which they are available. Thus, simply by clicking on them, you will be able to access and see the list of available titles.