Regardless of how you proceeded to install the iOS 15 beta on your iPhone, you are probably tired of it. The same if you did the same with the iPadOS 15 on your iPad. These versions are very good for developers to test their tools and be able to polish bugs, but for ordinary users they can be very tedious due to the number of errors they generate: apps that do not work, unexpected restarts, slow system, excessive battery consumption… But luckily it has a solution and you can go back to iOS or iPadOS 14.6 which are the latest stable versions of the system and in this article we will tell you how.
First of all, download the iOS 14 IPSW
If you are not very used to the more technical terminology, you should know that IPSW refers to the software format that iOS has. In fact, its initials originally referred to "iPod Software", something that is now applicable to "iPhone Software" or "iPad Software". What you should do is download a file of that format that is that of the latest stable version of iOS 14 which, at the time of publishing this note, is that of iOS 14.6. However, if you are reading this after a later update has come out, the process is the same.
You can download this software from the ipsw.me website, where you can find for free all stable versions of iOS and iPadOS world. Of course, it must be from a computer regardless of whether it is Mac or Windows. The steps to follow once you enter that website from your desktop computer will be these:
In the part of "Choose a product" select "iPhone" or "iPad", depending on which device you are going to return to its previous version.
Choose now the model of your iPhone or iPad. It is important that it is exactly that to avoid installation errors or subsequent malfunctions.
Select the latest version of iOS or iPadOS available. It will appear at the top in green.
Click on the "Download" button.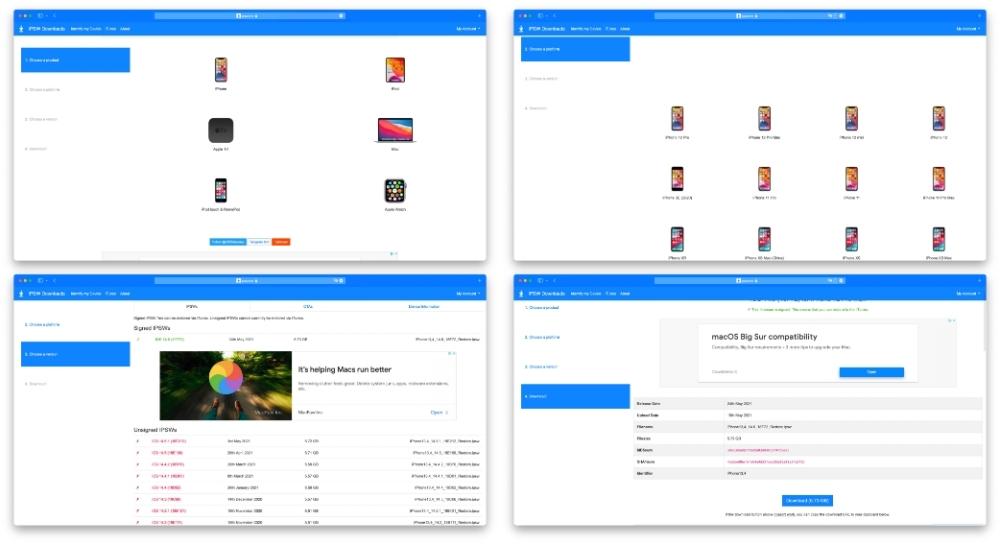 The download will start at that time. Locate well where it has been downloaded because it will be important in the next steps.
Install iOS 14 or iPadOS 14 on the device
Once you have the download ready and located, you will have to have a Mac or Windows PC nearby, since it will be necessary to install the software on the iPhone or iPad.
Put the iPhone or iPad in DFU mode.
Connect the device to the computer via cable.
If you're using a Mac with macOS Catalina or later, open Finder. If you use a Mac with macOS Mojave or earlier, as well as a Windows PC, open iTunes (it is not installed in Windows, but you can download it for free from the Apple website).
Either in Finder or iTunes, tap on the iPhone or iPad to manage the device.
Locate a button that says "Restore iPhone / iPad", but press it while holding the alt / option key on the keyboard.
A file selector will now open and that is where you must locate the IPSW that you downloaded and select it.
Follow the onscreen steps to install the iOS 14 or iPadOS 14 software.
Once you have done this, you will have your iPhone or iPad with the corresponding latest stable version of the device. You will see that it appears ready to configure as if you just bought it, so you will have to configure it again. If you made a backup before installing the beta, you can load it and leave the device as you had it then. If it is not like that or you do not want to load it, you can have it completely configured as new. Remember that iCloud syncing allows you to have photos, calendars, notes and other data stored even if you went from iOS 15 to iOS 14, so you will keep that in any case if you log in with the same Apple ID.