Remotely controlling any computer is a fundamental aspect today due to teleworking, both for home users, teleworkers, as well as for system administrators, which will allow them to control any equipment easily and quickly. Being able to connect to a computer remotely from anywhere offers users a series of advantages that cannot be overlooked, however, it is sometimes difficult to establish remote connections due to the large number of protocols that currently exist. Today in this article we are going to talk about Remmina, a remote desktop client for Linux that has multiple protocols to control computers remotely.
We know as remote desktop software that which allows us to connect remotely to our computer and control it with a keyboard and mouse as if we were sitting in front of the monitor itself. There are several protocols and various applications that allow us to use this function. Remmina is one of the main alternatives to have remote desktop software on our Linux operating system.
Remmina main features
This program is completely free, it will allow us to connect remotely to our computer or Linux server, using different protocols for this, and without the need to install additional software on the client computer. We will only have to install Remmina and we will already have everything we need to connect remotely to other computers, as long as they make use of RDP, VNC or SSH servers, among others. Remmina supports the following protocols:
RDP (Remote Desktop Protocol): we can connect remotely with other computers, customizing the color depth, shared folders, quality, sound and many other parameters.
VNC: we can configure the color, quality, the listening port, authenticate with username and password, deactivate or activate data encryption and many other characteristics.
SSH and SFTP: we can control a remote server or computer by SSH, and it also includes an SFTP client to transfer data in an encrypted and authenticated way.
NX
XDMCP
Other features of Remmina are that it will allow us to remember the last client configuration, allow double click, scale the image quality, allow screen folders, configure screen resolutions, configure the tab, configure a local port to make a tunnel SSH, configure the SSH logging level, change the terminal font to properly manage computers, and much more.
Installation and commissioning
Remmina, like most Linux software, already comes in the official repositories of the different distributions, so we can easily install the tool simply by typing a line in our terminal. To do this, we must execute the following commands in the terminal of our Debian-based distribution:
sudo apt install remmina

As you can see, the package manager will automatically detect all the dependencies of this program and ask us if we want to install it. Furthermore, remmina is designed by plugins, so if we simply install "remmina" it will automatically install all the plugins to have all the functions of Remmina without having to install it later.
This software is not limited to connecting to other identical systems (in this case, to other Linux systems) but also allows the connection between different operating systems as long as they comply with the protocol standards, for example, although Linux by default does not have From an RDP server we will be able to connect to a Windows computer from this Linux software.
Operation and connection to servers
Once we have installed Remmina, we are going to run it on our operating system. Simply put the name "remmina" in the search bar and it will automatically give us several options, we choose the first one to run the program on the computer.
In the main menu of Remmina we can see at the top the possibility of connecting to RDP, VNC and SSH servers quickly, just by entering the IP address and it will use the default ports of these remote connection protocols.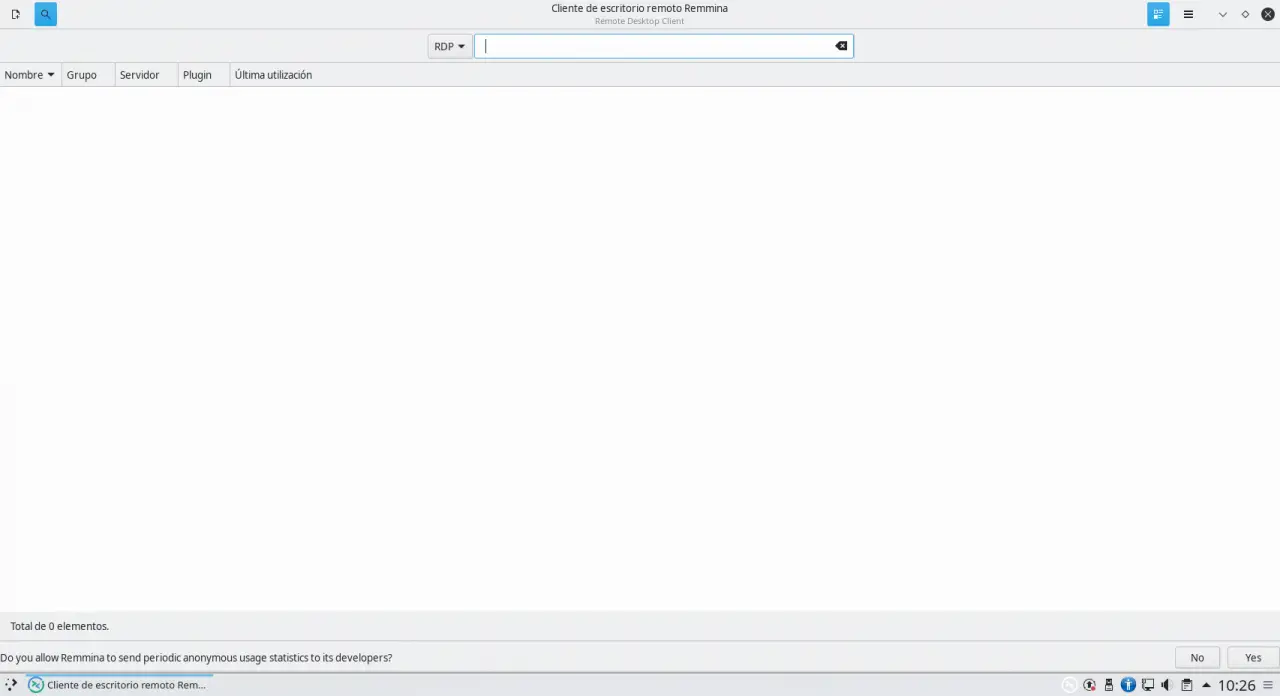 If we click in the upper left part «Create a new connection profile» we can create different connection profiles to connect quickly without having to enter anything, we will simply configure this profile, then double click and proceed with the connection easily and quickly .
In this menu we must indicate the following:
Name: the name of the profile
Protocol: the protocol to use for the connection, we have the possibility to choose RDP, SSH, SFTP, VNC and VNCI.
Previous order: if we want to execute an order before connecting, the normal thing is to leave it empty.
Subsequent order: if we want to execute an order after connecting remotely, it is normal to leave it empty.
Basic, advanced and SSH Tunnel: depending on the chosen protocol, different configuration options will appear in this menu.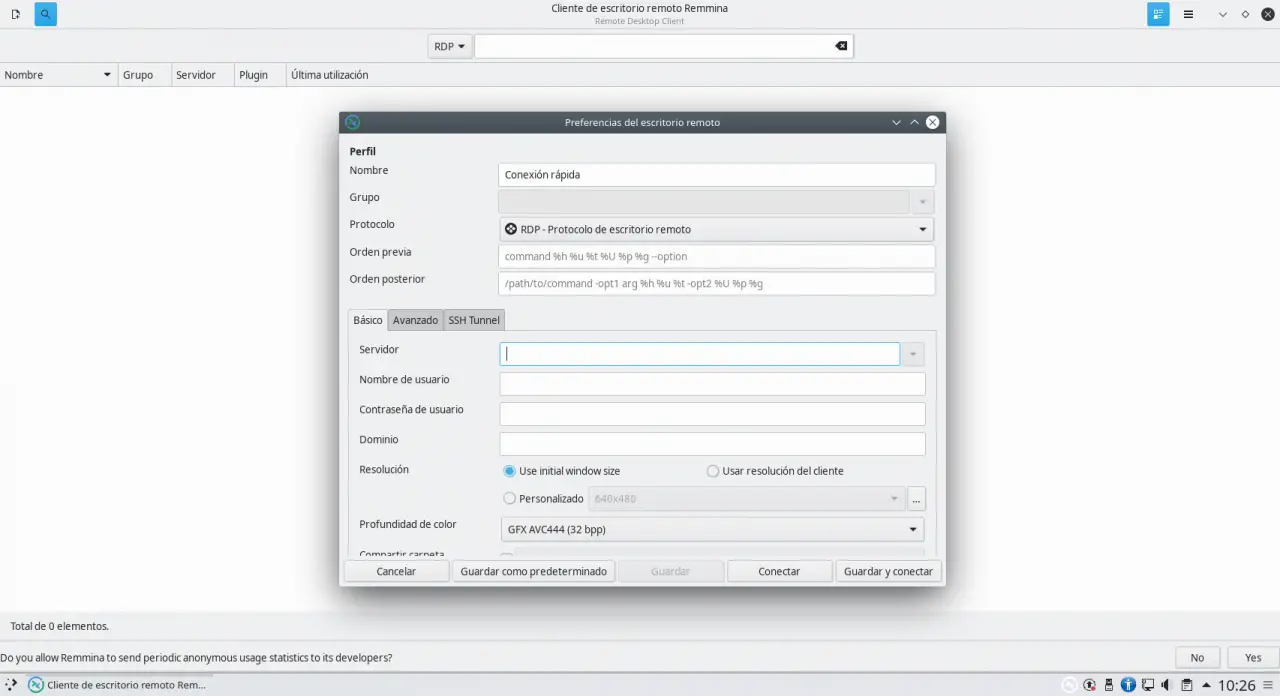 We must remember that the most important thing is to choose the correct connection protocol, if we have an RDP protocol remotely and we choose VNC, the connection will give us an error because we will not be using the same protocol on the server and on the client.
For example, if we choose RDP protocol, in the advanced tab we can configure the image quality, sound, security, type of transport, gateway, etc.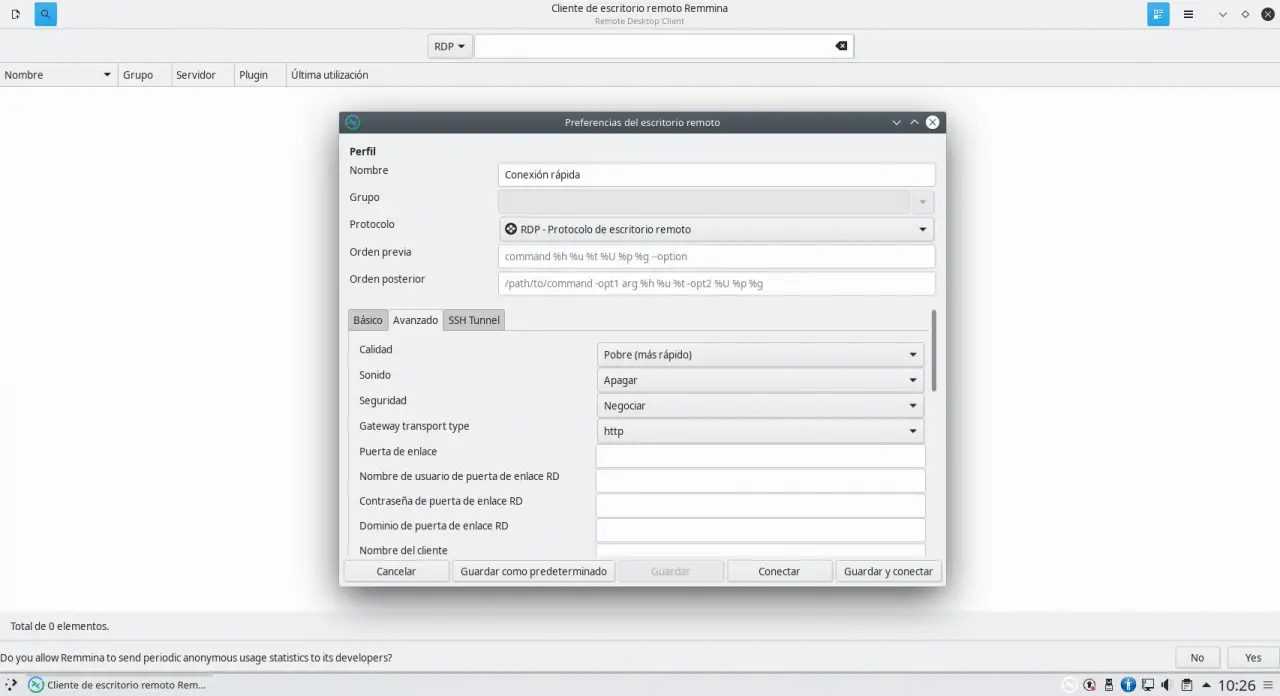 We can also put different advanced settings such as the name of the printer and many other parameters that the RDP protocol uses.
Finally, we can define different options at the bottom, such as printer sharing, deactivating clipboard synchronization and much more.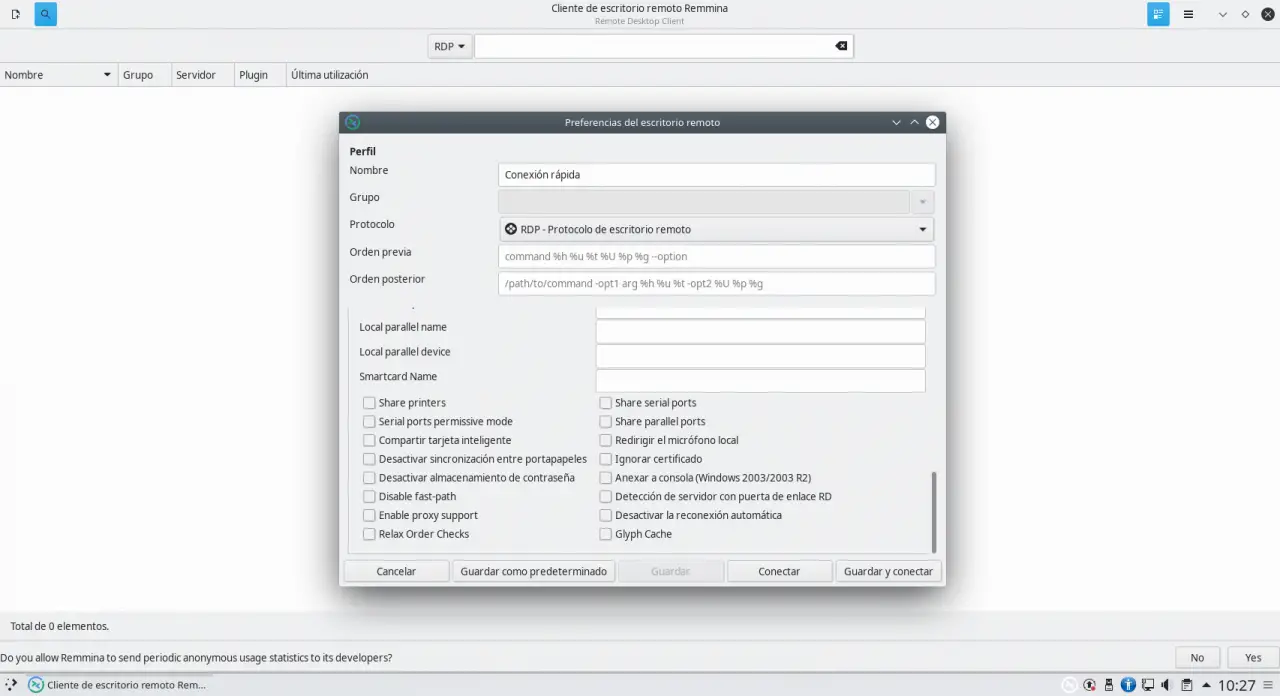 One feature that has caught our attention is the SSH Tunnel tab, and that is that this Remmina program will allow us to perform SSH tunnels to forward all network traffic through said SSH tunnel. If we enable this functionality, we must make sure that the remote SSH server to which we are going to connect also supports the SSH tunnel, specifically enabling it in the configuration.
If we want to make a fast connection with the SSH protocol, for example, we simply enter the IP address and it will use port 22 by default, if we use another port, we can use the IP: PORT syntax to connect. The same would happen with the RDP and VNC protocols, by default it will use the default ports if nothing is specifically indicated.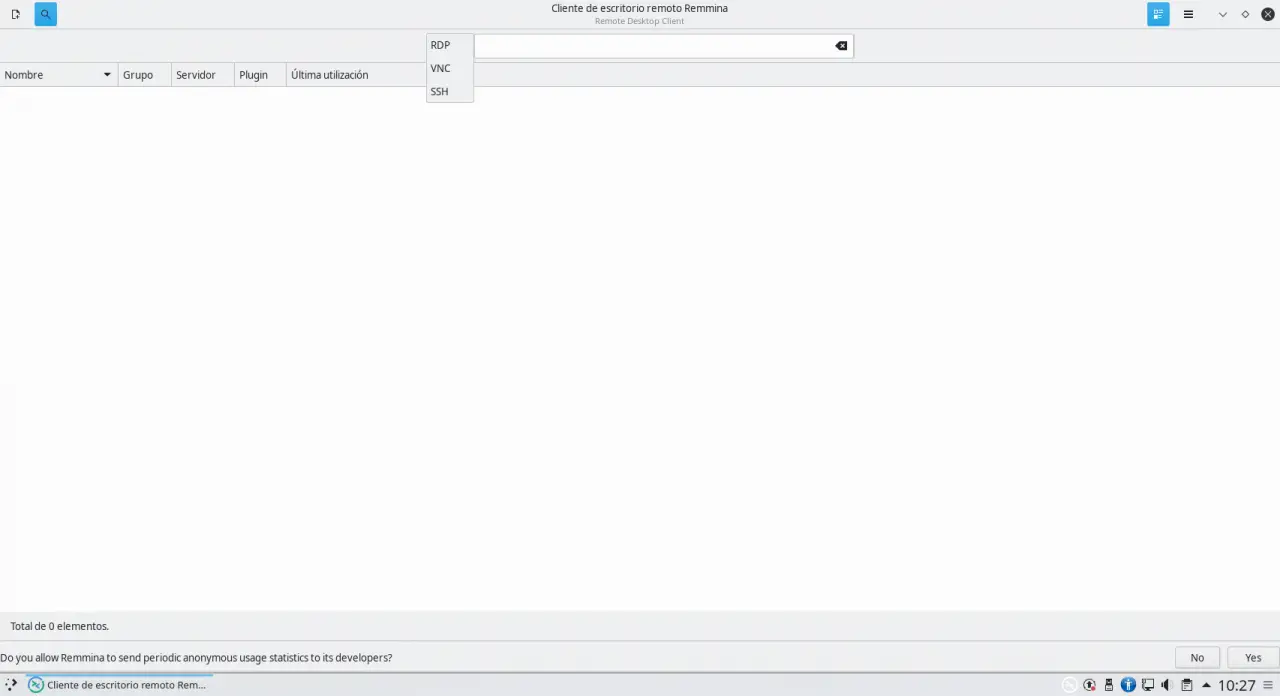 As soon as we enter the IP and the port, it will indicate that we must authenticate in the SSH server using our credentials. We enter the username and password and click on "Accept".
When we connect to the SSH server, the console will automatically appear. On the left side we can see different actions to perform, such as screenshots, capture all keyboard events, copy and paste, select everything, minimize window and disconnect.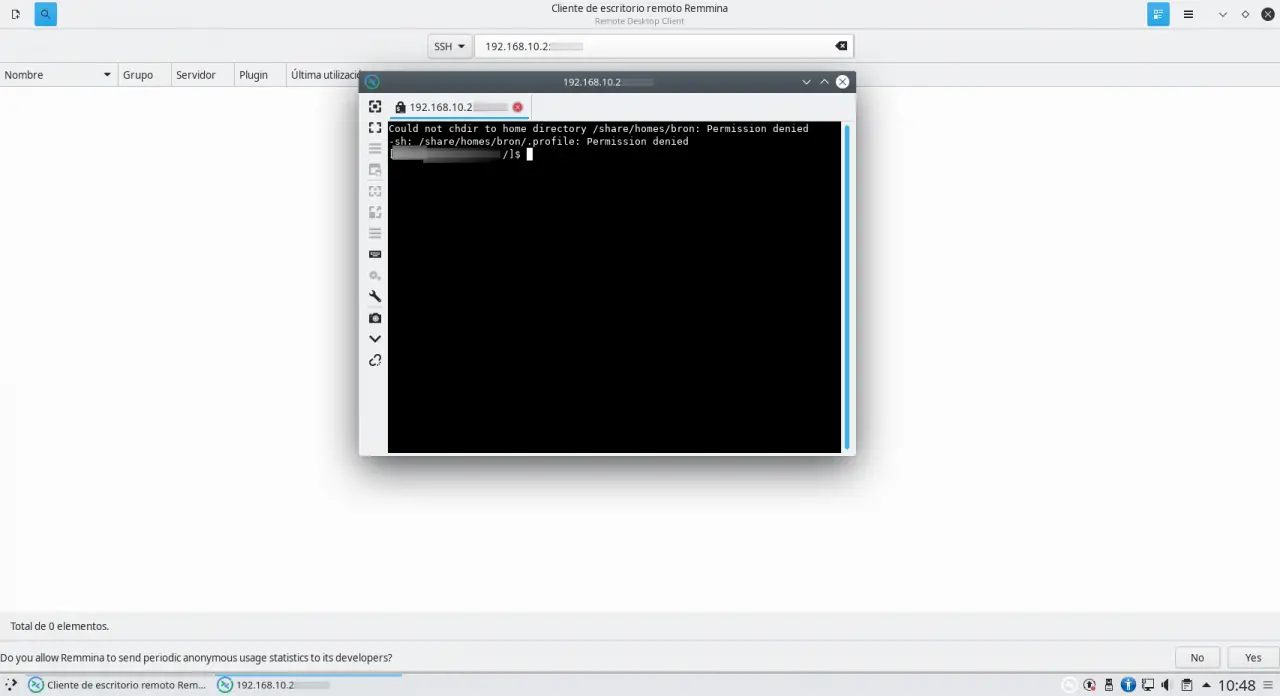 As you have seen, the Remmina tool is a fundamental program today to remotely manage different servers, be it RDP, VNC or SSH servers, among others. Thanks to the intuitive graphical user interface that this tool has, we will be able to create advanced profiles of each of the hosts that we want to control, to remotely execute commands once we have connected, and all this in a completely automated way without the need for perform any action on our part, only preconfigure it when creating the profile.
If you need a client program to remotely connect to Windows or Linux computers, and that make use of RDP, VNC or SSH protocols, this tool is one of the best options that we have available today.