There are many people who for one reason or another accidentally delete the notifications they had received, without actually reading exactly what the message that had reached their mobile was putting it. Fortunately, there are different brands of smartphones that will solve our lives in this sense, as is the case with Samsung Galaxy phones, which have different settings of their own that will solve this problem.
Not only will we find a notification history , but with another setting that will be even better, because we can configure it in such a way as to show us those notices that we had not yet read with a certain frequency. In addition, it will be very useful so that the messages we receive, for example, are never forgotten again, or simply because we do not want to enter the application itself to read them. So pay attention to these tricks that we bring you.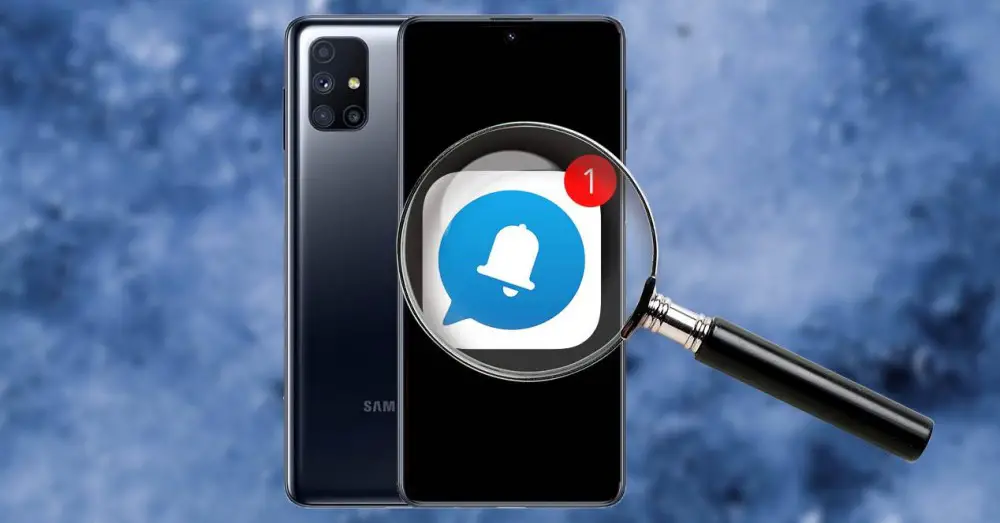 With the history of notices
This option is what allows us to have access to a record of all the alerts that we have received on our phone without any exception, so that we can consult them and retrieve notifications from the mobile whenever we need them. Although it is essential to have this function previously enabled on the Samsung phone so that it works and we can later access the history of notices. So if you want to activate this setting on your smartphone from the South Korean firm, you must follow the following steps:
Enter your mobile settings.
Access the Notifications section> tap on Advanced settings.
Click on the Notification History option.
Lastly, flip the switch.
When we have activated the history with the steps that we have shown you previously, we only have to learn how to consult the history. This can be done in two different ways to re- read deleted notifications from Samsung mobile .
The first of the methods is the simplest, because we only have to lower the top panel when we have at least one notice present and we can choose the small option called History that appears just below them on the left side. Instead, the second method will require more steps, although it will be mandatory if we do not have any pending alerts. Therefore, if we want to access the old notices, we will have to carry out the following steps:
Enter Settings.
Press on the Applications and notifications section> Advanced settings.
Access the notification history. Inside here we will have access to all the messages and alerts that we have received.
However, we will have more extra options that we will see later, because you may not be convinced by having to continuously enter this section of your Samsung phone.
Activating reminders
This setting will also attract your attention, as it will be very useful not only to be able to read messages or alerts that we had previously received but that we accidentally delete, but we will ensure that we never forget to take a look at them. With this, basically, we will get it to send us different notices as often as we want to remind us that we still have notices in the applications that we ourselves choose.
Therefore, we are facing an application reminder setting that can be quite useful, especially in apps in which you will receive more messages or important emails such as Gmail or WhatsApp. Therefore, if you want to activate Samsung reminders, you must follow these steps on your Galaxy phone:
Enter your mobile settings.
Click on the Notifications section> Advanced settings.
Click on the Notification Reminders option.
Enable the switch.
Once we have activated it in the Samsung Galaxy, we must define, according to our needs, how often we want the phone to remind us of a warning, we can choose between: 3, 5, 10 and 15 minutes. In addition, there is also the possibility of enabling the Vibrate box when playing sound, so that we do not understand better yet. Finally, we must click on Select applications to receive reminders to choose those apps in which we want to have these frequent alerts.
With apps
In the event that none of the Samsung mobile methods have completely convinced you to retrieve notifications on the phone, we will also have the possibility of opting for other specific apps with which all alerts will be recorded.
Notification History Log
We are going with the first application that will work without any problem on Samsung phones. With this software we will be able to recover and even effectively manage our notification history. In addition, the history record is kept up to one day old, but if we want this factor to be extended, we can always make a purchase within the app to increase this limit. However, this application is completely free and we can download it at the following link:
After activating the ' Advanced History ' settings, it will let us open that notification that we had received. It will even let us put certain applications on a black list so that no more notices reach us, in addition to customizing what is recorded for later recovery.
Notisave
Another solution that has the same purpose is the app known as NotiSave, which has a more current design. In this case, its purpose is also the same and for that reason, we will have to grant it an extensive list of permissions in order for it to function properly. Once granted, we can choose whether it works in a classic way or we want to customize it with other options. In addition, we can download it for free at the following link:
Among the options that we can decide, we find that it does not send us all the notifications, or that it sends the alert center to consult them at an opportune moment. For added peace of mind, it has fingerprint or PIN protection.
Notification history
With this software we can re- read everything that has reached the mobile and we have not seen or we had rejected without realizing it. As soon as we enter it, we will have to grant it a series of permissions and it is possible that the system warns us that it is necessary to give a series of special permissions so that it can read the ones we receive on our Samsung Galaxy. To download this free app we leave you the following link:
In addition, for it to work we will have to wait to receive some messages and then enter the application. This tool is capable of dividing each of the notices by apps so that it is easier for us to know their origin.