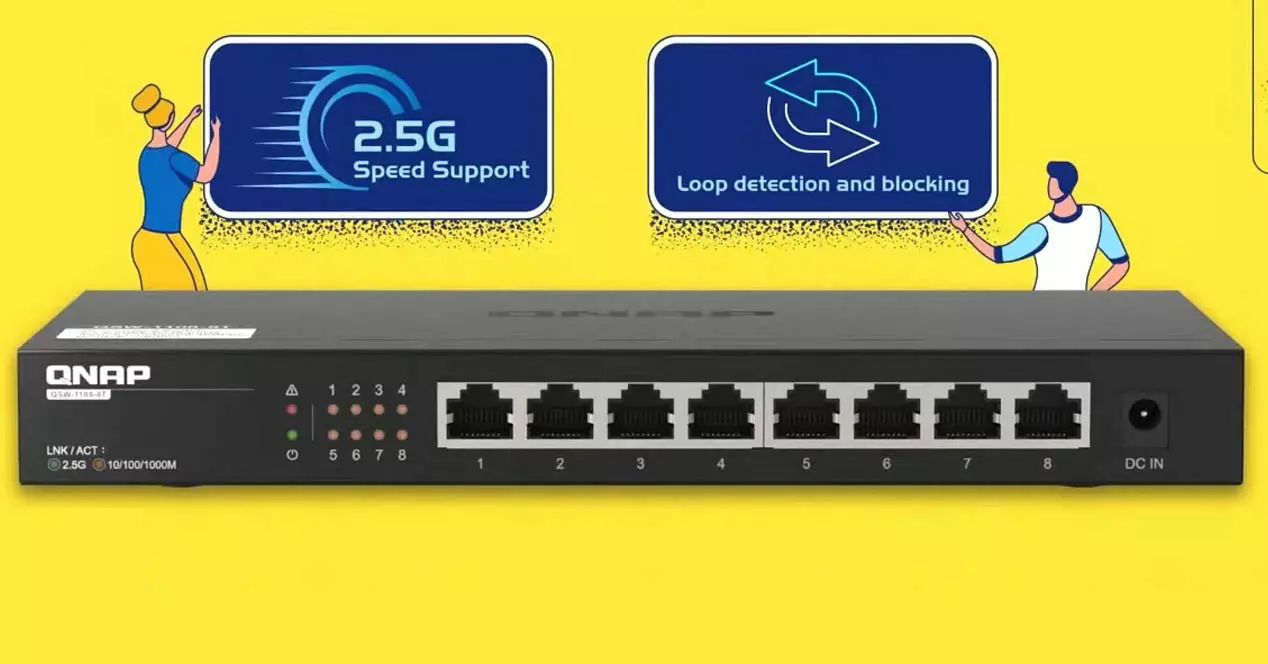 The manufacturer QNAP will soon launch a new unmanageable switch that is specifically oriented to domestic environments, where we want a high wired speed of up to 2.5Gbps , but without the need to spend too much money when buying a top-of-the-range switch. The new model is the QNAP QSW-1108-8T , and it is an ideal model for home environments or small offices where we do not need any type of management option. Do you want to know everything about this new switch?
Main features of this switch
This new unmanageable switch from the manufacturer QNAP is included within the medium-high range of switches, it has a total of 8 Multigigabit 2.5GbE ports , therefore, we can synchronize at speeds of 2.5Gbps, 1Gbps and also at 100Mbps, ideal to provide the best possible performance and also the maximum compatibility with older network cards that are Gigabit Ethernet or that are Fast-Ethernet. This model has a switching capacity of 40Gbps , has a MAC table of up to 16K entries , a packet buffer size of 12Mb and supports Jumbo Frames up to 12K in frame length.
Thanks to the Multigigabit standard we can make use of the same Cat 5e cables and Cat6 cables as always, because we can achieve these speeds of 2.5Gbps without problems, however, our recommendation is that you always use Cat 6 cabling which is very cheap, of course, if you can use superior cabling such as Cat6A or Cat 7 then much better, although for these speeds it is not necessary to use such good cabling.
This new QNAP QSW-1108-8T model is specifically oriented to a domestic environment or small and medium offices, since it does not have any type of management function at the software level, but it will provide us with great cable performance reaching up to Real 2.5Gbps speed. A very important aspect in home and small office environments is the noise of the different network devices, in this case, the QNAP QSW-1108-8T does not have any type of fan for active cooling . This model has a metal casing that will allow us to efficiently dissipate heat and keep temperatures under control.
A very interesting feature that this new model does incorporate is a loop detection system in the switch , a feature that will allow us to block the ports that are producing the loop so that the network does not go down. Generally, this functionality is only available to manageable switches making use of Spanning-Tree, but this model is not manageable so it does not incorporate this protocol, but it does have a small software to detect if you have connected a cable from the switch to the switch itself. , generating a loop at the link layer level that we must avoid. On the front of the switch where we have the different status LEDs, we will have a specific LED to warn us that there is a loop at the link layer level, and that the switch is blocking the ports where we have this problem.
You can visit our analysis of the QNAP QSW-M408-4C , one of the best QNAP manageable switches with 10G Multigigabit ports.