When we talk about image editing tools, without a doubt the most used and popular is Photoshop. A software that has been a reference for the creation and retouching of images for many years, especially focused on the professional field. However, and although every day there are more people who dare to use it for home use, the truth is that it is not an easy program to use. And it is that, for many people the concepts are not well known or do not understand all the potential that they have in their hands with the large number of options and adjustments that it offers.
Although from Photoshop it is possible to save the images in different formats such as JPG or PNG, when we want to save our project the default format is .psd. A format that also allows us to continue working when we want on our creation or to continue making adjustments, since it has all the layers, masks, transparencies, etc.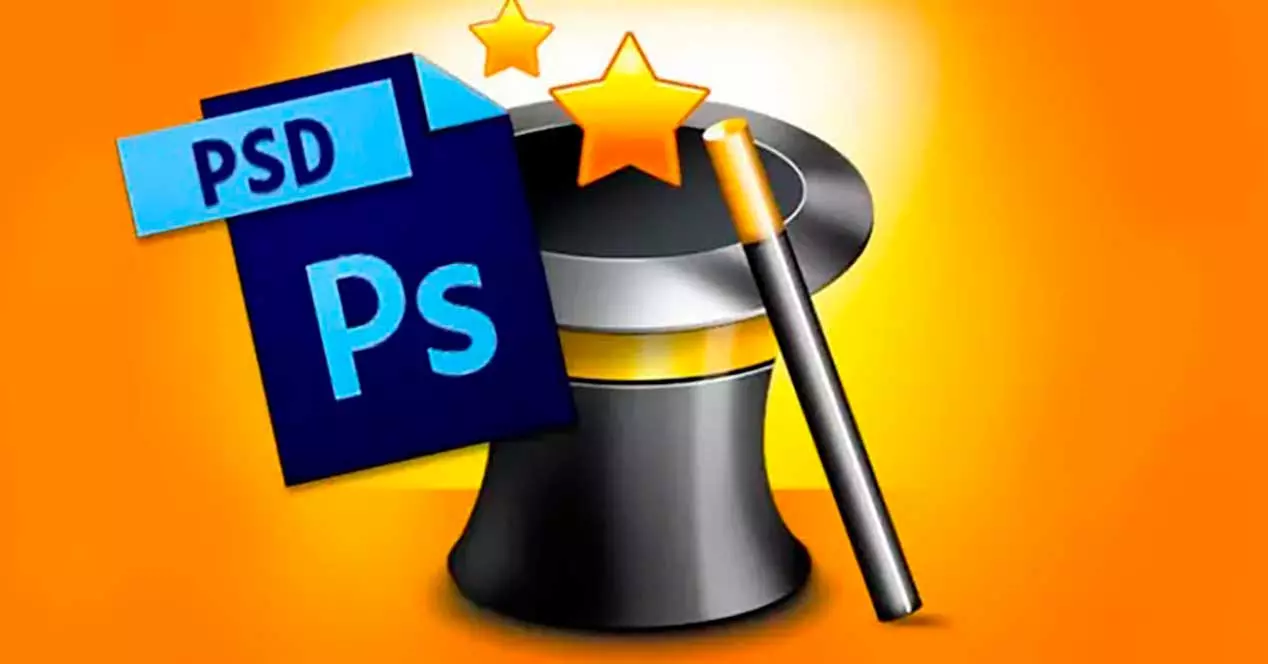 Surely, on more than one occasion we have received an image in PSD format that we cannot open because we do not have the Adobe tool installed. And we can't forget that Photoshop is a paid program and unless you use the application, it's most likely that you won't have it installed on your computer, especially since its price isn't exactly cheap.
If that is our case, we should know that there are free alternatives to Photoshop that allow us to open PSD files and we can even open them using the browser and without having any software for it.
Free programs to open PSD files
Next, we are going to see a series of free programs that allow us to open PSD files that have been created with Photoshop, without having to have Adobe software installed.
GIMP, the main alternative to Photoshop
It is a free and open software specially developed to carry out tasks of photo retouching and composition and images. It has different features that make it possible to use it both as a painting program, as a photo retouching program or as a system to process a large number of images. This program should be our main option to be able to open and edit PSD files , not in vain it has become the main free alternative to Adobe software on its own merits.
To carry out this operation, it will not be necessary to install any third-party add-on since the program is compatible with this format. To open it, it will only be necessary to click on the File tab and Open . Then we find and select the PSD file and click Open. Its main advantage is that it can process individual layers of a PSD file, however some layers are unreadable by GIMP or need to be rasterized before we can work with it.
GIMP is a free, open source and free program that we can download from its official website .
Paint.NET, edit photos at a basic level
It is a drawing tool that is considered one of the best alternatives to Microsoft Paint. It's free for personal use, and it offers everything you need to edit your photos, at a basic level. In addition, it has a large number of plugins to add more functions than it comes with by default. And it is precisely one of these complements that we will need to be able to open PSD files using this software.
This plugin is none other than "PSD Plugin for Paint.NET" that we can download for free . We will obtain a .zip file that we must unzip and copy the PhotoShop.dll file into the following folder:
C:/Archivos de programa/paint.net/FileTypes
Once this is done we can open the application and we should be able to open PSD files without problems. We should also keep in mind that although Paint.NET is capable of handling PSD layers well, we may run into occasional problems because this program does not support all Photoshop features. To open it, it will only be necessary to click on the File tab and Open . Later we find and select the PSD file and click Open
Paint.Net is a free application that we can download from the developer's website .
XnView Image Organizer
If this program is known for something, it is for being one of the most popular and free image organizers, which allows us to browse and order our photo library in different ways, as well as process them using basic image editing tools such as colors, filters, effects and rotations. The best thing about this app is its compatibility as it can read more than 500 formats and export to more than 70 formats, so it is not only useful for viewing photos but also converting them to other formats.
Given its wide compatibility with all kinds of formats, it is possible to use XnView to open PSD files without the need to install any additional plugins . When installing the program we can choose between three types of configuration: minimum, standard and extended. If we choose the Minimal option, it requires a smaller amount of disk space and is all we need to open PSD files. It will only be necessary to click on the File and Open tab. Then we find and select the PSD file and click Open.
We can download XnView for free from its website.
How to open from the web browser
In case we don't want to install any additional software on our PC to be able to open PSD files, we can use these free applications, which will allow us to carry out this task just by using our web browser.
Photopea, the online alternative to Photoshop
Formerly known as FreePhotoTool.com, it is a website that offers us the possibility of opening .psd files completely free of charge, without installing applications and without any kind of registration. It is enough to access its website and we will see how an editor is displayed from which we can go to File and Open to be able to select the PSD file from our PC.
Once opened, we can save it with another format such as JPG, PNG, BMP or TIFF to be able to view it whenever we want without further ado. In addition, as we can see, it offers a fairly complete editor with which we can make many changes. Therefore, it is also a good alternative for those who need to edit an image to retouch it and are not in front of their computer on which they have Photoshop installed.
Therefore, they can also modify their creations from any computer, even if we don't have the program installed, directly from the browser as long as we have an Internet connection.
Google Drive, view your PSD from the cloud
It may come as a surprise to many users, but it is possible to use Google Drive as a file viewer and it works really well. As with other types of files, we can see our PSD file through the Google Drive website. These are the most popular cloud systems that allow us to synchronize all the files on our computer to keep it safe.
To use it, it is only necessary to have a Gmail account, which will allow us to access its free version that includes a storage capacity of 15 GB, although we can also hire more capacity through the Google One service. To view our PSD file, simply access the Google Drive page and then click on My drive and select Upload file. Find and select the PSD file and click Open. Once this is done, just double click on the file to view it.
PSD Viewer, convert to other image formats
If all we need is to convert our PSD file without requiring additional functions and options to add filters, masks and additional layers, this web application will be of great help to us. The site is super simple and easy to use. All you have to do is upload our file to the website and select the file format you want to convert to.
It will only be necessary to click on the "Choose file" button, browse for the PSD file and click on Open. Of course, it is necessary that we take into account that the maximum size of the load is limited to 100 MB. Next, select the format to which you want to convert, among which we find the most common ones such as JPG, GIF, PNG, TIFF and PNG.
Once the file has finished converting, we will be presented with a quick view of the image and we will have the possibility to set the width and height. Click "Download" to be able to save it to your computer.