Years ago, it was quite common for us to be stopped on the street or called at home to carry out surveys of all kinds, surveys that were carried out on paper whose data later had to be transferred to an application to analyze it and offer the results. These types of surveys and/or forms are also currently used to enroll in face-to-face activities, make a request, among others. However, it is not the fastest method and, far from it, the most comfortable. Currently we can do both surveys and forms without using paper, using the different online platforms with this function.
Creating a form where users can add their data without having to use an email or make a face-to-face visit to enter them or carry out a survey that reaches the largest number of people possible without having to walk the street, are very simple processes that we can do with these online platforms.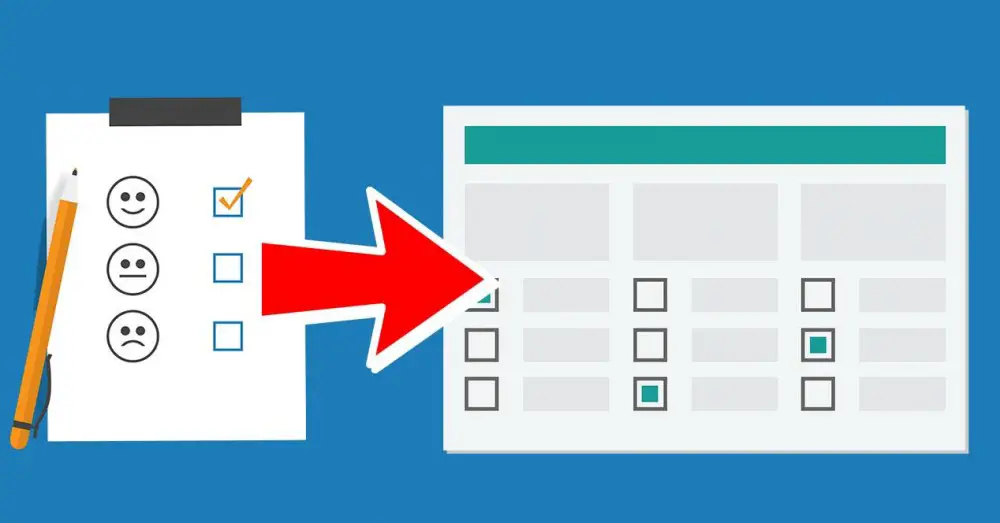 Websites to create online forms
To use these platforms, it is not necessary to have any computer knowledge, since all of them offer us a very simple user interface and, in addition, they also include established designs that we can reuse, so it is not necessary to think about a design either.
Google forms
In addition to all the features that Google makes available to all Gmail users, one of the most useful and lesser-known features is Google Forms Google Forms is the platform that the search giant makes available to anyone who You want to create forms completely free of charge, being ideal for creating registration forms, for example.
To create a form through the solution that Google makes available to us, we just have to visit the following link, write the name with which we want to identify the form, the name that will be displayed inside it and establish both the questions and the answers. In the answers, we can use a field for the user to fill in or establish different answers where one or more can be marked. The responses to the form will be displayed in the Responses tab, while the Settings tab allows us to turn the form into a survey, manage how responses are obtained and how questions are presented, among other options.
We like
It is completely free and does not have any limitation of use.
We do not like
The design of the forms is very unintuitive. It is necessary to have a Gmail account to be able to use this platform.
Microsoft Forms
The computer giant, Microsoft, also offers us a tool to create forms and/or surveys. Unlike Google's solution, however, it's not free. We can use Microsoft Forms if we are users of the Microsoft 365 subscription . The solution that Microsoft offers us is much more complete and intuitive than that of Google in terms of design. In addition, it includes a large number of templates that we can use to create all kinds of forms and surveys.
Also, unlike the Google solution, Microsoft Forms allows us to create a form or survey from scratch as soon as we access this platform. If we are not very clear about where to go, we can use one of the different templates that it makes available to us, templates included in the Microsoft 365 subscription, templates classified depending on the objective we are looking for.
Stands out for
A much more complete solution than Google's with a very easy-to-use user interface.
Needs improvement
You need to pay for a subscription to Microsoft 365 in order to use it.
SurveyLab
The solution that the SurveyLab website makes available to us allows us to create surveys designed to be accessible from mobile devices, be they tablets or smartphones, or from computers, since it uses a design that adapts to the screen format . It supports a large number of languages, offers multi-user support where several people, with different roles, can perform different tasks and/or access the data obtained.
Within the customization options, SurveyLab allows us to use different colors in the letters and in the buttons, as well as giving us the possibility of using a large number of fonts and adding the logo or any image that we want. The free version of SurveyLab is more than enough for most home users , but not for businesses.
Pros
Unlike other platforms, the number of customization options is practically unlimited.
Cons
The free version is quite limited.
SogoSurvey
Another interesting option that we have at our disposal to create online forms or surveys is found in Sogo Survey. Through this web page, we can create any type of form in a very simple way and add any field that we want, it allows us to share the surveys or forms directly from the platform, which in turn also collects the data, data that it later analyzes to present a complete report in graphics of all kinds.
Every day we receive in our email account, a report on the activity and the amount of data that has been collected, which allows us to know, at all times, how the survey is evolving in case we have to make any changes. SogoSurvey is a paid solution for professionals and we can try it completely free for 110 days without any limitations. We can use it in the domestic and academic sphere for free, but with many limitations.
Advantages
SogoSurvey puts at our disposal a large number of options to collect data in a massive way.
Drawbacks
It is a payment platform that, moreover, is not exactly cheap and is only available in English.
Paperform
Paperform makes use of Artificial Intelligence to offer a very careful design and includes a recommendation system based on the form or survey that we are doing. Like any other platform, we can create all kinds of online forms, but Paperform stands out especially for the large number of options available when it comes to exporting data, since it integrates with more than 3,000 third-party applications.
The form designer is a powerful tool where anyone can create the document they need by dragging and dropping. For the most expert, it is also an excellent tool that allows us to add CCS and HTML code to add a personalization touch such as tracking how many people arrive, their location and so on. We can test this platform from here.
Positive aspects
We can test the platform for 14 days for free without having to enter our credit card details.
Bad points
It does not have a free version and, like all these platforms, it works under a subscription.
NextcloudForms
Nextcloud Forms allows us to create forms and surveys in a very simple and fast way, with designs that automatically adapt to the screen of the device, whether they are mobile devices , tablets or desktop . All the data obtained can be exported in CSV format, for later analysis with a spreadsheet.
It is a completely free platform that includes a large number of customization options, however, it is not as complete as others that are in charge of analyzing the data for us and presenting reports using graphs. We can access this platform from its website .
We love
Completely free and very easy to use.
leaves to be desired
The number of options to create forms is more limited and does not analyze the results obtained.
Typeform
Typeform is a Spanish company with which we can make forms and surveys with a design that adapts to all formats and screen layouts. The results of the surveys are analyzed by the platform through a complete report that is updated daily to show graphs and data updated to date.
The user interface is so simple that for more experienced users it may be too simple and lacking in features. It includes access to a large number of images and photographs that we can use to personalize our surveys. We can access Typeform from this link.
We liked
The free version has no time limitation and it is not necessary to use a credit card to register on the platform. It is fully translated into Spanish.
We didn't like it
The free version is very limited in terms of functions.
Tally
We finish this compilation of websites with which we can create any type of form and survey with Tally. Tally is a platform that we can use completely free of charge, although we can also opt for one of the different payment plans that it includes. The operation is very similar to a Word document, so creating a survey or form is as simple as writing, since the platform will do the rest.
The data obtained is integrated with a large number of third-party applications such as the Google spreadsheet platform, Zapie and Airtable, it allows you to schedule the activation and deactivation of the surveys, you send the surveys without any limit and we can receive the analyzes by email at any time. We can give Tally a try through here .
It stands out especially for
We can use it for free and it includes integration with a large number of third-party platforms.
Should improve on
The form creation module is not very intuitive and is hard to get used to at first.
Which is the best option?
If we talk about totally free options, the best option is the one offered by Google , since it allows us to create unlimited surveys and obtain the results in .CSV format that we can import into Excel or Access and apply filters or create graphs. If we are Office 365 users, the best option, surpassing that of Google, and by far, is Microsoft Forms due to the large number of templates available and the customization possibilities it includes.
If we don't have problems paying a monthly subscription to get the most out of it, the solution that Typeform offers us is one of the best, since it includes a large number of elements to customize our creations and, in addition, it is fully translated into Spanish.