SSD drives have already reached the PCIe 4.0 limit. Just a couple of years ago, the first units began to arrive using this interface with speeds of 5 GB / s. In this time, there are already drives that have reached the maximum speed of 7 GB / s . Therefore, the next step to overcome these speeds is getting closer and closer.
We are talking about PCIe 5.0 SSD drives. The first motherboards compatible with this new standard will arrive next year, and manufacturers are already preparing to offer devices that can take full advantage of these new connections. With them, we will have twice the speed with the same number of PCIe lanes, or the same speed as now using half, reducing energy and resource consumption.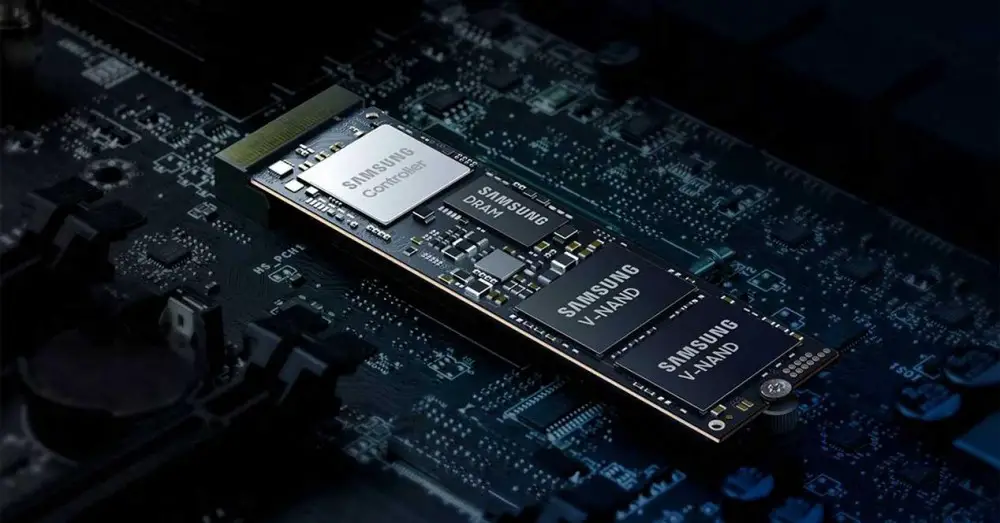 Samsung already advances its PCIe 5.0 drivers
To get the most out of them, Samsung has unveiled the first details of its PCIe 5.0 SSDs that will launch next year for high-performance platforms from Intel and AMD. These units will have the PM1743 controller, as well as will make use of the new 6th generation TLC V-NAND memories.
These SSDs will feature a 1 × 4 PCIe Gen 5 interface, or 2 × 2 if a dual port is used. Durability is one full write per day for five years, which equates to 1,825 TBW for a 1 TB drive.
Speed is not something to be specified, but we can get an idea of how far these units will go. The theoretical maximum of PCIe 3.0 was 4 GB / s, and the drives reached 3.5 GB / s. With PCIe 4.0 SSDs, the theoretical maximum was 8GB / s, reaching 7GB / s. So with PCIe 5.0, the theoretical maximum speed will be almost 16 GB / s (15.7 GB / s to be specific), but it will probably stay around 14 GB / s . The speed differences are due to overhead, something that occurs with all information transfer standards for storage.
PCIe 5.0 SSD: up to 14GB / s
The use of new memories will not only improve the durability of the SSDs and reduce consumption, but will also allow the creation of higher capacity SSDs. Beyond the sixth generation that Samsung will use with these controllers, the company is working on the 7th generation of its 176-layer V-NAND memory , although we do not yet know when they will be available.
Last May, Marvell introduced two of its upcoming PCIe 5.0 x4 controllers, with a maximum speed of 14 GB / s read, and 9 GB / s write , so we see that these speeds are getting closer and closer, and they will leave hard drives and even SATA SSDs far behind in terms of speed. The power consumption of this controller is 9 W, which is what entire SSDs consume today. It remains to be seen if the consumer versions improve efficiency, although it may not be necessary because at twice the speed, tasks are completed in half the time.