The debate on portable consoles is at its peak thanks to two companies that are taking it seriously and with two different concepts, for two different markets, but which logically compete with each other. Which portable console is better? Valve 's or Nintendo 's? Switch or Steam Deck? Well, the comparison is anything but simple because of what has already been explained, which we are now going to break down.
When you have the money and you look at the options in portable consoles, it is really shocking to see the disparity in prices. It is a key issue when you have options for something more than 300 euros, solid, with a route or directly a lot of support, therefore, those that do not have it as such, a good scene, a good community behind users and developers, because you lose a bit of bellows. And that is the main reason to focus on these two consoles, since there are so many, they are the two winning options chosen by users.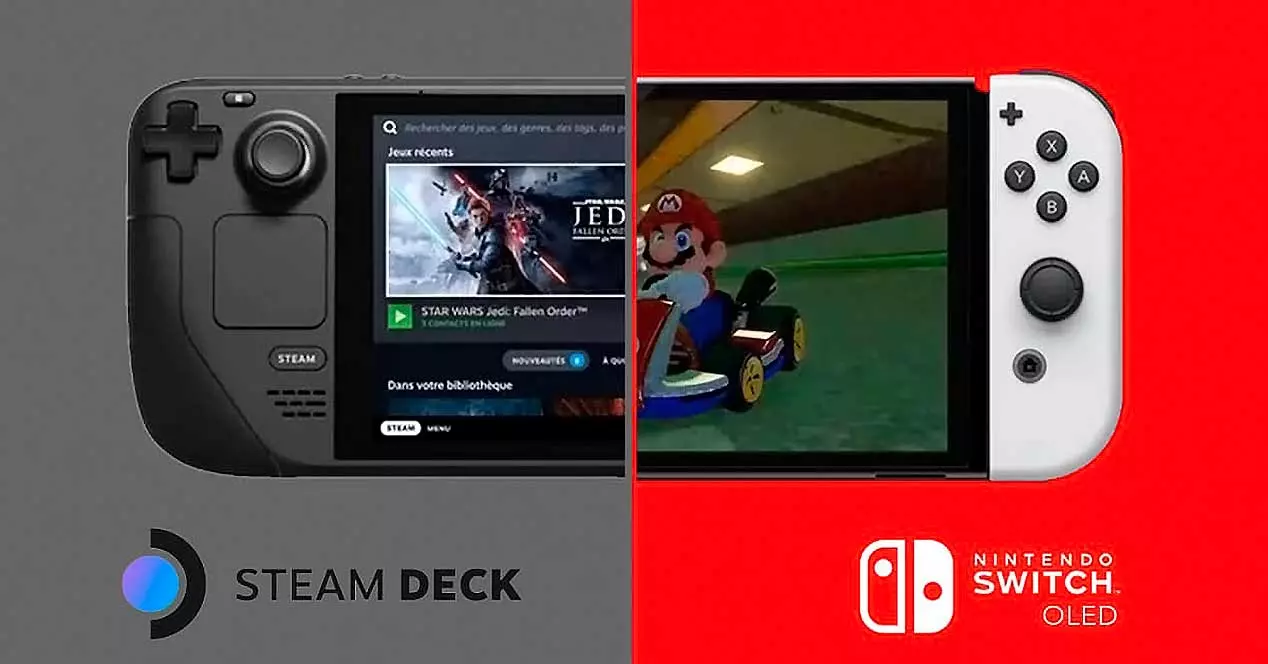 Valve vs Nintendo, who has the better console?
The first thing we must understand is that we are going to compare Steam Deck with the OLED version of Nintendo Switch, which is the most advanced and a fairer comparison in our opinion. Starting with the measurements, Steam Deck is taller, wider and longer by quite a bit. It is in all terms a console with more packaging, you may like it or not, but at the same time it is also much heavier: 669 grams vs 426 grams of the Switch with the Joy-Con.
On the other hand, we are also going to face the closest versions in terms of price, since the Steam Deck can be found for 419 euros with its 64 GB eMMC model for the 349.90 euros of the Switch with a base and two Joysticks. With. That said, let's go with the more specific technical characteristics.
Display: OLED on the 7-inch multi-touch Switch with 1280 x 720 pixel resolution, while the Steam Deck goes to an optimally laminated multi-touch IPS LCD of the same size, but with a slightly higher resolution: 1280 x 800 pixels . The differences are minimal here, but the Switch one is sure to consume less, although we risk the well-known OLED Burnout.
Different powers despite a similar screen
Logically the higher cost between the two is because of what they have "under the hood". And this means that the SoCs they use are totally different from rival companies. Switch opts for an NVIDIA Tegra X1 manufactured at 16nm with 4 cores and 4 threads that runs only at 1.02 GHz , an already old SoC that always has the sword of Damocles in its head with a possible more updated replacement.
In return, Valve bashes Nintendo with a 7nm Van Gogh SoC with 4 cores and 8 threads at 3.5GHz , but, while this is important, the biggest difference comes in the iGPUs. Nintendo and NVIDIA work with a graphics card based on Maxwell at 768 MHz , while Valve and AMD do so with one with RDNA 2 architecture at 1.6 GHz , which is an abyss today when it comes to performance. We cannot forget the 16 GB of LPDDR5 vs. 4 GB LPDDR4 of Steam Deck against Switch, much lower in bandwidth than the Nintendo console, of course also in capacity, but it is something that is also determined by the SoC, which really is not need more.
There are other minor details that may be interesting when deciding what to buy, such as the DisplayPort 1.4 for Steam Deck, the 40 WHr vs 16 WHr that Valve's console has versus Nintendo's or the dual microphone that Switch does not integrate. Storage is a separate issue, since it changes the price of the consoles too much, so we have compared the most basic versions of both and, therefore, the cheapest.
The choice will depend on rather external factors, such as the console concept or titles, you can't have everything, that's why there are different products for different users.