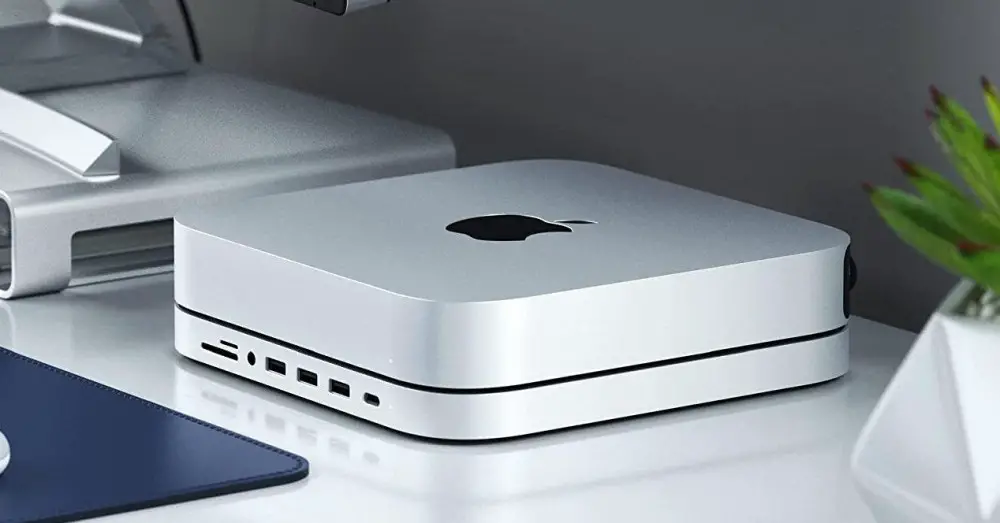 Satechi already had a very interesting base for the previous generation of Mac mini for use in conjunction with Apple's smaller desktop computer. Now it launches an update that improves what was already good and incorporates a feature that will give a lot of play to those who bet on more basic configurations.
Expand your Mac mini in style
The Mac mini is not one of the Apple computers with the most problems in terms of number of ports. And, together with the two USB C connectors with Thunderbolt technology, it also adds an HDMI port for video output and two USB A that always come in handy for accessories such as hard drives, USB microphones, etc.
Even so, having some type of accessory or dock that allows you to expand your connection possibilities in a simple and aesthetic way is always interesting. That was already done by Satechi for the previous generation with Intel processors, but now it has launched a new version that will be even more interesting for the owners of this small Apple desktop.
In terms of design it is identical to the previous one. That is, basically the same thickness and also with the same form factor of the Mac mini to be able to place it just below it and have that uniform appearance that makes it seem that both parts are the same device itself. In addition, this time the color is the same silver tone in which the Mac mini M1 is sold, although more than one would like to have the option of buying the two teams in space gray.
Regarding the connections, which in the end is what is really important, the new stand and hub for the Mac mini from Satechi offers on the front a microSD and SD card reader, a headphone jack, three USB A and a port USB C. Thanks to all this, access to different accessories is much faster and more comfortable for the user in their day-to-day life.
Of course, the most interesting thing of all is that on this occasion something that we have already seen in other dock or HUB options in recent months has also been integrated: an M.2 SATA slot so you can install an additional drive and thus expand the total storage capacity of the equipment. This slot is located at the base, making it easy to access.
Thanks to that additional drive, not only will you have more space for documents and files you are working with, it could also serve as a drive for backup copies through Time Machine.
In one way or another it is a considerable advantage over other options, very aesthetic and practical for those who opt for base configurations of the Mac mini and need more storage or for those who still opting for models configured with more SSD capacity want to have a copy of Time Machine without drives hanging at all times from the computer.
Price and availability
The price of this new USB C HUB for the Mac mini, models with USB C from 2020 with M1 chip like the one from 2018 with Intel processor, is 99 euros . A price that is not bad at all considering the design itself, the connections it adds and that new option to expand the storage capacity by having a slot for SSD drives with an M.2 SATA connector.
However, it must also be said that this is not the only option that offers extra connections and SSD. Yes, it is the most aesthetic to use together with the Mac mini due to the integration it proposes, but we will tell you more about all these options that currently exist and that you could use with your Apple equipment and even any other that makes use of USB C.