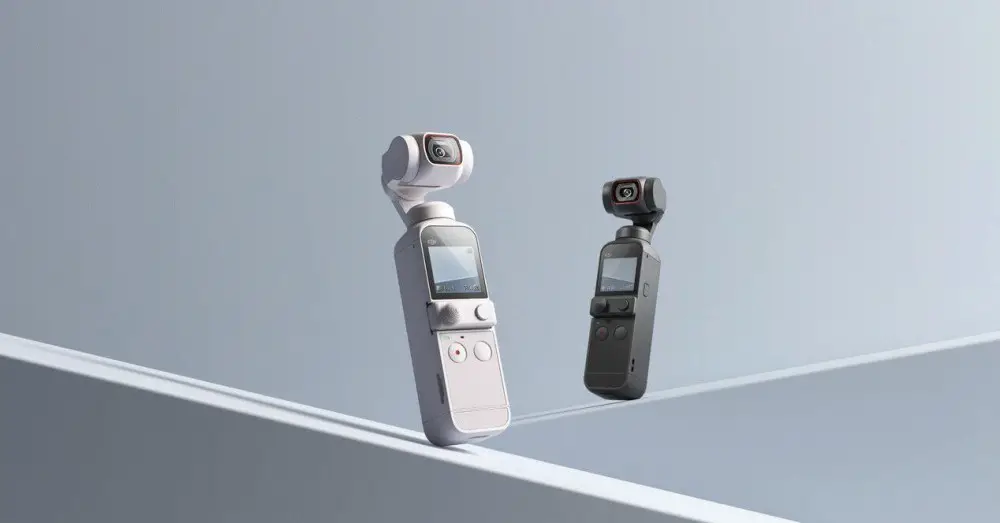 If one day you create a technological product and at some point you are not sure what else to offer your users so that they remain interested in you, calm down. You can do what some brands do and that beyond what you may think ends up being successful for many: launch the same one that they already had in another color. This is the new DJI Pocket 2 Sunset White.
The DJI Pocket 2 now in white
We promise that it is not any kind of joke, although if you do not believe it you just have to go to the official DJI website to see for yourself. His latest product is not new but a version of an existing one, only this time it comes in white. Yes, the DJI Pocket 2 is now also in a shade that they refer to as Sunset White.
The well-known manufacturer of drones and gimbals for DSLR and mirrorless cameras as well as mobile phones launched the first DJI Osmo Pocket a few years ago, which turned out to be a hit with many content creators. Because in a very compact, pocket-sized format and hence the name, it offered a very capable camera when it came to smoothly recording motion video.
That first generation was renewed last year and the new DJI Pocket 2 improved some technical characteristics and details in terms of product design compared to the original. Which made those who had been using the first model again feel attracted to this second proposal.
Well, several months later the brand has launched a white version whose only novelty is that. Let's be honest though, since DJI has released a DJI Pocket 2 Sunset White where everything is soft in color, why is the cable black? It is an insignificant detail, but since we are… please DJI, make the complete pack.
Now seriously, for many the color will be something unimportant, but surely more than one user with a more casual profile and not so much of a video professional will now feel more attracted to a product. Because with mobile phones themselves, it has been seen that color is something that attracts. And if not that they tell Apple with their iPhone 12 in purple or all those other Android models with light blue, green backs, with patterns, etc.
For the rest, its technical characteristics, as we said, are still intact:
Video recording at 4K resolution at 60 fps HDR
64MP photos
3-axis stabilization
ActiveTrack 3.0
Stereo sound capture
Compact size
AI video editor
Smart recording modes
Of course, it would have been great that together with the new color they had also applied a reduction in the price of the product. Surely they would have managed to scratch some more sales and not that the white version costs more: 439 euros compared to the current 369 euros at which you can find the black model. originals.
New Firmware for DJI RS 2
Along with this new DJI Pocket 2 in white, users of one of the latest stabilizers for DSLR and mirrorless cameras are in luck. Because the recent DJI RS 2 have received a new update that will improve the joint use with the main cameras on the market.
This new firmware version improves the integration and control with cameras such as the Sony A7 S III or the Sony a7 C, also the latest Panasonic LUMIX with Full Frame sensor (S1, S1H and S5), Blackmagic Pocket Cinema Camera 4K, 6K and 6K Po, Fuji Xt3 and XT4, Canon EOS R5 and R6, etc.
In short, there are interesting news there that those who already have these gimbals will appreciate and will make some undecided buy them if they value the idea.