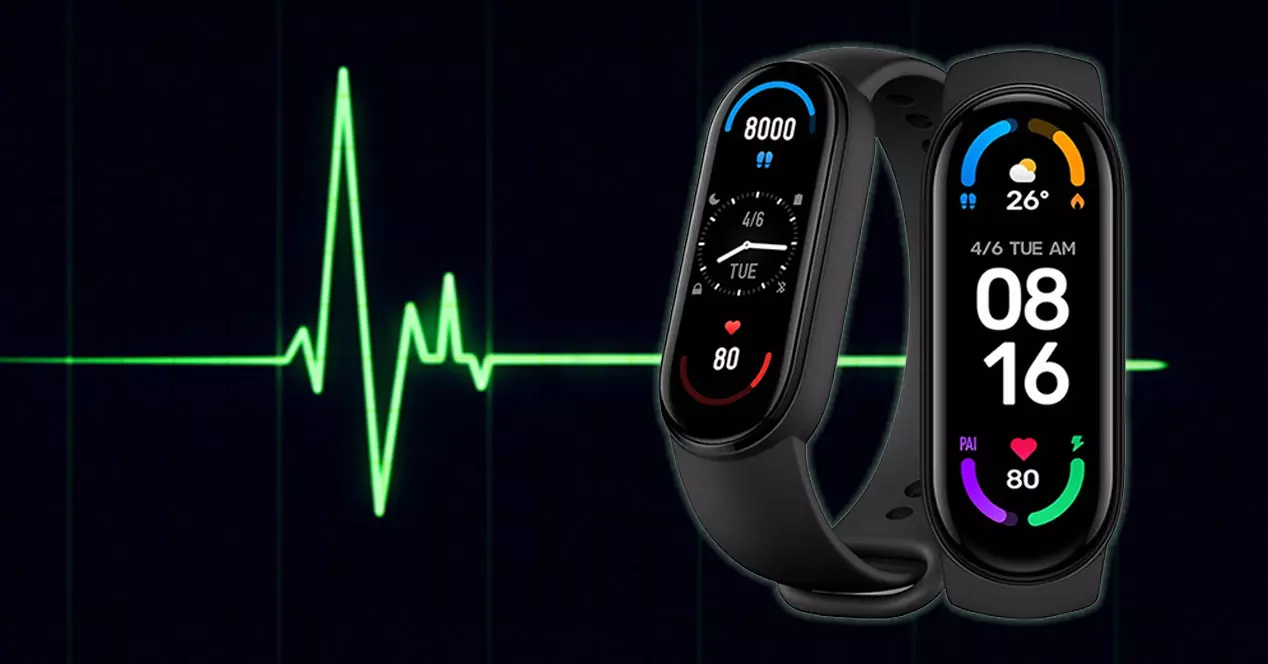 With the arrival on the market of the Xiaomi Mi Band 6, which did so with a larger screen and automatic exercise detection among its main novelties, the truth is that this was not all the good that it brought to Chinese bracelets. Starting with this model, the company's smartband also incorporated such interesting functions as blood oxygen measurement (SpO2).
This is a tool to monitor our health status that joins the heart rate monitor . While one is in charge of seeing what the saturation of oxygen in the blood is, the second is in charge of analyzing our heart and knowing if we have a normal pulse when we exercise or are at rest. But how is each of them used?
Your health features
Smartbands are aimed at sports and monitoring our health and, therefore, the Mi Band 6 or previous models have different tools at the service of our body. The device will track steps taken, calories burned, distance traveled, rest, and active heart rate, as well as sleep and blood SpO2 saturation throughout the day. . That is why we are going to see the main tools that Xiaomi's Chinese bracelets bring us so that you can know, to a certain extent, if our pulse is correct, among other aspects of our state of health.
Although, first of all, in order to be able to enjoy these features as you already know, it will be necessary to download the Mi Fit application on your phone . We leave you here the direct link to the Play Store in case you were a little confused and you still didn't have it.
blood oxygen
Xiaomi included an SpO2 sensor in the global model of the Mi Band, as it was something that was already available in the other models of the Chinese version. This function allows us to check blood oxygen levels throughout the day. This helps us to know our breathing when we perform any type of physical activity. This way we can control this aspect of our health at all times.
The Xiaomi bracelet only takes a few seconds to record our blood O levels and the logical thing is that it shows a percentage between 95 and 100%. Below that threshold we would need some form of respiratory assistance. SpO2 spot checks are an important feature to use if you are asthmatic, experiencing breathing difficulties or, more than ever, have tested positive for Covid-19.
Using it does not have any kind of extra complication. Simply swipe up from the main screen to display the SpO2 sensor. You will see the option to measure now or update the measurement if you have already taken it before.
As soon as you press the button, a countdown will start so you can keep your arm still and optimally adjust the bracelet. Remember that to improve the results and make them more precise you should place the device above the wrist bone.
When the measurement is complete, your blood oxygen level will be displayed along with a measurement of your recorded heart rate.
To consult all the records you must enter the Xiaomi Mi Fit app and, within the training tab, click on the 'See More' button. Once inside, select the 'Blood oxygen saturation' option to consult the data history organized by days, weeks, months or years.
heart rate
The Mi Band 5 , among other models, has a small sensor on the back in charge of analyzing our heart rate, that is, the pulsations we have. It can be used continuously to warn the user if it rises above a certain threshold during periods of inactivity.
This component of the Mi Band 4, or other models, reports resting heart rate readings in increments of 30, 10, 5 or 1 minute, but we recommend that you set the control every half hour from the Mi Fit settings to keep the autonomy of the bracelet safe. Obviously, if you choose to monitor less often, it is clear that you will obtain much more accurate results, but at the same time, as we will see later, there will be a small inconvenience that can probably put you off and decide to opt for the option that we just finished. to say.
How to activate the heart rate monitor? Well, similar to the previous method, we simply have to slide across the screen until we locate the heart icon and click on it to obtain an immediate reading.
Again, if we want to take a look at our health history, you must access the Mi Fit app to, from the training tab, access the heart rate menu. Here you can check its evolution over time and detect if there are any anomalies to take into account when exercising again.
Other options
However, within the possibilities offered by this firm's Chinese activity bracelets, the thing does not end with the measurement of SpO2 and pulse, but goes further. Among other features that we will find are: the sleep record and the monitoring of the menstruation cycle. Also important factors to control our health to a greater extent. And, as in the previous cases, if you want to see the historical data that has been taken by the Chinese smartband, we will only have to access Mi Fit> Training tab> in the Status section.
Improve detection
It is true that these monitors are not 100% professional, but their detection can always be improved. Within these bracelets, there are some things that we can adjust in a certain way to improve the measurements offered by Xiaomi smartbands.
Thus, for example, if what you want is for the measurement to be carried out optimally, it is time to adjust the bracelet properly. So we should not wear it too loose and ensure that the sensors are firmly in contact with our skin at all times. Although, there is an aspect within the Mi Fit configuration that will also help us obtain better results, as we will see below.
If you open the Xiaomi app and access the bracelet menu in the 'Profile' section, you will find a menu called Heart rate detection. Here you will need to select Detection Method and choose a low value for the pulse measurement rate. As we have told you before, the available options are 1, 5, 10 or 30 minutes. Ideally, though, we'll move on to lowering this number to get more accurate readings. The problem is that the battery consumption will be higher , since it will be less time measuring our pulses. Therefore, the smartband sensor will need to spend more resources. Even so, it is clear that the reading will be much more accurate than before.
Are these measurements reliable?
Well… on the one hand yes and on the other no. Xiaomi clarifies in its press materials that the Mi Band 6's SpO2 readings and the results obtained by the heart rate monitor ' should not be used or relied on for any medical purpose. All data and tracking should be used for personal reference only'.
This makes it clear that you should not go to the doctor because you find yourself with very unbalanced values, but they should serve as a guide for your training and that, in case you feel bad, you know immediately what may be failing in your body, not without forgetting that the Xiaomi device can also fail.