Whether we use our PC for work or for domestic use, surely one of the most useful utilities we use is the ability to compress and decompress files. Thanks to compression we can group files within a single file to keep them all together while consuming less storage space. When compressing or decompressing a file we need a compressor such as IZArc .
Although many users do not know it, Windows incorporates its own file compressor with which we can only open ZIP files and work only on this file format. However, there are much more advanced programs such as WinRAR, whose main problem is that it is paid. As a free alternative, we can choose IZArc, which will also allow us to work with a wide variety of formats.
IZArc is a powerful free file compression and decompression software for Windows, characterized by including support for the vast majority of current compression formats such as: ZIP, RAR, 7-XIP, BIN, ISO, BZ2, BZA, C2D, CAB, CDI, CPIO, DEB, ENC, GCA, among others. It has been developed to be used in the Windows operating system, being able to be integrated into your file explorer through its contextual menu.
With this powerful tool, we can organize a set of files in a single compressed file, keeping the same folder structure as the original system. It also has interesting tools such as the ability to drag and drop files to and from Windows Explorer, as well as create and extract files directly from Windows Explorer. In addition, it allows us to create self-extracting archives, repair damaged ZIP archives and convert from one file type to another. In case security is important to us, IZArc supports 256-bit AES encryption.
IZArc, multi-format compressor full of options
Once we execute the program, its main menu appears, which is characterized by having an easy- to-use, multilanguage interface that allows you to configure numerous parameters. At the top we find the classic toolbar organized by tabs where we find the File, View, Actions, Tools, Options and Help options.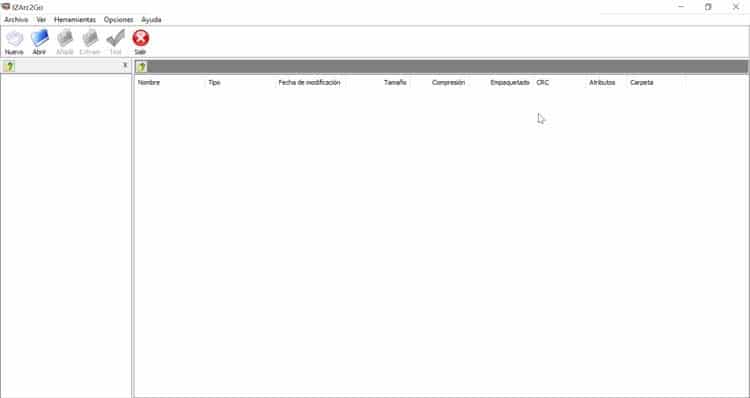 Compress file
We can create a compressed file simply by dragging the folder or files directly onto the interface and dropping it. A window will appear where it tells us the path of the folder, the type of file we want to compress, the type of compression and the method. In addition, it gives us the option of adding an AES encryption system (128 bits, 192 bits and 256 bits) or PK ZIP v2.0, with our own password.
Unzip a file
To extract the compressed file is as simple as clicking on the Extract button. Next, we must establish the path where we want to perform the decompression, including various options that we can mark or unmark such as Confirm overwrite files, Restore original folders, Restore file attribute, Open the folder after extracting it and close IZArc once the extraction is finished . Once selected, click on the "Extract" button. If we want, it is also possible to add new files to a compressed folder by clicking on the "Add" button.
Extra functions
The main additional functions that we can find in IZArc are located in the "Tools" section. Among them we can find the possibility of Converting the file format, Convert to CD image, UU / XX / MIME encoding, Encrypt, Decrypt, Repair file, Create multivolume file, Join a multivolume file, Search by type and Restore SFX. Along with each of our options, we also have a corresponding keyboard shortcut so that we can access them more quickly.
Within the "Options" tab, the presence of its "Settings" menu stands out from where we can customize the program. For example, in the "File association" we can select all the files that we want to associate with the tool, so it is convenient to associate all the most used ones. This will allow us to automatically start the program when opening files from My Computer, mail programs, Windows Explorer, etc.
Download IZArc for free
IZArc is a program with a freeware license, so it is completely free even for commercial use, being able to download it directly from its website . It is compatible with Windows 7, 8 and 10. It is possible to download the version with installation or its portable version IZArc2Go. Its latest version available is 4.4 , corresponding to March 21, 2019.
Differences between IZArc and IZArc2Go
IZArc2Go, is the portable version of IZArc, which maintains all its attractions of the installable version such as the large number of compatible formats. It will only be necessary that we install it in an external storage system such as a pendrive or hard disk and we can use it on any computer.
The point in favor of using the portable version is that it only uses the source folder to save its settings, so it does not leave any trace on our PC. On the contrary, as we can imagine, the portable version lacks integration with Windows Explorer and we will not be able to associate files with it.
Other alternatives to compress and decompress files
If we are looking for a program with which to compress and decompress files, we present other options to consider:
WinRAR
It is the most popular and possibly the most widely used file compressing and decompressing program. It is compatible with a large majority of formats and is the only one capable of compressing in RAR and RAR5, since the others can only decompress, but not compress. Therefore, if we are going to work with this format, it will be necessary to use this software. We can download it from the following link .
7Zip
It is the most popular open source file compressor that we can find since it is compatible with almost all the format systems that exist today. It is available for both Windows, macOS and Linux and we can download it from here .
BandiZip
Another very popular program to compress and decompress files that has compatibility with a multitude of formats. It has an optimization system that allows us to pack and unpack files in a very fast and effective way. If we want to start using BandiZip we can download it for free from this link .