iOS 14 and iOS 13 have more differences than we think. This is important enough to decide if it is worth updating or staying in iOS 13. In this article we are going to analyze the main visual innovations that you will find between iOS 13 and iOS 14 that will catch your attention.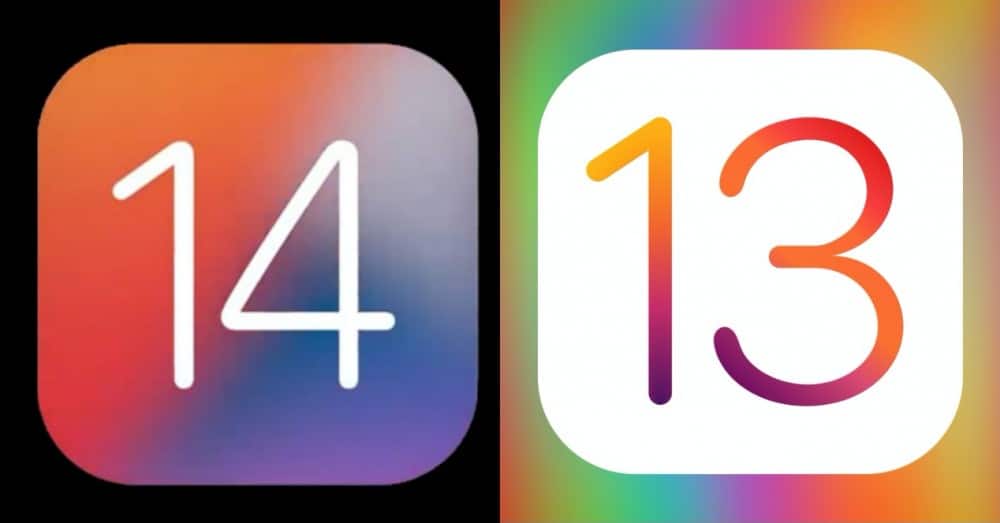 Interface
Widgets
Without a doubt one of the most obvious changes that exist between iOS 13 and iOS 14 is found from the beginning in the interface. There are many generations that have maintained a continuous line in terms of design, but finally there is a small change with iOS 14. The person responsible for this change is present in the widgets that, although they were already present in iOS 13, have now been redesigned. and they have more prominence. As in Android devices, now with iOS 14 you can put widgets on the screen to view the time or tasks. In iOS 13 this was somewhat hidden on a specific screen that is located to the right of everything. The design was not the best and they were totally hidden so no one came to view them.
Calling interface and Siri
Something that can be quite annoying in iOS 13 is the interface of incoming calls or Siri. They are very intrusive and you cannot perform any kind of action while talking on the phone or interacting with Siri. This is totally different in iOS 14, as the calling interface is like a simple notification that appears at the top. Siri has also become more discreet by not displaying the real-time transcript of everything you're saying to her. The Siri icon will simply appear at the bottom that will hear everything you say and give you an answer. As we have previously mentioned, the only drawback of this difference is that you will not be able to see that the voice assistant has understood.
The interface when executing shortcuts has also been greatly simplified. Now a little shallow message appears as a notification with the shortcut process. This does not happen with iOS 13 where the entire screen is occupied and hardly anything can be done as it is an intrusive interface.
Organization of applications
The way of organizing the applications is quite different in iOS 14 compared to iOS 13. Now a much more optimal grouping system has been included to have the applications fully organized. This system, which has been called the application library, groups all the apps you have installed by folders in an intelligent way. It allows you to have productivity, multimedia or food apps grouped in a folder. Biggest appear those apps that are most used to have faster access. This is not found in iOS 13 where they are organized in a more crude way. They can only be grouped into folders between the different screens of the iPhone, and this may cause you to forget those applications that are more 'hidden'.
In addition to this library of applications, iPhone screens can be organized. You can hide a screen completely to go find the applications always in the gallery. These customization options are what make the main differences between iOS 13 and iOS 14.
Changes in Messages
Messages is one of the applications that have undergone the most changes in iOS 14 compared to iOS 13. There are many features that were lacking to be able to be compared to other messaging services, although it still does not have a large share of use compared to other applications such as for example WhatsApp or Telegram outside the USA. Among the differences that exist, the possibility of creating threads in a group, putting profile pictures, posting the most important conversations at the beginning of the service, or the possibility of appointing people in a group, stands out above all.
All these improvements make Messages in iOS 14 much more evolved than in iOS 13. What is sought is to have a much more positive experience so that in the end the vast majority of users can go to this native service.
Native apps
The inclusion of some native applications such as an integrated translator was missed. In iOS 13 you had to download a dedicated app from the App Store from third-party developers. Now includes an application called 'Translator' that allows you to translate a specific text as well as a conversation mode. Thanks to this mode, you can go to a foreign country without problem because you can communicate with another person easily and without third-party apps.
This translation is also included in Safari, where a third-party extension must be used in iOS 13. Now in iOS 14 there is no need to install third-party apps having a native way to translate. And if we continue talking about Safari, iOS 14 now includes much more data than the previous generation about cookies and the privacy policy that is followed.
Default apps
One of the aspects that were most missed in iOS 13 is undoubtedly the choice of applications to open emails or documents. Now in iOS 14 this feature is installed that makes a new difference with iOS 13. Now you can choose the applications with which you want to open a specific song or the default email manager. This is an important change that we did not expect to see but that has finally arrived and that is expected to work wonderfully to use different third-party applications.
Greater utility of the NFC
Now in iOS 14 the NFC chip is much more useful than in iOS 13. Payments can now be made more easily without the need to download a specific application. Thanks to App Clips, the specific part of the application will be shown when the mobile is brought closer to a specific area of a counter in a store or a cafeteria. Payment can also be made through the scanning of a QR code so that it can be paid very easily.