Today more and more people telecommute from home, something that has caused us to do more and more videoconferences. If you are one of those who works with a laptop, it is possible that the computer itself has an integrated webcam, however, it is possible that we have a somewhat older model or simply that it does not have this feature. If our equipment is a desktop PC, then the usual thing is to have to use an independent webcam that we can attach to our monitor or simply put on the desktop. However, if you are one of those who make daily videoconferences with work or video calls with your family and friends , a great solution is to have a monitor with an integrated webcam .
In this way we will not have to walk all day placing the webcam when we have to connect. In addition, it is a very valid solution whether we use a desktop PC or a laptop. In the case of the laptop, we simply have to connect the monitor as the main screen and we will use the CPU equipment.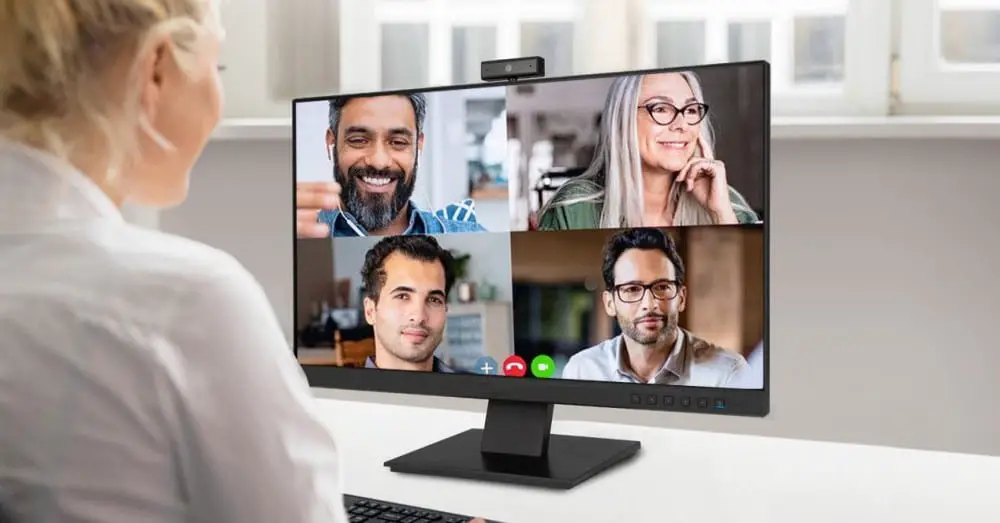 When buying a monitor with an integrated webcam, there are several details that we must take into account. On the one hand, there are the characteristics of the monitor itself , such as its size, design, screen resolution, refresh rate, response time and connectivity. Aspect in which we must fix ourselves based on the use that we are going to give it so that the user experience is the best possible within our budget.
Now, we must also look at the specifications of the integrated webcam. Therefore, it is interesting to look at the resolution that it offers us, if it includes a microphone and speakers, both horizontal and vertical viewing angle to know the focus it will offer us, if it allows tilt adjustments, etc.
Based on all this, we will surely choose the model that best suits our needs. Below we show you an interesting list of monitors with integrated webcam.
Monitors with integrated webcam and forget about accessories
Philips Monitors 499P9H
Monitor for the most demanding or those who need a large screen to carry out their daily tasks. It is a curved monitor of nothing more and nothing less than 49 inches and a spectacular design. An LCD screen with 1800R curvature and a 32: 9 ratio that has a resolution of 5,120 x 1,440 pixels that includes an integrated webcam in the central part of the upper frame. A webcam capable of being activated and deactivated automatically, equipped with advanced sensors for facial recognition.
Philips Monitors 329P9H / 00
On this occasion, we have a 32-inch monitor with UHD resolution with an IPS-type panel and a rate of 60 Hz. A model with ultra-thin frames on all four sides and that has an integrated webcam and hidden microphones and compatible with Windows Hello to perform a facial recognition. It has a 4K Multiview function for two systems on a single screen and offers height, tilt and swivel function adjustment.
Philips Monitors 346P1C / 00-34
34-inch LCD monitor with integrated webcam with QHD resolution. It is a curved screen model capable of displaying ultra-panoramic images with a resolution of 3,440 × 1,440 pixels. It has Philips MultiView technology, USB Type-C docking station and integrated KVM multi-client to control two different computers with a single monitor, keyboard and mouse configuration. The webcam folds up when we need it and is automatically stored when we no longer use it and is equipped with sensors for facial recognition.
Philips 276BJH
On this occasion, we have a 27-inch monitor with integrated webcam, microphone, facial recognition function and Philips power sensor for automatic current reduction when not in use. High-quality IPS panel type with matte screen, adjustable in height and swivel function. It has connectivity HDMI, DisplayPort, USB type C, USB, signal output and Ethernet LAN.
Philips B Line 272B7QUBHEB / 0
27-inch Philips monitor with a 68.6 cm diagonal LCD panel and a QHD resolution with 2,560 x 1,440 pixels. It offers a response time of 5 ms and has a webcam integrated in the upper frame. It has a 16: 9 aspect ratio, HDMI connectivity type, 60Hz refresh rate, and 178-degree viewing angle.
Philips 275B1H
Monitor with integrated webcam that offers a resolution of 2,560 x 1,440 pixels and LED display technology. It has flicker-free and Low Blue technology, which guarantees a reduction in visual fatigue. Matte screen, pivoting function and very thin bezels on three sides. In the upper frame it integrates the webcam, which offers a safe start, includes a microphone, a Windows Hello function and a Powersensor function that reduces the current automatically when we are not using it.
HP EliteDisplay E273m
Monitor with integrated 27-inch webcam and FullHD resolution. IPS panel type with a 16: 9 aspect ratio with anti-glare technology that offers a response time of 5 ms and a frequency of 60 Hz. It has an HD webcam integrated in the pop-up top frame with speakers adjusted by Bang & Olufsen, microphone and keys to control video calls. The frame is ultra-thin on three of its edges, it is made of aluminum and both the inclination, the height and the rotation are adjustable.
Philips B Line 271BQJKEB
27-inch model with LED technology and a Full HD resolution (1,980 x 1,080 pixels) that offers a response time of 5 ms and a refresh rate of 60 Hz. A monitor with a webcam integrated into the upper frame and a large section of connectivity, HDMI, Displayport, USB, VGA and DVI.
Lenovo ThinkVision T24v-20
With smaller dimensions, we find this 23.8-inch Lenovo monitor with an IPS screen and FullHD resolution. A model with a refresh rate of 60 Hz and a response time of 4 ms that integrates a webcam in the upper frame and that has speakers. This Lenovo ThinkVision is a monitor that allows height and rotation adjustment and has very thin frames on three of its sides.
MMD Philips
23.8-inch monitor with integrated webcam that has flicker-free and low-blue technology to guarantee visual fatigue when we are in front of the screen for a long time. It has an IPS panel with FullHD resolution, matte screen and pivoting function. The response time offered by this model is 4 ms and offers the possibility of safe startup with the webcam deployed. It also has a microphone and automatic current reduction so that it turns off automatically when we are not using it.