Unless we are dedicated to computing, or we are advanced users, it is most likely that we do not know in detail the hardware that our computer has. We can get an idea of the type of processor, the amount of memory we have, but little else. Therefore, when we have problems, or if we think about updating or expanding the hardware, it is necessary to resort to diagnostic software that allows us to know in more detail what the components of the PC are, such as HWiNFO64 .
HWiNFO64 is a complete tool used to analyze our computer , monitor its operation and generate a report with everything that happens on the PC. Thanks to it we can obtain a detailed report of all the hardware of our computer, as well as check that everything works correctly.
What's new in HWiNFO64 7.0
A few hours ago, its managers announced the release of version 7.0 of HWiNFO64. A version that, in addition to many internal changes, releases a new paid version for professional use.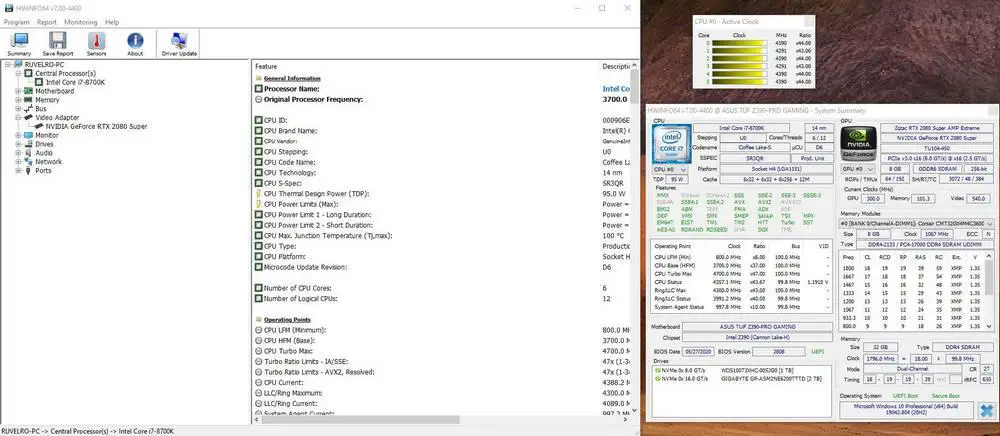 New Features
Although it is a version change, the program does not bring really revolutionary changes. Most of them focus on improving compatibility with all types of hardware so that both reporting and monitoring are as accurate as possible.
Some of the improvements, at the compatibility level, that we can highlight are:
Better support for H510 motherboards.
Troubleshooting some boards when monitoring the + 12V channel.
Better support for LPDDR3 / LPDDR4 / LPDDR4X memories.
WHEA error solution when monitoring AMD RX 6000 graphics.
Improved sensor monitoring on Z590 boards.
Support for monitoring AMD Navi.
New types of sensors and improvements to accuracy and compatibility.
Better support for AMD and NVIDIA GPUs.
Preliminary support for measuring the temperature of future DDR5 memories.
As we can see, there are no changes that are going to revolutionize the use of the program, since practically everything is focused on improving compatibility and correcting errors. But what is most striking about this new version of the program is its new paid version, Pro.
HWiNFO64 7.0 Pro
HWiNFO64 wants to break into commercial use . And for this reason, the new version 7 has divided the program in two. On the one hand we have the free version, as we know it until now, while on the other hand we have the "Pro" version, designed for professional use.
This version starts from 21 euros (one-time payment) and the first thing it allows is the commercial use of the program. In addition, it enables a series of advanced functions that allow us to generate reports through the command line and monitor the sensors of any PC also from the command line. In addition, it also removes the time limit on shared memory usage.
Within the paid version we can find several modalities:
Personal : not suitable for commercial use, and valid for 1 user and 5 PCs.
Engineer : commercial use, price per number of users.
Corporate License : commercial use, price for equipment licenses.
If we are going to use this program on a personal level, the free version serves us perfectly. And the only limitation is the support limit for shared memory.
Download the latest version
The new version is now available on their website . We can download HWiNFO64 7.0 for free for our computer in both the installable and portable versions , according to the needs of each user.