Instagram is a social network that we use more and more. Not only to see photos and videos of hedgehogs or cats and food reels, but also to follow our favorite influencers, get advice or simply use the app's direct messages to talk with friends and acquaintances. Therefore, knowing how to manage Instagram notifications is important if we want to activate them so as not to miss anything or simply if we want to deactivate them so they don't bother us.
Whatever it is you want to do, we can set up Instagram notifications. We can activate them so that the app notifies us when our favorite account has uploaded a new publication, but we can also activate them if we want to know when someone has written to us through Instagram Direct or if we have a new friend request from someone who wants to see our profile.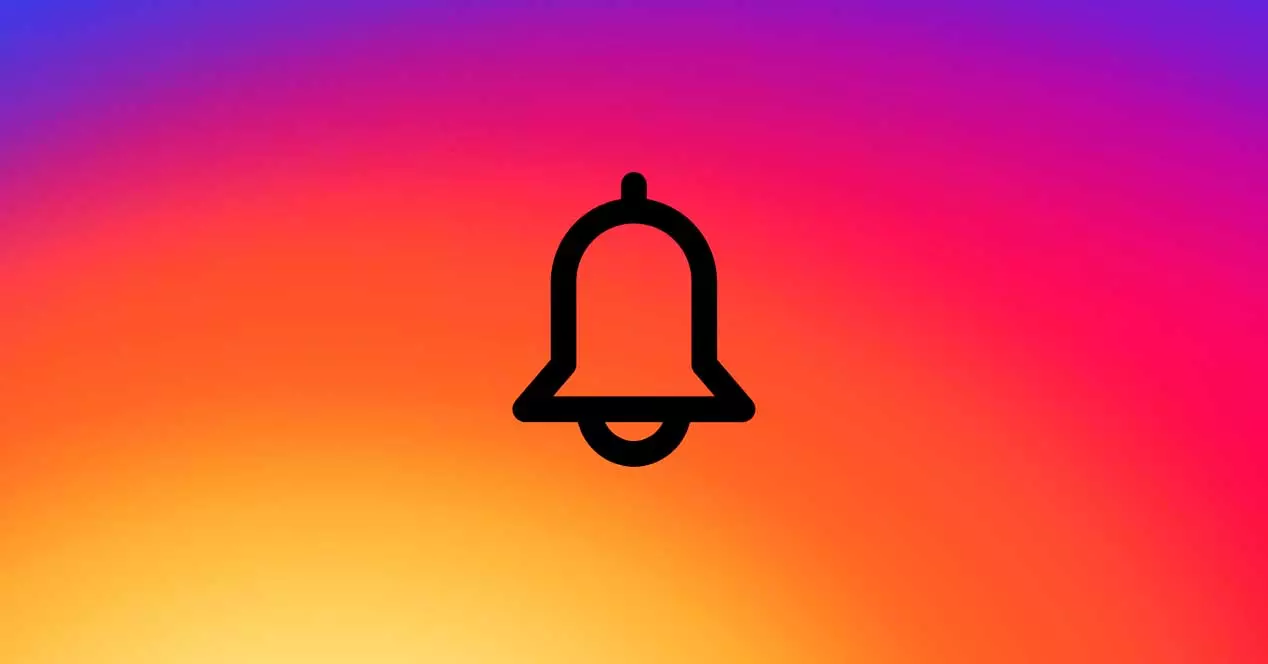 Configure notifications from the mobile settings
Beyond configuring Instagram notifications by following the steps from the application settings, we should know that our mobile phone also allows us to change notifications or delete or deactivate them for a while from the mobile settings themselves and not necessarily from Instagram. It may vary depending on the customization layer of the smartphone, but they all allow us to silence a specific app. In this case, silence notifications on Instagram or activate only those that interest us and not the rest…
Let's go to settings on our mobile phone
We look for the "Application management" section
We open the "List of applications" section
We look for Instagram in this list
We open the Instagram settings
We tap on "Manage notifications"
We will see that there are a series of sections. We can disable all notifications by removing the corresponding switch. If you turn it on, you will see that there are different options that we can check and uncheck , divided into categories. The first thing you can choose is whether or not you want to hide notification details on the lock screen. If we keep going down, we will see different categories: in private, Instagram and IGTV. And within each category we see a series of actions that we can activate and deactivate notifications.
In private

Instagram Direct
instagram requests
Instagram Direct Video Chat

Instagram

like in comments
Comments
First posts and stories
friends on instagram
I like it
Likes and comments on photos in which you appear
live video
Mentions in the presentation
new followers
Others
Photos in which you appear
Posting…
Follow-up requests accepted
Product News
Reminders
Drop notices on Instagram
help requests
Number of reproductions
loads

IGTV

IGTV Recommended Videos
IGTV video updates
We are marking and unmarking all the options that interest us. Each switch is individual so we can activate only what we want. Or turn it all off so there are no notifications on Instagram.
Activate notifications from Instagram
In addition to configuring it directly from the mobile notifications as we explained in the previous paragraph, we can also manage the notifications from the application itself if we go to its settings…
We open Instagram on our mobile phone
We access our profile in the application
We touch on the three lines in the upper right corner
We open the configuration section
We look for the " Notifications " section in the menu
Here we will see the "Push Notifications" section and the first thing we can do is pause them all. But also open each category to manage them separately and individually depending on what we want to activate or not. The categories are:
Posts, stories and comments
Accounts you follow and followers
Calls and direct messages
Videos and live videos
fundraisers
from instagram
If we open each of the categories we can choose what we want to activate or what we want to deactivate. The first three are the most useful and interesting and within each of them we can choose between three possibilities: deactivated, from people I follow, from everyone. And we will find some options like:
I like it
Likes and comments on the photos in which you appear
Photos in which you appear
Comments
Pinned Comments and Likes in Comments
First posts and stories
Follower Requests and Follow Requests Accepted
account suggestions
message requests
Posts
group requests
video chat
Rooms
We simply have to open each of the options and choose between deactivating completely, activating for the people you follow or deactivating for everyone. It will depend on each of the functions that we want to be fully activated or perhaps you prefer not to be notified to suggest accounts, for example, but when they send you a message or someone starts a video call.
Email notifications
Beyond push notifications on Instagram, there are also email notifications, although they are less common. As its name suggests, email notifications allow us to configure alerts that we receive by email in the event that a series of events occur. That is to say, Instagram sends us an email to our inbox with a series of notices such as news but also reminders or comments that it considers that you have missed. We can access this section and activate and deactivate only what we want, leaving what we are not interested in deactivated. Or turn everything on or off.
The steps are simple and the section is the same as the previous one:
We open Instagram on our mobile phone
We go to the settings section in the upper right corner
We open the Configuration section
We look for the section " Notifications "
We go down to "Other types of notification"
Click or tap on "Email notifications"
You will see that we can activate a series of options with a switch:
Feedback Emails
Reminder emails
Product emails
news emails
Help emails
Check or uncheck what interests you to configure these notifications.
Notices of new publications
There is another option that we can activate on Instagram and that is to receive notifications from a profile when a new comment is uploaded. This is useful if we don't want to miss anything about accounts that interest us a lot. And we can activate notifications for everything.
What we must do is go to the corresponding profile and touch the bell that we will find at the top of it. We see that there is an icon of a bell and when we tap on it, five sections will appear: publications, stories, videos, reels and "when broadcast live". We can activate notifications only for what interests us and Instagram will send us a notification so that we don't miss anything if we follow many users and it goes unnoticed.